Networks interview Melania Trump on groping allegations against her husband
October 17, 2016 - 1:51 pm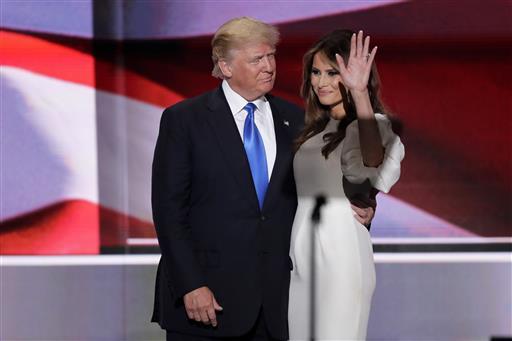 LOS ANGELES — CNN's Anderson Cooper interviewed Melania Trump in what the network said was her first sit-down interview since accusers came forward to make groping allegations against her husband.
Fox News' Ainsley Earhardt also interviewed her on Monday, and will appear on "The Five" on Monday night to preview the one-on-one. The full interview on "Fox & Friends" will air on Tuesday.
The CNN interview will air on "Anderson Cooper 360" Monday night.
The choice of CNN is interesting, given that her husband has been openly critical of CNN's coverage, calling it the "Clinton News Network." Trump also said of Cooper last month, "I don't think he can be fair."
Cooper co-moderated the second presidential debate last month along with ABC News' Martha Raddatz.
After the release of an "Access Hollywood" recording in which Donald Trump is heard making lewd comments to the show's co-host Billy Bush, Melania Trump issued a statement in which she said, "The words my husband used are unacceptable and offensive to me. This does not represent the man that I know. He has the heart and mind of a leader. I hope people will accept his apology, as I have, and focus on the important issues facing our nation and the world. "
Her attorney, Charles Harder, also sent a letter to People magazine last week, challenging some of the facts in one of its stories in which writer Natasha Stoynoff claimed that Trump forced himself on her as he was giving her a tour of his Mar-a-Lago estate in 2005.
Melania Trump has generally taken a low profile in the campaign ever since the Republican National Convention. After she delivered a speech on the convention's opening night, it was revealed that passages were nearly identical to a speech that Michelle Obama gave in 2008. An in-house staff writer for the Trump Organization, Meredith McIver, released a statement saying that it was her mistake not to have caught the similarities after Melania Trump read her portions of Obama's speech as examples of what she liked.
CNN is expected to release excerpts of the interview later on Monday.