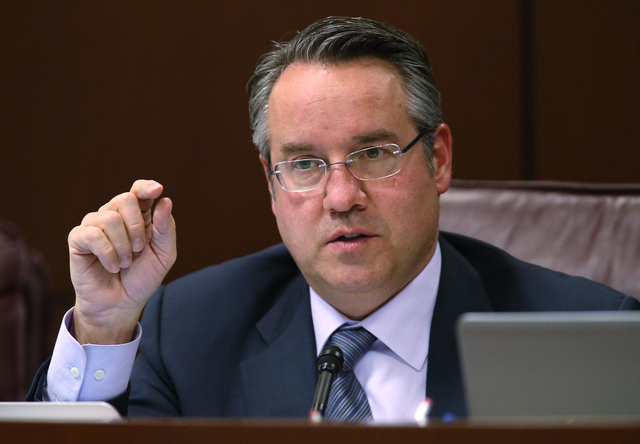 CARSON CITY — A Senate committee Wednesday reviewed a bill to simplify Nevada's convoluted live entertainment tax with an admission tax that would be easier to calculate and administer.
State Sen. Mark Lipparelli, R-Las Vegas, said Senate Bill 266 is a work in progress, but the goal is to clean up the "conundrum" that exists in trying to apply the tax.
SB266 would impose an 8.5 percent tax on each admission charge for performances at venues with an occupancy capacity of at least 200.
Staff was still calculating how much the bill would generate and whether the amount would be more or less than what the current live entertainment tax yields.
The existing law is riddled with exemptions and different tiers on when the tax applies.
"Today there doesn't have to be an admission charge," Lipparelli said. "If you have live entertainment, you have to collect the tax."
So a restaurant with a pianist playing in the background would be subject to the tax, though customers probably are there for the food.
Also, outdoor concerts such as the Electric Daisy Carnival held each year in Las Vegas are exempt. But outdoor concerts held on casino properties are not and must pay.
SB266 outlines three conditions to trigger the tax: an admission charge, seating for 200 or more and an actual performance.
Baseball also would be exempt.
For nonprofits' events, Lipparelli suggested a possible requirement that they show at last 80 percent of money raised goes to charities they support.
That brought up a discussion about Burning Man, an annual art and free-spirit festival held on the Black Rock Desert north of Reno that attracts tens of thousands of people. Burning Man is not subject to the live entertainment tax and recently became a nonprofit.
"It would be my intent to capture revenue from that event," said state Sen. Greg Brower, R-Reno.
Lipparelli, former chairman of the Nevada Gaming Control Board, said he has been working with Assemblywoman Marilyn Kirkpatrick, D-North Las Vegas, on revamping the live entertainment tax.
She proposed a bill two years ago for a tax on everything from concerts to golf fees and bowling, but it ran into fierce opposition and died late in the session.
Contact Sandra Chereb at schereb@reviewjournal.com or 775-687-3901. Find her on Twitter: @SandraChereb.