Nevada races again play key role on Election Day
October 16, 2010 - 11:00 pm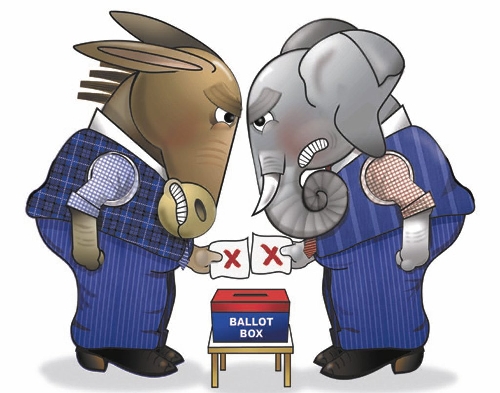 For the second consecutive general election, the eyes of the nation are on Nevada.
In 2008, Nevada was among the swing states in the presidential election. In 2010, the fate of the U.S. Senate majority leader hangs in the balance.
Sen. Harry Reid, D-Nev., one of the most powerful politicians in the country, is challenged by Republican Sharron Angle, a former assemblywoman from Reno largely unknown outside her Northern Nevada community until she got a primary boost from the Tea Party Express.
Although national attention is focused squarely on Nevada much as it was two years ago, voter sentiment has changed dramatically.
In 2008, Democrats were surging behind the charisma of then-presidential candidate Barack Obama, enjoying a statewide voter registration advantage of about 80,000 and strong support from nonpartisan and independent voters.
Today, the Democratic advantage is about 60,000 among active voters, and polls show independents leaning toward Republicans, at least at the top of the ticket in the races for U.S. Senate and Nevada governor, where Reid's son Rory Reid is running against Republican Brian Sandoval, a former federal judge.
The race for Congressional District 3 is another high-profile campaign. Rep. Dina Titus, D-Nev., who rode into office on the Obama wave, is being challenged by Republican Joe Heck, a former state senator who was a victim of the 2008 Democratic wave when he lost to outsider Shirley Breeden.
Also on the ballot are races that could determine the balance of the state Senate, with Republicans seeking to topple Sen. Joyce Woodhouse in Clark County District 5, and Democrats hoping to do the same to Republican incumbent Barbara Cegavske in Clark County District 8.
In total, there are races in 11 state Senate districts and all 42 Assembly seats. Because of term limits, incumbents will have vacated eight Senate and 19 Assembly seats, the most since 1967, according to the legislative counsel bureau.
The lousy economy is dominating debate among state and federal candidates. At the federal level, much of the talk is about the contrast between government-led and market-based solutions for improving the economy. Among state candidates, the big issue is how to approach the 2011-13 legislative session, when legislators and the new governor will grapple with revenue that's expected to fall as much as $3 billion short of projected expenses.
This guide is intended to give voters information about those races and more that will appear on their ballots.
Early voting began Saturday and continues through Oct. 29. Election Day is Nov. 2. Voter registration for the general election closed Oct. 12.
More information is provided with sample ballots from the Clark County Election Department, which can be reached at 455-8683.
Contact reporter Benjamin Spillman at bspillman@reviewjournal.com or 702-477-3861.
2010 GENERAL ELECTION VOTER GUIDE
Early voting began Saturday and continues through Oct. 29. Election Day is Nov. 2.
Clark County Election Department
Phone: 455-8683