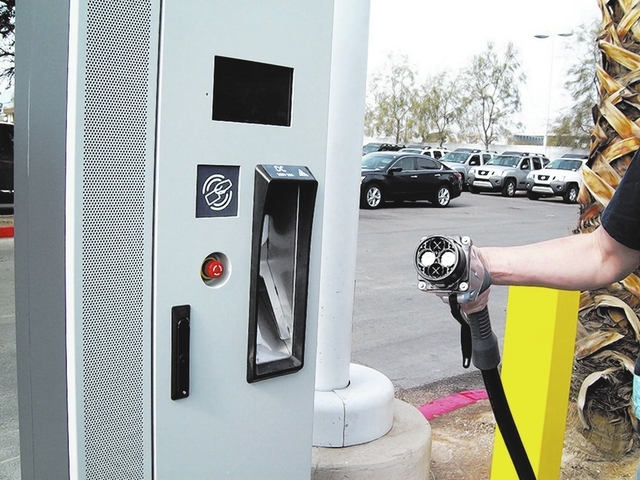 Infrastructure projects completed by NV Energy and its partners during the past two months are transforming Nevada's economy and opening new avenues for electric-drive transportation.
In January, NV Energy and Great Basin Transmission South officially dedicated a 231-mile One Nevada Transmission Line, known as ON Line, marking the completion of a three-year project that electrically connects NV Energy's northern and southern service areas for the first time.
ON Line enables development of renewable energy in remote parts of Nevada. The bulk transmission line is energized to 500,000 volts and has an initial capacity of up to 800 megawatts.
ON Line runs from the Harry Allen Generating Station, north of Las Vegas, to the Robinson Summit Substation, west of Ely.
Eleven renewable energy projects are being served by the new line, which enhances the overall energy-sharing efficiencies of NV Energy's 10 generating stations throughout Nevada.
"Construction of this transmission line created hundreds of jobs for Nevadans, thanks to the public-private partnership that was made possible by the Recovery Act." Sen. Harry Reid, D-Nev., said. "This vital project will deliver hundreds of megawatts of clean renewable energy to the grid. Completion of the ON Line transmission project is an important step toward unlocking Nevada's vast clean energy potential and strengthening our state's electric grid for the future."
Great Basin Transmission South, an affiliate of LS Power, owns 75 percent of the line, and NV Energy owns 25 percent. NV Energy has rights to 100 percent of the line's initial capacity until LS Power completes project phases, collectively known as the Southwest Intertie Project.
During last month's panel discussion "Future of Energy and Economics" with the Green Alliance of Nevada, Paul Thomsen, director of the governor's office of energy, and Tony Sanchez, senior vice-president for government and community strategy at NV Energy, emphasized that the export and transmission of renewable energy generated within Nevada to neighboring states is a potential revenue booster and jobs creator.
As a utility, NV Energy has been mandated by the Legislature to provide 25 percent of its electricity from renewable energy sources by 2025, with a short-term goal of 14 percent by this year.
The company has exceeded this with 18 percent renewable energy resources available. Excess electricity from renewable sources can be sold to neighboring states, facilitated through the acquisition of NV Energy by MidAmerican Energy Holdings Co., which owns utilities in California, Oregon, Washington, Idaho, Utah and Wyoming.
NV Energy also has been investing in electric car recharging station infrastructure throughout the state by providing incentives to business, government, educational and nonprofit organizational partners.
A 30 percent federal tax credit for alternative-fuel vehicle refueling property expired last year, motivating consumers and commercial business owners to "use it or lose it."
In Southern Nevada, an existing infrastructure of 40 host sites with 90 SAE J1772 AC Level 2 plugs will jump to more than 60 host sites with about 120 plugs by the end of the first quarter, with each public site providing electricity at no cost to owners of plug-in electric cars.
Recharging sites can be found at University of Nevada, Las Vegas, and Desert Research Institute, and the College of Southern Nevada, Cheyenne. Public installations also can be found at commercial properties owned by MGM Resorts International, Caesars Entertainment Corp., Las Vegas Convention Center, Rampart Casino, U.S. Micro Corp. and Best Western Plus in Henderson.
BMW dealerships owned by AutoNation in Southern Nevada will begin selling the i3 electric car, joining existing Chevrolet, Nissan, Ford and Mitsubishi dealerships in this region to also provide electric car recharging stations on their properties.
AutoNation Nissan recently installed the first DC Quick Charge station in the state that can refuel a Nissan LEAF battery pack to 80 percent capacity in just 25 minutes.
Tesla Motors has teamed with the Downtown Project in Las Vegas to install a supercharger station at 701 Bridger St. with six parking stalls that can refuel the battery pack of the Tesla Motors Model S, and upcoming Model X, within one hour. The Bridger Street facility is part of a nationwide network of supercharger sites owned and administered by Tesla Motors that will be within 200 miles of each other. The company hopes to provide 80 percent coverage of the U.S. coast-to-coast by the end of 2014 and more than 95 percent coverage by the end of 2015. Electricity is provided at no cost to Tesla owners from supercharger sites during the entire life cycle of their vehicle.
A Google locator map shows locations in Southern Nevada at the Nevada Electric Vehicle Accelerator program website at nevadaeva.org/evse- locator-map.
In memory: U.S. Air Force veteran Don Carrier, who had written for the Stars &Stripes newspaper in the Pacific, died Feb. 8. Carrier co-founded the Tesla Motors Owners Group of Las Vegas to provide educational outreach to the community and actively showcased his Model S Signature electric car at many events since purchasing the vehicle in October 2012.
Stan Hanel has worked in the electronics industry for more than 30 years and is a longtime member of the Electric Auto Association and the Las Vegas Electric Vehicle Association. Hanel writes and edits for EAA's "Current Events" and LVEVA's "Watts Happening" newsletters. Contact him at stanhanel@aol.com.