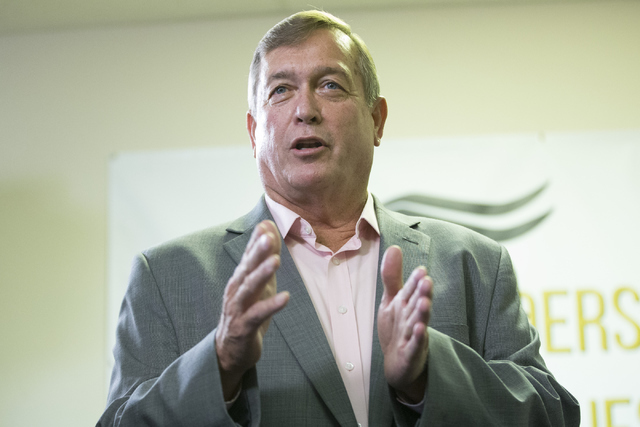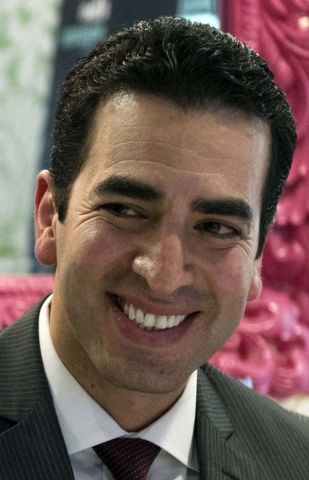 The two major candidates in Nevada's 4th Congressional District haven't settled yet on when they'll debate.
They've certainly talked about it. When U.S. Rep. Cresent Hardy, R-Nev., called challenger Ruben Kihuen to congratulate him on winning the June 14 Democratic primary, Kihuen asked him for a debate date leading up to the Nov. 8 general election.
Hardy's campaign followed up with a July 1 letter to Kihuen campaign manager Dave Chase with a couple of options: Aug. 27 or Aug. 29. Under Hardy's proposal, the debate would be in Ely, and focused on rural Nevada issues such as health, transportation, public lands and mining. Ely, a town of about 4,200 more than 200 miles north of Las Vegas, is a reminder of the district's wide, rural reach. The district encompasses North Las Vegas and includes six rural Nevada counties.
As of Friday, the Hardy campaign hadn't heard back from Kihuen's campaign.
In the letter, Hardy Campaign Manager Ross Hemminger wrote that rural communities deserve to know where candidates stand on issues.
In March, Kihuen proposed a debate on whether Gold Butte should be designated as a national monument. That's an area of about 350,000 acres north of Las Vegas with desert vistas, rock art galleries and formations .
Kihuen's proposal came after Hardy's campaign manager dropped by a Democratic event in Mesquite and gave visitor guides and notes from Hardy to candidates running for the Democratic nomination, welcoming them to the district.
In a subsequent Desert Valley Times news account, Hardy said: "Tell Ruben Kihuen that when he wins the nomination, we can have that debate."
In a prepared statement, Chase said on Friday: "While we're glad to hear Congressman Hardy wants to come out of hiding and is no longer too afraid to debate Ruben, it appears he's still trying to break his explicit promise to voters to debate Ruben on designating Gold Butte as a national monument. We believe his campaign's proposal falls far short of the rigorous debate that the entire 4th District deserves from both candidates over the coming months."
The Hardy campaign says Hardy is happy to debate Kihuen about Gold Butte, stressing the event should include other issues impacting residents. The Hardy campaign's letter notes Kihuen's original Gold Butte invitation, proposing they "expand the focus of the debate" to discuss "all the issues facing rural Nevada."
"When Congressman Hardy received your kind invitation to debate the subject of Gold Butte, he was surprised that you didn't include any of the other very serious issues that rural communities face," Hemminger wrote. "As your campaign gets out more to the rural parts of the district, you will learn that there are many issues other than just Gold Butte that are of concern to the citizens."
Contact Ben Botkin at bbotkin@reviewjournal.com or 702-387-2904. Find @BenBotkin1 on Twitter.