New CEO of the Boys & Girls Club of Henderson knows the organization well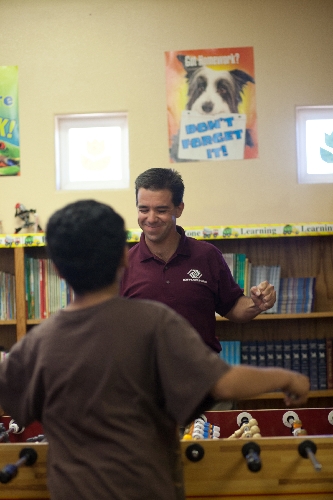 Being both a mentor and someone who has been mentored, Boys & Girls Clubs of Henderson CEO Ken Rubeli knows the importance of an after-school program.
"Some of our children are dropped off here at 6:30, given breakfast, taken to school, picked up from school, given a snack, given help with their homework and then taken home," Rubeli said.
Rubeli, 41, oversees the four Boys & Girls Clubs of Henderson, which includes the three locations in Henderson and one in North Las Vegas, and the recently opened club in Southern Highlands . About 9,000 children come through the program every year.
Rubeli started attending the Boys & Girls Clubs in Scottsdale, Ariz., when he was 9 .
"It was the Boys Club back then," Rubeli said. "I went because it was a place to hang out during the summer when there wasn't a lot to do. I was a rambunctious child and would have made stupid mistakes if I didn't have the club."
The staff members were the reason Rubeli stayed.
"I remember a staff member showing me how to play foosball," Rubeli said. "I've met some role models that are still mentors today."
Steve Davidson, CEO of the Boys & Girls Clubs of Greater Scottsdale, was one of those mentors whose relationship with Rubeli has lasted more than 20 years.
"We always knew he had leadership qualities," Davidson said. "He always had a big heart and understood kids came first."
Through the years, Rubeli transitioned from attending the club to volunteering when he was 14 . He eventually worked as a staff member during the summers he was in college.
"It was fun," Rubeli said. "Like I tell my staff today, 'If you're not having fun, maybe this isn't the best job for you.' I would always go home so exhausted because I just had so much fun."
Even when times got hard, Rubeli stuck with it.
"I almost quit once," Rubeli said. "There was a kid named Brandon. I saw him by the pool crying one day. He said he missed his dad, who had died a few months ago. I just hugged him and told him everything would be OK. I told him to remember all the good times he had with his dad. He recovered, and I took him back to the pool."
But that moment left Rubeli feeling useless.
"I went to the director's office and just broke down crying," Rubeli said. "I wished there was just more that I could do for Brandon. In a similar fashion, the director just put his arm around me and hugged me. He told me I did a good job."
Rubeli checks in on Brandon occasionally to see how he is doing.
Another vivid memory that impacted Rubeli involved Davidson.
"One day, Steve called me into his office," Rubeli said. "He took out $40 from his wallet and said, 'Go buy a pair of size 10 sneakers.' I asked him why."
A boy named Patrick was being teased at school because he had old shoes.
"So he reached into his own wallet," Rubeli said. "That is something that sticks out to me even today."
After graduating from Marymount College in California, Rubeli worked at the Boys & Girls Clubs in Scottsdale for two years, handling the organization's finances and working with the children.
From there, Rubeli decided he wanted to move to New York to work on Wall Street. After six years in New York, he moved to Texas to work with Enron, which collapsed in 2001 amid an accounting scandal.
"I was there when it went under," Rubeli said .
Rubeli opened a consulting firm that focused on energy trading and met executives from Harrah's Entertainment. In 2005, he took a job as director of corporate finance with Harrah's and moved to Las Vegas. He lives in Summerlin.
"I knew I wanted to get involved with the Boys & Girls Club," Rubeli said. "So I had Steve introduce me to the board for the Henderson Boys & Girls Clubs."
While Rubeli's career transitioned to the gaming world, his commitment to the Boys & Girls Clubs stayed strong as he joined the board in 2006.
When Boys & Girls Clubs Henderson CEO Mike Meyer announced in July 2010 that he would retire, the board began searching for a replacement.
In August, one of the eight members of the search committee suggested that Rubeli take the position.
"I told them no, I wasn't ready," Rubeli said. "It took about 12 hours for me to realize it was something I wanted to do. So I left one side of the table (doing the interviews) and went to the other side (to be interviewed)."
In December 2010, Rubeli began shadowing Meyer, who officially retired in April .
Davidson continues to be proud of Rubeli.
"He has come full circle," Davidson said. "Our relationship started as a young man being mentored by a staff member. Now we are co-professionals. He is going to be a mover and a shaker for this organization."
As the new CEO, Rubeli hopes to uphold the same principles instilled in him and to tell the community about the real Boys & Girls Clubs.
"It is the best-kept secret," Rubeli said. "It is not just for economically disadvantaged neighborhoods. Every neighborhood needs a Boys & Girls Clubs."
Contact Henderson and Anthem View reporter Michael Lyle at mlyle@viewnews.com or 387-5201.