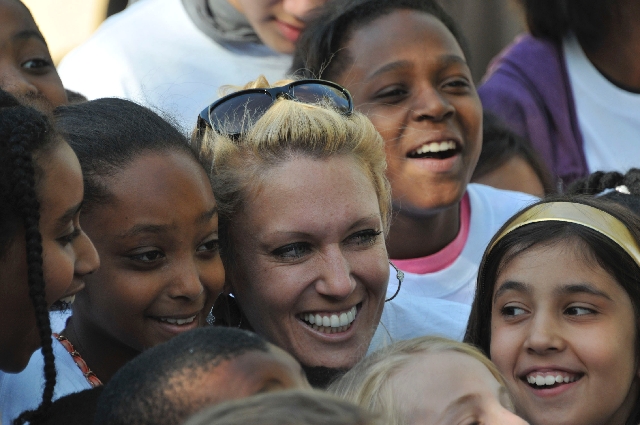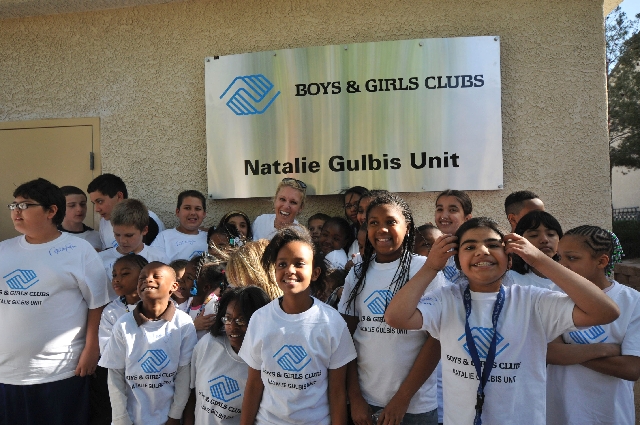 Kids at the Natalie Gulbis Boys & Girls Club in the southwest area will have a reason to root for the club's namesake each week on TV. Gulbis, a Ladies Professional Golf Association Tour professional, made a promise to them at her club's April 9 dedication ceremony: For every birdie she makes on tour, she will donate $100 to the club.
One child asked her what channel he could see her on.
"The Golf Channel," Gulbis said.
The Gulbis Club is part of the network of the Boys & Girls Clubs of Henderson (BGCH), which operates 10 clubs in the valley. It is much smaller than a typical club, though, as it was opened in an existing activities center inside the Apache Pines Apartments, 9552 W. Tropicana Ave.
The apartment complex is part of Nevada Housing and Neighborhood Development, or HAND, a nonprofit organization founded in 1993 that provides low-income housing to families and seniors at more than 30 properties in the valley. The Silver Pines Boys & Girls Club, 6650 E. Russell Road, also is inside a HAND property.
The Boys & Girls Clubs of Henderson hosts an annual golf tournament fundraiser, the Natalie Gulbis Golf Classic. During its first three years, it raised more than $200,000 for the clubs.
Ken Rubeli, CEO of BGCH, said the club was named for Gulbis "as a way to thank her for all the money she's raised for us."
"She's really helped us grow," Rubeli said.
The BGCH expanded to 10 locations from five in the past two years, Rubeli said.
Rubeli also stressed his gratitude to Mike Mullin, CEO of Nevada HAND, for making the clubs possible. BGCH does not have to pay rent or utilities, and Nevada HAND contributes to the clubs' operation.
"We're only paying a fraction of the cost, and it's because of partners like Nevada HAND that we've been able to grow," Rubeli said.
Gulbis, a Henderson resident, grew up in Sacramento, Calif., where her dad was a probation officer. Gulbis said she used to go to her local club as a kid and volunteered there when she was older.
"I always hoped one day I'd be able to have my own name on a club," she said, "and to be able to use the game of golf to give back."
Gulbis learned to play golf from her father, who worked a graveyard shift and would take his daughter to the course in the afternoon.
"Instead of going to a babysitter or being left by myself, he would take me to the golf course," Gulbis said.
In her 12 years on the LPGA Tour, Gulbis' charity of choice has always been the Boys & Girls Clubs, she said.
The Gulbis Club is open from 2 to 7 p.m. and has more than 200 members, averaging about 50 kids per day. Gulbis, who does not have kids of her own but joked that she just adopted every member, said she would come by the club as often as she could.
She said there are plans to install a putting green outside in the coming months and make the Tiger Woods PGA Tour video game available at the club.
"This is something I'm very passionate about," Gulbis said, "just getting them to learn about the game and go out and play with them.
"I've got 250 new kids now, so I've got to take care of them."
Contact View education reporter Jeff Mosier at jmosier@viewnews.com or 702-224-5524.