NextStep Ministries plans Christmas for the Homeless outreach event
December 17, 2014 - 2:53 pm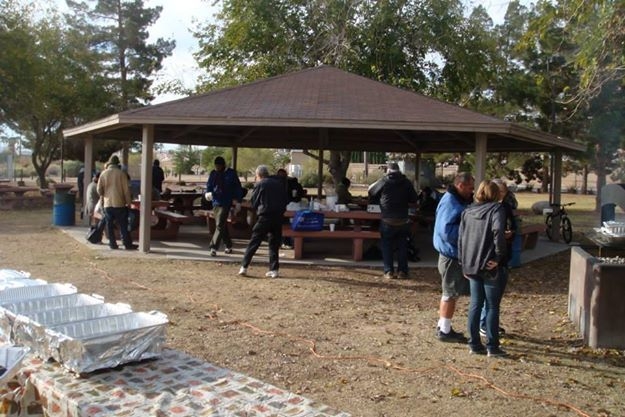 At least five days a week, Henderson resident Walter Kwasniewski preaches in parks across the Las Vegas Valley.
As the founder of NextStep Ministries, he is dedicated to helping the homeless.
"We have seen a lot of success stories," he said. "I get to meet a lot of people, and I've seen a lot of lives changed through this ministry."
The ministry plans its third annual Christmas with the Homeless event at 11 a.m. Dec. 20 at 222 Navajo Drive.
The event is set to provide about 35 homeless individuals with food, showers, laundry and a church service.
"We show people that they're not forgotten," Kwasniewski said. "We want to show people that they are humans, and they are important.' "
Each gathering includes a meal and service. Once a week, individuals are invited into the ministry's clean and sober living home in Henderson to take showers and do laundry.
"I also became a public notary because these individuals need IDs to get social services and a job," Kwasniewski said, "but to get an ID, you need a birth certificate, and to get a birth certificate, you need a state-issued ID, and for that, you need a notary. I've watched people go through hoop after hoop just to do this, so I became a notary to help them."
Kwasniewski discovered his calling nearly a decade ago when he encountered homeless people while driving around town.
"Prior to this, I just ignored them and wouldn't look at them,'" he said. "I would see them, and I would think, 'Why don't people do something about this?' Then I realized, 'Yeah, why don't I?' "
In January 2007, Kwasniewski began offering warm meals to the homeless in parks in exchange for 20 minutes of their time to listen to him preach.
"The reason we started in parks is because we meet people right where they are at," Kwasniewski said. "Homeless individuals are reluctant to go to buildings because they feel people will look at them funny. They also don't like the confinement of being inside."
Through the ministry, Barry Bouton said he was able to kick his drug habit and help others in similar situations.
"I've been addressless for 17 years, and I started going to the services just for the hot breakfast," Bouton said. "Before, I didn't want to hear anything about Him, but now I know He is working through me to help spread His word."
Bouton moved to Las Vegas from Chicago about 22 years ago but later found himself homeless due to a gambling addiction.
"I was working for the first five years, but I got a gambling addiction that took care of my paychecks," Bouton said. "Then I started smoking synthetic drugs, and it was really a suicidal lifestyle. The word has kept me alive, and I'm a lot happier now."
While assistance increases during the holidays, Kwasniewski stresses the importance of providing services year-round.
"Just because it turns January doesn't mean these guys are off the street," he said. "We don't just see us and them: we see one another. No matter how old you get, it's not over until you're dead, and we're here to give them hope."
NextStep Ministries offers fellowship services at 4 p.m. Tuesday and Saturday at the Russell Road Recreation Complex, 5901 E. Russell Road; 9:30 a.m. Thursday at Sunset Park, 2601 E. Sunset Road; 9:30 a.m. Sunday at Desert Breeze Park, 8275 Spring Mountain Road; and 6 p.m. Monday at the ministry's clean and sober living house.
The group seeks volunteers and donations of money and clothing year-round.
For more information or to donate, visit nextstepministrieslv.com or call 702-741-7540.
Contact Henderson View reporter Caitlyn Belcher at cbelcher@viewnews.com or 702-383-0403.