Niche business offers gourmet chicken pot pies
January 1, 2015 - 2:00 am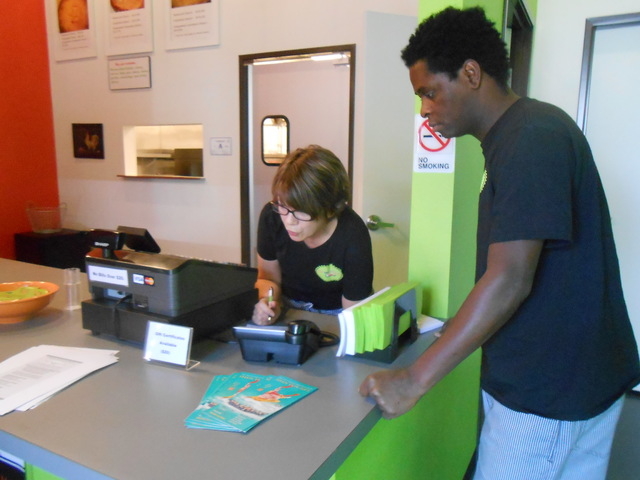 Marje Hammond and her partner Feliciano Savilengo bring home the aroma of Mom's baking with their new venture, Pie Me Over, 6070 S. Rainbow Blvd., Suite 7, but Mom may end up jealous.
The partners make gourmet chicken pot pies. Patrons can bake them at home or have it done at the shop. The pot pies are also sold frozen.
Hammond hails from Boston, where she attended culinary school at Newberry College, worked for a pastry chef and later was a chef for her own business. The pot pies were something she perfected over a year. They come with three types of crust: regular, cheddar or habanero.
"I wanted it to be healthy and lower in sodium than (store-bought). Their sodium content is just crazy," she said. "I think it's a comfort food, so I wanted it to be flavorful but not the way other chicken pot pies are. We rotisserie our chicken, so it's a labor-intensive product."
She and her partner bake every day to ensure that the products are fresh.
"I love it," said Cherise Moore, a customer who lives in the area. "… It's got lots of chicken and big chunks and everything's fresh. This is made from scratch — you can tell."
Savilengo hails from Angola and met Hammond at a party 10 years ago. He said his favorite part of Pie Me Over was making the dough. Savilengo said the pies are good any time of year.
"What's the difference between that (pot pies) and pizza? It's hot," he said. "Besides, your home is not hot. You've got AC."
The 665-square-foot space was new, so Hammond and Savilengo got to build out the interior based on the business' needs.
Getting Pie Me Over's legal requirements in order proved a hassle, as did digging out the foundation to install the mandated grease trap. But the hardest part was "wearing so many hats," Hammond said. "I'm lucky to have my computer skills. We did our own website, the signs and graphics. … It helped keep the budget down."
Opening day was Oct. 13, and the shop has been gaining clients ever since. Returning customers are rewarded by using their loyalty card, with which they get a free pie after purchasing nine.
Pie Me Over pot pies contain rotisserie-baked chicken, carrots, baby peas, celery, onion and a spot of dry sherry. Any alcohol is vaporized in the baking process. The pies come in individual size, apartment size (serves two) and large (serves four).
"I've heard the word 'concept ' used so many times," Hammond said. "I never really considered it a concept. Well, maybe it is to Las Vegas, but everybody tells us we're the first one in Las Vegas."
Pie Me Over is considering making a vegetarian pot pie and possibly an ethnic one.
"But whatever I decide, it's got to be as good as these," Hammond said.
Pie Me Over is open from 10:30 a.m. to 6:30 p.m. Monday through Friday and 10:30 a.m. to 5:30 p.m. Saturdays. For more information, visit piemeover.com or call 702-802-2658.
Contact Summerlin Area View reporter Jan Hogan at jhogan@viewnews.com or 702-387-2949.