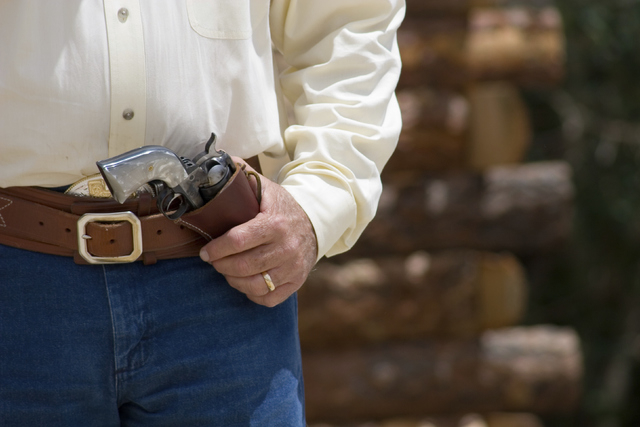 They go too far. Then again, they don't go far enough.
When the subject is expanding background checks on firearm purchases, there are plenty of readers on both sides of the issue. The only thing they appear to agree on is that they disagree with Sunday's column on the initiative petition drive calling for a 2016 vote on expanded background checks in Nevada.
It's not surprising to take a little fire, metaphorically speaking, whenever this subject is raised. Although a group calling itself Nevadans for Background Checks submitted nearly 250,000 signatures in support of its initiative, and recent surveys suggest up to 86 percent of Nevadans favor increased scrutiny of purchase at gun shows and on the Internet, that doesn't mean the issue is settled. Far from it.
A sampling of the printable reader responses:
John S. of Henderson wrote, "Good column, but I cannot agree on further background checks for the following. One, nut cases and criminals do not come into possessing firearms through legitimate means. Two, you do not punish the masses for the problems of the few. Seeking these 'reasonable and common sense' measures to prevent those who should not have weapons from getting them always infringes on those who are allowed to own them. Three, it never ends.
"There are two camps out there. One believes the only people who should possess firearms are cops and the military. The others believe in the U.S. Constitution. That's me. Those guys were bright and understood the need for citizens to protect themselves from their government. Plain and simple.
"What I mean by it never ends is all those support this infringement upon the constitutional rights of the people say it's a good 'first step.' What that means is it is the first step toward full confiscation. I cannot support that concept. I never will.
"I was a cop in L.A. County for 29 years and never saw a citizen with a lawfully owned weapon use it to commit a crime. I saw quite a few use one to protect themselves. Personal defense is frankly just a byproduct of having a U.S. Constitution with the brilliance of a Second Amendment."
Ralph S. also noted my lack of knowledge on the subject. He offered to educate me.
"The vast majority of crimes committed with a firearm are by people who get guns by stealing them or purchasing them in the criminal underworld where the guns they buy are stolen," he wrote. "Background checks wouldn't be conducted.
"In the last several mass shootings, the people who did the crimes had KNOWN mental health issues, but their problems were NOT entered into the NCIS system and they were able to obtain weapons. In the Sandy Hook incident, the shooter stole the weapon from his mother. In the Giffords incident, the shooter had serious KNOWN mental issues and it wasn't entered into the NCIS system. If it had, he would have been unable to purchase the gun he used."
So, does that mean we need more laws, better enforcement, or both?
Ever-gentle reader Gerald of Las Vegas wrote, "What the hell is universal? (As in universal background check.) I know, a new bunch of government jobs called paper shufflers. Did you left-wing Marxists ever think of all the guns purchased before this nonsense? I doubt it."
Finally, Doug M. of Las Vegas was unimpressed with the column — because I didn't go far enough.
"Your article was incomplete in that background checks are only a partial answer to the problem of guns," he wrote. "Usually the hue and cry for background checks appears after a shooting incident. I agree that purchases and exchanges of guns should require a background check.
"But that check is woefully short when it comes to the mental health of individuals and the inclusion of information into databases by government agencies. Without some type of uniform reporting of mental health information, the background check becomes inadequate. Next, those arrested criminally for gun violations need to be prosecuted for the charge and not negotiated. When you add the mental health and criminal prosecutions along with background checks, the entire process has some meaning."
With the background checks question expected on the 2016 ballot, there's still plenty of time to let the opinions fly.
John L. Smith's column appears Sunday, Tuesday, Wednesday, Friday and Saturday. E-mail him at jsmith@reviewjournal.com or call (702) 383-0295.