Nonprofit serves homeless, low-income residents with restaurant-style experience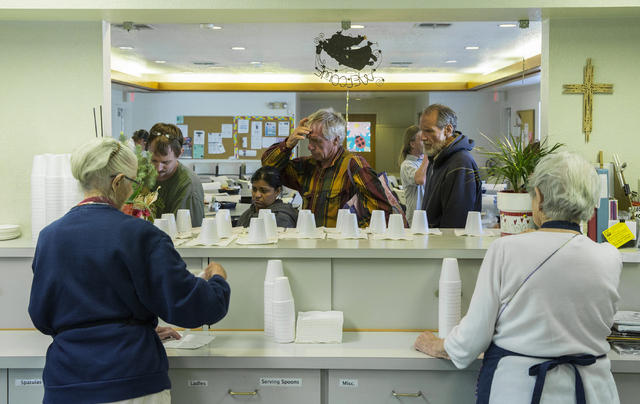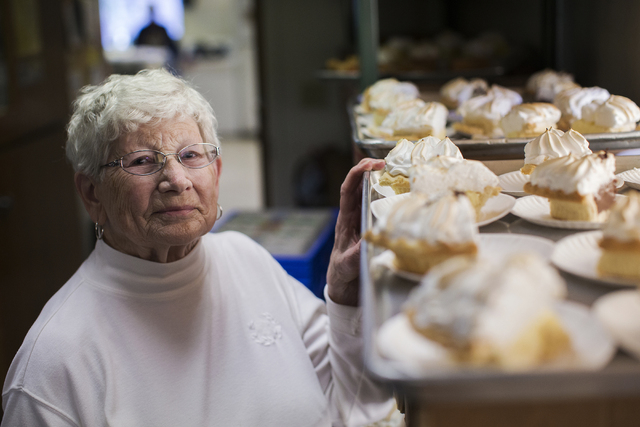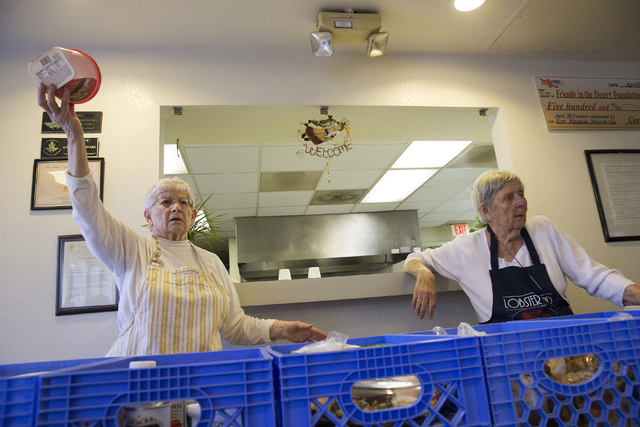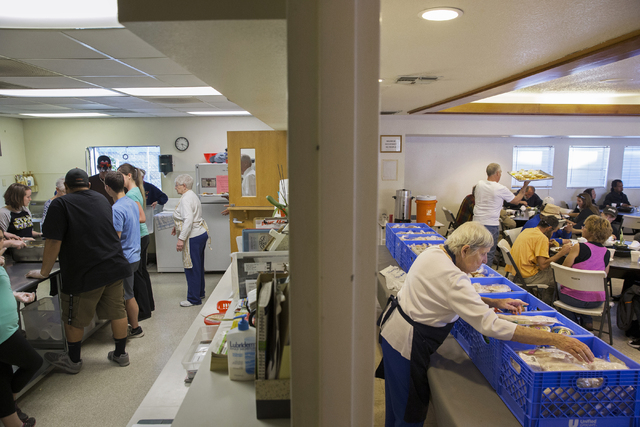 The backroom of St. Timothy's Episcopal Church is vacant and quiet.
It's always like this at 4:25 p.m., despite the line of dozens of people outside, waiting for the doors to open and dinner to be served.
Some days, church volunteers have seen the line stretch past the parking lot, but this Wednesday afternoon is relatively tame, with about 80 hungry mouths.
Their stories and struggles might be different, but everyone in that line has one common denominator: They all rely on Friends in the Desert to give them a meal — in some cases, their only one for the day.
"It's time to open," said Muriel Dufendach, operations manager for the Henderson-based nonprofit, which provides food, clothing and hygiene products for homeless and low-income people. Its mission to feed those in need became clear after church members noticed homeless men scrounging for food in the dumpsters behind the church at 43 Pacific Ave.
"It is what we are supposed to do (as Christians)," Dufendach said. "Jesus said 'feed my sheep,' so, that's what we are doing."
What started as the church giving one man a place to sit while he enjoyed a hot bowl of soup on a winter morning grew into a bigger effort. Churchgoers wanted to make it a regular offering.
One homeless patron grew to two, multiplying until the church had at least 50 in its dining room.
Friends in the Desert could have organized another soup kitchen but instead decided to take service to the next level, setting up each night like a restaurant experience, with meals brought out in courses, on trays. Its acts of kindness transitioned into an official nonprofit in 1999, serving various populations — some homeless, others low-income and in search of a meal to fill the gaps.
"About half of them are the working poor," Dufendach said. "We even have families who come through."
The group learned more about its demographics when it partnered with UNLV for a 2013 study, which found that 31 percent were sleeping on the street, 22 percent had a residence, and 12 percent were living with friends or family.
But their back stories aren't a prerequisite for getting a meal. Each night, about 90 gather, though there have been times when only 75 came and others when 130 showed up, and people had to wait for a seat.
The space has only 104 chairs, so when seats run out, "patio seating" is offered — the sidewalk.
"There has only been a few times where we've ran out of food," Dufendach said. "But we always try to give them something."
Each night, Dufendach greets each person with handshakes, hugs and small talk. In addition to the meal, there is a table with fruits, vegetables and other items, such as pastries and breads, for patrons to take home.
As they walked through the door on this afternoon, Dufendach handed each a plastic bag.
"Oh, we have avocados," one woman said as she approached the table.
Lucas Payton sat in the front of the room shoveling blueberries he picked up off the produce table into his mouth. He has been coming to the program off and on since he finished serving jail time five years ago. For the most part, he has been sleeping on a beach in California. He makes his way back to Las Vegas every once in a while and camps out in a backyard or the desert.
If it weren't for this program, he said he would probably revert back to occasional shoplifting — he only does it when he hasn't found any other solution.
In the back corner, Shawn Matkin stirred his coffee and waited for the meal to be served.
"I remember I met Muriel the first time, and when I came back, she remembered my name," he said.
The once-silent room is filled with chatter and laughter as people who were once strangers come together as if it were family dinner.
"And it's like Muriel is our grandma," Payton said.
Feeding the amount of people who come through the door isn't an easy task, and Friends in the Desert wouldn't be able to pull off what it does without its volunteer base.
Dufendach said the group could easily operate with four to six people each night in the tiny kitchen.
"I don't want to have more than 12," she said. "One time, I had 35 volunteers."
In addition to being de facto waiters for the evening, volunteers prepare salads, entrees and desserts. The entrees vary, depending on who is volunteering.
"We've served just about every type of meal," Dufendach said, explaining that dinners can be anything from pasta to Panda Express — one donor purchases Panda Express once a month for the group.
"One week, I served lasagna three days in a row," she said. "I thought for sure people were going to be angry. But they ate it and treated it like it was the best meal they'd ever had."
In case something falls through, Dufendach always has a backup meal — chili dogs.
"But they love them," she added.
On this Wednesday, individual chicken pot pies were on the menu. Leon Sampson, along with a group of students, poured the mixture into individual pie containers, covered them with puff pastry and baked them.
Before the meal is served, Dufendach does mail call — since many are homeless, the church allows some regulars to receive mail there — then prays over the food.
The meal ends almost as quickly as it began, and the room starts to quiet.
At the end of the night, as tables are wiped, dishes cleared and the floor mopped, many of the men being served stick around to help.
Dufendach said people often tell her and other volunteers that they are enabling the people who come by providing a free meal. She knows better.
"I feel, if you save one person, you save the world," she said.
Meals are served in the church's back room at 5 p.m. Monday through Friday (doors open at 4:30 p.m.). A weekend meal is served at 11:30 a.m. Saturday, and a sack lunch is provided on Sunday.
Visit friendsinthedesert.com or call 702-565-8742.
To reach Henderson View reporter Michael Lyle, email mlyle@viewnews.com or call 702-387-5201. Find him on Twitter: @mjlyle.
Friends in the Desert meals program
Meals are served in the church's back room at 5 p.m. Monday through Friday (doors open at 4:30 p.m.). A weekend meal is served at 11:30 a.m. Saturday and a sack lunch on Sunday.
Visit friendsinthedesert.com or call 702-565-8742.