North Las Vegas Cannery tears out gift shop to sell more useful items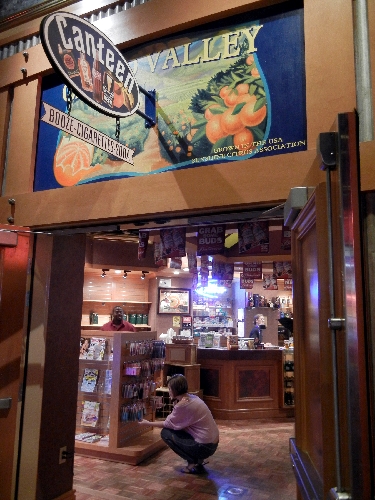 Locals don't buy Las Vegas trinkets. What happens here … stays here because they live here — rendering traditional casino gift shops useless to those who call the valley home.
At least, that's what the folks at the Cannery, 2121 E. Craig Road, discovered about their clientele. So they eliminated the gift shop.
The location has become the Canteen, a convenience store stocked with booze, snacks and small toiletries, among other items. It opened at the beginning of July. Ruben Warren, assistant general manager, said the gift shop business model wasn't selling merchandise, so the casino wanted to come up with a creative way to target locals without charging resort fees, which is common among Strip casinos.
"All of the local places I know of have resort fees, and we've chosen not to do that," Warren said. " … We don't need resort fees.
"This has culminated over a couple of years, and recently, with the downturn of the economy, the traditional gift shop doesn't work. It doesn't fit the mold anymore. We heard our customers."
Many head to the casino to cash their checks when the work week ends and place a few bets. About 1,100 people come through on Fridays, Warren added.
"We've heard there is a demand, that you want some convenience instead of leaving here to go to 7-Eleven ," Warren said. "While you're here, you can continue to stay here for entertainment, and on the way out, you can pick up whatever you want."
The casino will allow gamblers to use their reward points for discounts on products such as cigarettes and on special monthly deals.
Cigarettes, which usually cost 2,800 points, could be purchased for as little as 1,600 points. This month, there's a $2.99 special on six-packs of Budweiser, Warren said.
Future deals could include a wine special around Thanksgiving or a tequila special for New Year's Eve.
Curious shoppers trickled in and out of the store last month as workers installed shelves, moved boxes and replaced wall hooks of Cannery T-shirts with bottles of vodka, whiskey, rum and bags of chips and pretzels.
Customers are greeted by lead cashier Chantel Keator, 29, who seems to recognize almost everyone.
"Nice to see you," Keator said to one shopper. "It's been a while."
The 29-year-old has worked at the North Las Vegas casino for seven years and said the No. 1 question she's asked by customers is, "Where's the nearest liquor store?"
"I think this is a good change," she said.
Twenty-two-year-old Heather Bashan, of San Diego, looked around near the toiletry items for a few moments before deciding on bottles of water, soda and a few smaller necessities.
"This is helpful," Bashan said. "We forget a lot of stuff when we travel."
Renovation costs are minimal — about $2,000 — as the casino is relying on its own carpenters to help with the transition, Warren added.
"We're a local casino, and we want to play to the local community," Warren said. "We listen to what they have to say. We're the first, definitely, in North Las Vegas to transition. You'll see the competition transition at some point."
Contact Downtown and North Las Vegas View reporter Kristi Jourdan at kjourdan@viewnews.com or 383-0492.