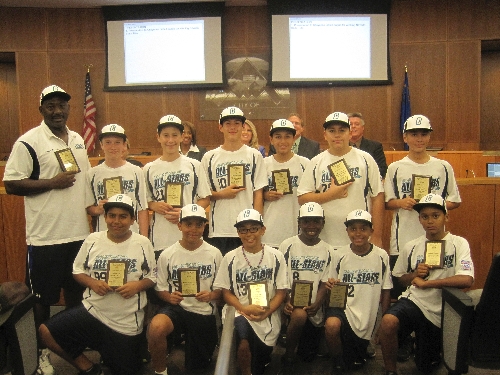 FUNDRAISER TODAY TO HELP FORECLOSED UPON PETS INC.
Foreclosed Upon Pets Inc. plans to host its fourth annual fundraiser from 5:30 to 8 p.m. today at the home of Conita and Tom Jones.
The evening will include a beer and wine bar, a buffet, music and a raffle.
Donation is $25 per person, and 100 percent of the donations will benefit FUPI. Raffle tickets are five for $20.
To RSVP and get directions, contact Sandy Marsh 279-2544 or smarsh2009@yahoo.com.
GROUP PLANNING CANDIDATE MEET AND GREET
The North Las Vegas Alliance of Homeowner Associations and Concerned Citizens is jointly planning a candidate meet and greet with the Aliante Sun City Community Association. The event is set from 6 to 8 p.m. Monday at the Sun City Clubhouse Vista Room, 7390 Aliante Parkway.
It is open to all candidates who have constituents or voters in North Las Vegas, and all residents are invited to attend.
The planned format includes a short introduction by each candidate and the option for residents to meet one-on-one with the candidates afterward. Candidates are urged to RSVP as soon as possible.
For more information or to RSVP, contact Richard Cherchio at richard cherchio@yahoo.com or 325-6708.
GOLDEN HAND SERVICE AWARDS PLANNED
The Cultural Diversity Foundation has announced its fifth annual Golden Hand Service Awards, set from 5:30 to 8 p.m. Oct. 17 at Nevada Partners, Culinary Academy of Las Vegas, 710 W. Lake Mead Blvd.
The Golden Hand Service Awards honors individuals who have contributed outstanding service to the community and have gone above and beyond the call of duty to lend a helping hand to someone in need of support.
The event's master of ceremonies is set to be Clark County Commissioner Lawrence Weekly. Tickets are $50 or $500 for a table of 10. For more information, visit cdfnv.org/goldenhand.html.
SAFE HALLOWEEN EVENT SCHEDULED
The city of North Las Vegas plans to host its annual safe Halloween event for trick-or-treaters from 5 to 8 p.m. Oct. 31 in the Home Depot parking lot at 1275 W. Craig Road near the intersection of North Martin Luther King Boulevard.
For more information, visit cityofnorthlasvegas.com.
MAKE A DIFFERENCE DAY PLANNED
North Las Vegas plans to hold an event to honor Make A Difference Day from 7 a.m. to noon Oct. 27 in Windsor Park at the northwest corner of Cartier Avenue and Clayton Street near Gilbert Elementary School. The Parks and Recreation Department also plans to host the annual "Trunk or Treat" event at the Silver Mesa Recreation Center from 5 to 8 p.m. the same day at 4025 Allen Lane. At this event, trick-or-treaters go from one decorated car to the next to collect candy. For more information, visit cityofnorthlasvegas.com.
FUNDRAISER FOR HOMELESS VETS PLANNED AT CLARK COUNTY SHOOTING COMPLEX
The Las Vegas Valley Vets annual Nancy Gass Turkey Shoot is planned from 10 a.m. to 3 p.m. Oct. 20 at the Clark County Shooting Complex, 11357 N. Decatur Blvd. The fundraising event is to benefit Las Vegas homeless veterans. A Corvette coral, vendors and the Sin City roller derby team are set to be on hand. Participants will be shooting at paper targets, and the BB closest to the center wins. Those younger than 18 must be accompanied by an adult.
For more information, call 455-2002.
COMMUNITY DAY OF SHARING TO ASSIST FIVE NONPROFITS
Albertsons Sav-on's CommUNITY Day of Sharing will combine five nonprofit groups for a donation drive, culminating Oct. 20.
The effort will unite Catholic Charities, The Salvation Army, Three Square food bank, United Way of Southern Nevada and Goodwill of Southern Nevada, with the goal of impacting the lives of those who need help with shelter, food, employment or other basic needs.
Donate gently used clothing, home goods, nonperishable food items and new hygiene products to any Albertsons location from 9 a.m. to 4 p.m. Oct. 20.
The Albertsons store at 4055 S. Durango Drive at Flamingo Road will serve as the main event site from 11 a.m. to 3 p.m. that day, with music, prizes and a community barbecue planned.
FLU VACCINATIONS AVAILABLE ACROSS THE VALLEY
The Southern Nevada Immunization and Health Coalition and its partners plan to host no-cost flu immunization and health clinics from 9 a.m. to 1 p.m. Saturday at Southwest Medical Associates, 650 N. Nellis Blvd.; 7 to 10 a.m. Oct. 23 at St. Rose Dominican Hospitals Barbara Greenspun WomensCare Center, 7220 S. Cimarron Road, Suite 195; 9 a.m. to noon Nov. 14 at the St. Rose Dominican Hospital San Martin Campus' Aljian Conference Center, 8280 W. Warm Springs Road; and noon to 3 p.m. Dec. 8 at the Clark County Fire Department Station 26, 4030 El Capitan Way.
The Centers for Disease Control and Prevention's Advisory Committee on Immunization Practices recommends that everyone 6 months or older receive the flu vaccine each year. The clinics will provide shots on a first-come, first-served basis. Children older than 6 months, adolescents and adults are eligible for the inoculations.
For more information, visit snicnv.org.
HELP OF SOUTHERN NEVADA SEEKS HOLIDAY VOLUNTEERS
HELP of Southern Nevada is calling for volunteers to assist with a number of programs this holiday season. Assistance is accepted from individuals who can donate any amount of time.
Areas where volunteers are needed include: Assisting clients with their applications for holiday programs at HELP's main campus, 1640 E. Flamingo Road; assisting in receiving donated Thanksgiving turkeys at various locations (turkeys will be given to more than 1,200 families); and assisting in receiving holiday gifts for selected clients in the Adopt-A-Family program.
To volunteer, contact Joan Lima at jlima@helpsonv.org or 369-4357.
FREE BEREAVEMENT SESSIONS OFFERED FOR TEENS
The Center for Compassionate Care division of the Nathan Adelson Hospice is offering a series of free bereavement support groups for teens 13 to 18 who have experienced a significant loss.
The support group plans to meet from 6 to 7:30 p.m. Wednesdays, ending Nov. 14, at The Center for Compassionate Care, 4131 Swenson St.
The program will explore grief, loss, emotional responses to memories and events surrounding loss, and coping skills.
To register, call 796-3167 or Christine Zazzeri at 796-3126. For more information, visit nah.org.
IN PURSUIT OF EXCELLENCE GALA TO RECOGNIZE NOBEL PRIZE WINNER WIESEL
The eighth annual In Pursuit of Excellence Gala is planned for 6:30 to 11 p.m. Nov. 17 at The Venetian, 3355 Las Vegas Blvd. South.
It will honor Holocaust survivor, Nobel Peace Prize winner and "Night" author Elie Wiesel for his literacy and activism in human rights. Live and silent auctions, a dinner and dancing are planned.
Tickets start at $250 per person. To purchase tickets or make a donation, visit adelsoncampus.org or contact Davida Sims, Adelson Educational Campus director of development, at 515-8203.
MASTER GARDENERS PLAN TOURS OF DEMONSTRATION GARDEN
The Master Gardeners of Southern Nevada plans monthly tours of the Demonstration Gardens at the Clark County/University of Nevada Cooperative Extension Lifelong Learning Center, 8050 Paradise Road. Tours are free and open to the public. Groups of five or more people are requested to call program coordinator Ann Edmunds at 257-5587 at least two weeks in advance.
HELP OF SOUTHERN NEVADA DISTRIBUTES DONATED WATER BOTTLES
HELP of Southern Nevada, in partnership with Whole Foods Market and Real Water, acquired 14,784 bottles of water, or 616 cases, during its HELP2O bottled water drive this summer.
From June through August, the nonprofit teamed up with all four Whole Foods Market locations in the Las Vegas Valley for the effort. Real Water, a Las Vegas-based bottled water company sold at Whole Foods Market, matched all Real Water purchases made during the campaign.
HELP of Southern Nevada staff members are regularly distributing the bottles to homeless citizens around the valley. The inventory is expected to last into the winter season.
For more information, call HELP of Southern Nevada at 369-4357 or visit helpsonv.org.
MASTER GARDENERS PROGRAM OFFERING FREE CLASS
The University of Nevada Cooperative Extension Master Gardeners program, 4600 Horse Drive, is offering a free class, the last of a series, at Acacia Park, 50 Casa del Fuego, in conjunction with the Henderson Parks and Recreation Department. The class, Safe and sound insect control, will be taught by a Master Gardener instructor and is scheduled to start at 9 a.m. Saturday.
For more information, visit tinyurl.com/NLVchamberevents. For general gardening questions, contact the Master Gardener Help Line at 257-5555.
COATS FOR KIDS DRIVE PLANNED THROUGH NOV. 3 AT ALBERTSONS
The 13th annual Coats for Kids drive is scheduled through Nov. 3 at Albertsons stores across the valley.
Bring gently used coats to any Albertsons store and place them in the marked box at the front of the store. Aramark Uniforms will pick up the coats and drop them off at Al Phillips The Cleaner, which has cleaned all the coats free for the past 13 years. They are distributed to children in need by The Salvation Army's Family Services.
As part of the Lucky 13 theme for this year, anyone who donates a coat can enter a drawing for one of 13 pairs of free tickets to see Carrot Top's show at the Luxor. Entry forms are available at the Albertsons service desks.
GRIEF CAMP TAKING APPLICATIONS
Applications are being accepted for Camp Solari, which offers a nurturing environment for children 6 to 17 and their surviving caregivers to learn to cope with grief. The next camp is planned for Friday through Sunday at the Mount Charleston Lodge, 5375 Kyle Canyon Road.
All weekend activities, including art, music, talk therapy, drumming, dancing and nature walks, as well as lodging, meals and materials, are free to camp participants. Solari Hospice Foundation covers these costs through fundraisers and charitable donations.
For an application or to learn more about how individuals or organizations can donate to Camp Solari, go to solarihospicefoundation.org, call 877-795-8760 or email jamie@solarihospice foundation.org.
RESCUE GROUP BEGINS CAMPAIGN TO FUND PERMANENT SHELTER
Area animal rescue Adopt a Rescue Pet has launched its Beggin' for Bucks: 65,000 Pet Lovers Wanted campaign to support the organization's effort to build a no-kill animal sanctuary and canine retirement ranch. The goal is to reach $650,000 by collecting $10 from 65,000 people by Monday.
The sanctuary, slated to be located on several acres in Amargosa Valley, will house 300 dogs.
To support the effort, visit facebook.com/arplasvegas.
AARP TAX-AIDE SEEKING VOLUNTEER HELP
AARP Tax-Aide NV, which prepares free personal income tax returns for residents in the lower- to middle-income brackets, is seeking unpaid volunteers to prepare taxes, greet clients and program computers in early 2013. Training is scheduled for Jan. 7-11 on the west side of the Las Vegas Valley and Jan. 21-25 on the east side. For more information or to volunteer, email taxesbarb@cox.net or jerrytaxes@cox.net.
DONATIONS ACCEPTED TO AID NONPROFIT
Help homeless, pregnant and parenting teens by donating time, money or new or gently used items to assist clients of Southern Nevada Children First, 720 W. Cheyenne Ave., Suite 30.
Volunteers and donations are always needed to support the nonprofit.
For more information, visit childrenfirst-nv.org or call 487-5665.
ANIMAL FOUNDATION SEEKING DONATED LINENS
Nonprofit The Animal Foundation, 655 N. Mojave Road, one of Nevada's largest open-admission animal shelters and pet adoption centers, is seeking donations of new and gently used linens, including: towels, blankets, sheets, pillowcases, T-shirts and sweat shirts.
During summer, The Animal Foundation receives more than 100 animals per day. Donated linens are used to make the animals more comfortable and to keep the young and underweight animals warm.
Due to the cleaning procedures for donated linens, items must be washed in a high bleach-to-water concentration, which breaks down materials quickly. Additionally, once an item has been torn, it cannot be used again. Items with stuffing (comforters, pillows, dog beds, etc.) can be used only once as they cannot be completely disinfected.
Linens can be dropped off from 10 a.m. to 7 p.m. daily at the shelter. For more information, visit animalfoundation.com.
FORECLOSED UPON PETS NEEDS FOSTER FAMILIES
Foreclosed Upon Pets Inc. needs foster families for dogs and cats that have been relinquished by owners, left in foreclosed homes, found on the street or need a new home when the owner dies or is deployed.
Fostering usually involves short-term stints, typically ranging from a few weeks to a few months. Assistance is given to foster families, if needed, in the way of food, toys, medicine and veterinary care.
Foreclosed Upon Pets Inc. does its best to match foster families with a short-term companion that suits their lifestyle.
Foster families increase an animal's chance of being adopted by providing feedback on the temperament, activity level and likes and dislikes.
For more information, complete the foster form online at forecloseduponpets.org/, call 272-0010 or email forecloseduponpets@ hotmail.com.
SPRING MOUNTAINS NIGHT HIKES PLANNED
Explore the Spring Mountains National Recreation Area, also known as Mount Charleston, with free interpretive hikes.
A night hike discussing wildlife adaptations after dark is planned for 8 p.m. each Friday, beginning at the McWilliams Campground host site.
Campfire programs are planned for 8 p.m. each Saturday at the Hilltop Campground. Due to limited parking, the program is recommended for campground guests only.
The programs are made possible through a partnership among the U.S. Forest Service, the Basin Institute and the Southern Nevada Conservancy.
For more information, visit gomtcharleston.
KIWANIS CLUB WELCOMES NEW MEMBERS
The Kiwanis Club of North Las Vegas, a chapter of the international service organization, is scheduled to meet at 6:15 p.m. each Tuesday at T.G.I. Friday's in Aliante Station, 7300 Aliante Parkway.
Club community projects have included canned food drives, car shows, kites in the park events and charity fundraisers.
The fourth meeting of the month is limited to members only.
For more information, visit nlvkiwanis.com or call 399-0332.
LOCAL ROTARY CLUB TO MEET
The North Las Vegas Rotary Club of Las Vegas meets at 7:15 a.m. Fridays at the Painted Desert Golf Club, 5555 Painted Mirage Road.
The weekly breakfast meetings include guest speakers, networking, education workshops and service projects.
For more information, visit nlvrc.org/newsite or call Bob Lillis at 340-9735.