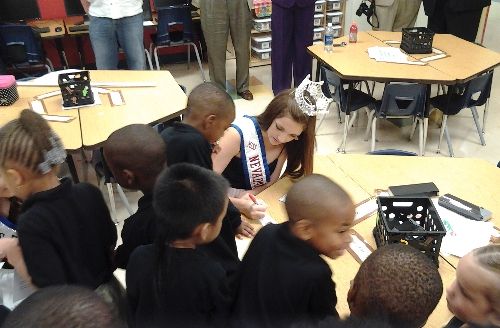 COUNCILMEN PLAN COMMUNITY MEETINGS
City Councilman Wade W. Wagner is planning a community meeting at 6 p.m. today at Legacy High School, 150 Deer Springs Way.
This free event is open to all ages. The event will include an opportunity for residents to meet the councilman. The meeting will feature music and entertainment by the Legacy High School Choir and Orchestra, an update on Ward 4 activities and the city's strategic plan for future development and economic recovery.
City Councilman Robert L. Eliason is planning a community meeting at 6 p.m. Sept. 25 at Lincoln Elementary School, 3010 Berg St. It is also free and open to the public.
For more information, call 633-1007.
VALLEY'S LARGEST MIXER NEEDS EXHIBITORS
Exhibitors are needed for Las Vegas' Largest Mixer VIII planned for 5 to 9 p.m. Wednesday at Texas Station, 2101 Texas Star Lane.
Businesses are invited to display on one 5-foot-deep by 8-foot-wide exhibit space at the large-scale event.
More than 100 exhibitors participated last year, and tickets for the more than 1,500 attendees sold out two weeks before the event, organizers said.
Admission is $15 per person.
For more information, call 769-7799 or visit lasvegasmixer.com.
FRIDAY ART AUCTION TO BENEFIT THE ANIMAL FOUNDATION
Art aficionados are invited to a public auction planned for 6 p.m. Friday at Lexus of Henderson, 7736 Eastgate Road, benefiting the homeless animals at The Animal Foundation, 655 N. Mojave Road.
The event is open to the public. Previewing begins at 6, with the auction from 7 to 9 p.m. The collection is set to feature works by Andy Warhol, Pablo Picasso, Joan Miro, LeRoy Neiman, Michael Godard, Peter Max, Marc Chagall and others and will feature originals, lithographs and hand-signed giclees.
This event is sponsored in part by the Road Show Company.
A portion of the proceeds from the auction will benefit The Animal Foundation.
For more information, visit animalfoundation.com/artauction/.
COMMUNITY MEETING PLANNED AT ALIANTE LIBRARY
The North Las Vegas Alliance of Homeowner Associations and Concerned Citizens is scheduled to meet at 6 p.m. Sept. 25 at the Aliante Library, 2400 Deer Springs Way.
The guest speaker is scheduled to be Ken Richardson of the ombudsman office. All local candidates for elected office are invited to attend and speak briefly.
For more information, call Richard Cherchio at 325-6708.
MASTER GARDENERS PROGRAM OFFERING FREE CLASSES
The University of Nevada Cooperative Extension Master Gardeners program, 4600 Horse Drive, is offering a series of free classes at Acacia Park, 50 Casa del Fuego, in conjunction with the Henderson Parks and Recreation Department.
Classes will be taught by Master Gardener instructors and start at 9 a.m. The lineup includes:
Saturday: Information on fruit trees
Sept. 29: Growing and using herbs
Oct. 13: Safe and sound insect control
For more information, visit tinyurl.com/NLVchamberevents.
In addition, Master Gardener Helen Brown plans to present a fall gardening class at 10 a.m. Oct. 2 at the Family Resource Center at University Medical Center, 1120 Shadow Lane. It is free and open to the public.
To reserve a space, contact Amy Runge at the Family Resource Center at 383-2229. For general gardening questions, contact the Master Gardener Help Line at 257-5555.
AARP TAX-AIDE SEEKING VOLUNTEER HELP
AARP Tax-Aide NV, which prepares free personal income tax returns for residents in the lower- to middle-income brackets, is seeking unpaid volunteers to prepare taxes, greet clients and program computers in early 2013. Training is scheduled for Jan. 7-11 on the west side of the Las Vegas Valley and Jan. 21-25 on the east side.
For more information or to volunteer, email taxesbarb@cox.net or jerrytaxes@cox.net.
FALL 2012 WOODWORKING SCHEDULE AVAILABLE
Reservations are being accepted for a basic woodworking class and other courses planned at Wood It Is!, 2267 W. Gowan Road, this fall.
The full course schedule is available online.
Participants learn safety and machinery lessons and complete projects designed to teach practical use of woodworking tools.
Fees vary.
For more information, visit wood workingclassesinlasvegas.blogspot.com or call 631-1870.
DONATIONS ACCEPTED TO AID NONPROFIT
Help homeless, pregnant and parenting teens by donating time, money or new or gently used items to assist clients of Southern Nevada Children First, 720 W. Cheyenne Ave., Suite 30.
Volunteers and donations are always needed to support the nonprofit.
For more information, visit childrenfirst-nv.org or call 487-5665.
RESCUE GROUP BEGINS CAMPAIGN TO FUND PERMANENT SHELTER
Area animal rescue Adopt a Rescue Pet has launched its Beggin' for Bucks: 65,000 Pet Lovers Wanted campaign to support the organization's effort to build a no-kill animal sanctuary and canine retirement ranch. The goal is to reach $650,000 by collecting $10 from 65,000 people by Oct. 15.
The sanctuary, slated to be located on several acres in Amargosa Valley, will house 300 dogs.
To support the effort, visit facebook.com/arplasvegas.
ANIMAL FOUNDATION SEEKING DONATED LINENS
Nonprofit The Animal Foundation, 655 N. Mojave Road, one of Nevada's largest open-admission animal shelters and pet adoption centers, is seeking donations of new and gently used linens, including: towels, blankets, sheets, pillowcases, T-shirts and sweat shirts.
During summer, The Animal Foundation receives more than 100 animals per day. Donated linens are used to make the animals more comfortable and to keep the young and underweight animals warm.
Due to the cleaning procedures for donated linens, items must be washed in a high bleach-to-water concentration, which breaks down materials quickly. Additionally, once an item has been torn, it cannot be used again. Items with stuffing (comforters, pillows, dog beds, etc.) can be used only once as they cannot be completely disinfected.
Linens can be dropped off from 10 a.m. to 7 p.m. daily at the shelter. For more information, visit animalfoundation.com.
FORECLOSED UPON PETS NEEDS FOSTER FAMILIES
Foreclosed Upon Pets Inc. needs foster families for dogs and cats that have been relinquished by owners, left in foreclosed homes, found on the street or need a new home when the owner dies or is deployed.
Fostering usually involves short-term stints, typically ranging from a few weeks to a few months. Assistance is given to foster families, if needed, in the way of food, toys, medicine and veterinary care.
Foreclosed Upon Pets Inc. does its best to match foster families with a short-term companion that suits their lifestyle.
Foster families increase an animal's chance of being adopted by providing feedback on the temperament, activity level and likes and dislikes.
For more information, complete the foster form online at forecloseduponpets.org/, call 272-0010 or email forecloseduponpets@hotmail.com.
SPRING MOUNTAINS NIGHT HIKES PLANNED
Explore the Spring Mountains National Recreation Area, also known as Mount Charleston, with free interpretive hikes.
A night hike discussing wildlife adaptations after dark is planned for 8 p.m. each Friday, beginning at the McWilliams Campground host site.
Campfire programs are planned for 8 p.m. each Saturday at the Hilltop Campground. Due to limited parking, the program is recommended for campground guests only.
The programs are made possible through a partnership among the U.S. Forest Service, the Basin Institute and the Southern Nevada Conservancy.
For more information, visit gomtcharleston.
BEAT THE HEAT WITH SKATE SCHOOL
The Fiesta Rancho SoBe Ice Arena is offering ice skating lessons or brush-up tips this summer at 2400 N. Rancho Drive.
Skate school is open to anyone 3 or older.
The fee is $70 per month, which includes one lesson each week and four public ice skate sessions per month.
For more information, visit stationcasinos.com or call 631-7000.
YOUTH UNITED LOOKING FOR RECRUITS
Students and parents looking to stay civic-minded this summer are encouraged to join Youth United, a service group conducted by Habitat for Humanity.
Volunteers ages 5 to 25 are welcome to join. The group conducts monthly meetings, volunteers, sponsors and builds a house with its local Habitat affiliate.
For more information, visit habitatlasvegas.org, email trisha@ habitatlasvegas.org or call 638-6477.
KIWANIS CLUB WELCOMES NEW MEMBERS
The Kiwanis Club of North Las Vegas, a chapter of the international service organization, is scheduled to meet at 6:15 p.m. each Tuesday at T.G.I. Friday's in Aliante Station, 7300 Aliante Parkway.
Club community projects have included canned food drives, car shows, kites in the park events and charity fundraisers.
The fourth meeting of the month is limited to members only.
For more information, visit nlvkiwanis.com or call 399-0332.
LOCAL ROTARY CLUB TO MEET
The North Las Vegas Rotary Club of Las Vegas meets at 7:15 a.m. Fridays at the Painted Desert Golf Club, 5555 Painted Mirage Road.
The weekly breakfast meetings include guest speakers, networking, education workshops and service projects.
For more information, visit nlvrc.org/newsite or call Bob Lillis at 340-9735.