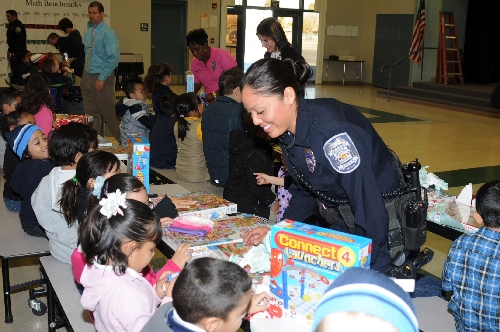 MCCALL ELEMENTARY SCHOOL WINS ANTI-BULLYING AWARD
McCall Elementary School recently was named the No Place for Hate School of the Year by the Anti-Defamation League's Las Vegas office.
McCall, 800 Carey Ave., North Las Vegas, and 31 other schools partnered with the Anti-Defamation League this school year to promote anti-bullying. The program has reached more than 160 schools in the past seven years in Clark County School District.
McCall reported a 33 percent decrease in discipline referrals compared to last year, and parent-teacher conference attendance was at 100 percent.
The No Place for Hate program is aimed at encouraging discussions about respect in every classroom, kindness awards and a resolution of respect signed by each student. For more information, visit noplaceforhate.com.
DRIVERS USING HANDHELD CELLPHONES WHILE DRIVING RICK GETTING TICKETED
Dec. 31 was the final day officers issued warnings in lieu of tickets to drivers caught using their cellphones without the aid of a hands-free or Bluetooth device.
Motorists pulled over for holding their cellphones while driving and talking, texting or reading correspondence now face a first-time fine of $50, $100 for a second offense and $250 for third and subsequent offenses.
Second and third offenses can result in points on the license.
Motorists can use hands-free options while driving, which include wired headsets, Bluetooth devices and wireless systems built into newer automobiles.
SAMPLE TEAS DURING UPCOMING EDUCATIONAL EVENTS
Taste and compare the varieties of tea and tisanes, or herbal tea, from around the world during four planned events at Tea-rrific, 570 W. Cheyenne Ave., Suite 180. The series of events are scheduled for 6 p.m. Jan. 11, Jan. 25, Feb. 8 and Feb. 22. Varieties from China, India, Japan, Africa and Sri Lanka are to be covered. The cost is $15 per event or $20 for the series. Reservations with payment are required. For more information, call 228-8327.
SPEEDWAY CHARITIES BENEFITED CHILDREN'S ORGANIZATIONS
The Las Vegas Chapter of Speedway Children's Charities awarded more than $260,000 to 47 local children's organizations Dec. 13 during its annual Christmas tree lighting and grand ceremony at the Las Vegas Motor Speedway, 7000 Las Vegas Blvd. North.
The award-receiving organizations include Special Olympics, Goodie Two Shoes, HELP of Southern Nevada and Miracle Flights for Kids. Speedway Children's Charities assists with the educational, financial, social and medical needs of children. All funds raised by the Las Vegas chapter were awarded to Nevada organizations. For more information, visit speedwaycharities.org.
MAYOR BUCK TO GIVE STATE OF CITY ADDRESS JAN. 12 AT TEXAS STATION
Those interested in attending the 2012 North Las Vegas State of the City luncheon have until Thursday to register. The luncheon is planned from 11:30 a.m. to 1 p.m. Jan. 12 at Texas Station, 2101 Texas Star Lane.
Mayor Shari Buck is slated to be featured speaker. This year, a portion of the ticket proceeds will benefit one of five local charities that have been nominated by the mayor and City Council. Attendees will select the beneficiary by vote. Tickets are $40 per person or $400 for a table of 10.
To RSVP and purchase tickets or for more information, call 633-1005.
GO GREEN AND RECYCLE YOUR CHRISTMAS TREE
Recycle your Christmas tree and help create mulch used to beautify and sustain local public gardens and parks.
There are 20 drop sites around the valley accepting trees free through Jan. 15.
North Las Vegas donation sites include: Aviary Park, 6650 Aviary Way; Seastrand Park, 6330 Camino Eldorado; and Craig Ranch Golf Course, 628 W. Craig Road.
Donations are to be free of non-organic objects such as lights, wire, tinsel, ornaments and nails. Flocked trees cannot be recycled.
The University of Nevada Cooperative Extension works with other community organizations to host the recycling event.
The trees' organic material is chipped into mulch, which helps conserve soil moisture. Last year, Southern Nevada residents recycled more than 15,000 trees, which created 130 tons of mulch for landscaping projects at local parks.
For a complete list of donation sites, visit cdsn.org. For more information, visit unce.unr.edu.
DISNEY ON ICE TICKETS OFFERED FOR BOOK DONATIONS
The North Las Vegas Library District is offering residents a chance to give and receive this holiday season.
Through Monday, those who donate new and gently used children's books to the district will receive a ticket to "Disney On Ice" presents Disney/Pixar's "Toy Story 3," scheduled from Jan. 12-15 at the Thomas & Mack Center.
There is a limit of one ticket per family, available on a first-come, first-served basis.
Donations are needed in English and Spanish.
The books can be dropped off during regular library hours at all three library locations: 10:30 a.m. to 8 p.m. Monday through Thursday and 9 a.m. to 6 p.m. Friday at the North Las Vegas Library, 2300 Civic Center Drive; 10:30 a.m. to 8 p.m. Monday through Thursday and 9 a.m. to 6 p.m. Friday and Saturday at the Aliante Library, 2400 W. Deer Springs Way; and 10:30 a.m. to 8 p.m. Monday through Thursday and 9 a.m. to 6 p.m. Saturday at the Alexander Library, 1755 W. Alexander Road.
Drop off books at the circulation desk. For more information, visit nlvld.org.
BAD BOWLERS, BEER LOVERS SOUGHT FOR LEAGUE
Bowling league Bad Bowlers & Beer is accepting teams for its winter session at Texas Star Lanes at Texas Station, 2101 Texas Star Lane.
Anyone 21 or older is welcome to sign up for the league at a cost of $14 per week, which includes three games and a pitcher of beer for a team of four.
The next session begins Jan. 11, and sign-ups are under way. The league is scheduled to run through April.
For more information, visit texasstation.com or call 631-1000.
LEARN ABOUT PRESCHOOLS OPTIONS
Mommy & Me West plans to host its 14th annual free Preschool Expo from 6 to 8 p.m. Jan. 10 at the Mirabelli Community Center, 6200 Hargrove Ave.
Mommy & Me West is a nonprofit, volunteer-run organization dedicated to the development of young children from birth through the completion of kindergarten. It serves families in the greater Las Vegas area, including North Las Vegas and Henderson.
More than 25 local preschools, community programs and educational vendors plan to attend. Confirmed schools include private and secular schools, learning centers, Montessori programs, as well as dance and art programs.
A supervised bookmark craft will entertain children as adults interview preschools. There will be light refreshments and more than 20 free raffles.
Bring a new or gently used book to benefit Spread the Word Nevada and Kids to Kids. For every book donated, receive a raffle ticket for a grand prize valued at more than $125.
For more information, call 307-6667, email president@mommyandme west.org or visit mommyandme west.org.
BLOOD DRIVE TALLY ANNOUNCED
Cannery Casino Resorts announces its blood drives resulted in a combined 2,236 units collected between Dec. 1, 2010, and Nov. 30, 2011, at blood drives held at its three properties. The Cannery, 2121 E. Craig Road, donated 879 units. The Rampart Casino and JW Marriott, 221 N. Rampart Blvd., donated 738 units. The Eastside Cannery, 5255 Boulder Highway, donated 619 units.
The drive helps United Blood Services provide 70,000 units of blood annually to medical facilities in the Las Vegas Valley.
JEWISH SINGLES CLUB TO MEET WEDNESDAY
The Jewish Singles 55 Plus Social Club plans to meet at 6:30 p.m. Wednesday at the NV Energy building, back entrance, 6226 W. Sahara Ave.
The club meets the first Wednesday of each month and welcomes anyone interested in entertaining programs, socializing and meeting new friends and enjoying refreshments. Dine-outs and other social events are held throughout the year.
For more information, call 233-8618 or 243-9482.
FRIENDS OF RED ROCK CANYON PLANS TRAIL MAINTENANCE DAY
Friends of Red Rock Canyon plans to host a trail maintenance day Jan. 14 at Red Rock Canyon National Conservation Area. Volunteers will pick up litter and help maintain the trails.
Friends reminds residents that winter snow and inclement weather can make for good pictures, which could result in a $100 first-place prize in its 2012 Red Rock Canyon Photo Contest.
For more information on either event, visit friendsofredrockcanyon.org.
TOYS 4 SMILES NEEDS FACILITY FOR WORKSHOP
Toys 4 Smiles, a nonprofit, all-volunteer group that makes wooden toys for needy children, is in need of a new donated facility in which to work.
The facility should have air conditioning and heat. A donated space would provide tax advantages for the donor.
For more information, visit toys4smiles.org or call Rex Doty at 218-4582.
GRANT TO HELP THOSE WITH HIV/AIDS
Nonprofit group Golden Rainbow has received a $25,000 grant from MAC Cosmetics' AIDS Fund for 2012. The donation will be used to support the organization's Affordable Housing Program.
The 25-year-old program is designed for people living with HIV/AIDS in Southern Nevada who would otherwise have no place to call home.
For more information, visit goldenrainbow.org.
NEW VIDEO PUTS FACES TO AIDS AWARENESS
In recognition of World AIDS Day, the Southern Nevada Health District has created a video series, "Facing AIDS," available at youtube.com/snhealthdistrict.
Meet Ivan, Lane, Maryanne and Tracy, the "faces" behind the disease. They share their stories to prevent just one infection and encourage others to get tested.
More than 3,000 Southern Nevadans are living with HIV, and there are more than 2,800 AIDS cases locally. According to a study by UNAIDS, a United Nations program, about 33 million people worldwide are living with HIV.
For more information, call the health district at 759-0702.
WEAR YOUR RESPECT FOR RED ROCK
Friends of Red Rock Canyon offers limited edition clothing, some with a distinctive howling coyote logo. The sweatshirt has a map of the Red Rock Canyon trails so you'll never be lost again. It's priced at $24 (or $20.40 for Friends members).
There also is a short-sleeved blue denim shirt for warmer weather, priced at $25 ($21.25 for members).
To order, call 515-5360 Tuesday through Friday.
GO ONLINE TO REGISTER FOR HOSPITAL VISIT
People can now preregister online through the Sunrise Health hospital websites for upcoming procedures. This includes patients who already have a procedure scheduled, expectant women needing to preregister for their baby's delivery and anyone requesting a screening mammogram appointment.
By improving the preregistration process in this way, patients now have greater flexibility in the preregistration process.
To preregister online, or to request a mammogram appointment, patients can visit the website of the hospital involved — sunrisehospital.com, mountainview-hospital.com, southernhillshospital.com or sunrisechildrenshospital.com.
AREA ORGANIZATIONS RECEIVE GRANTS
The CarMax Foundation awarded $12,500 in grants to Las Vegas organizations to help local youths as part of the foundation's Regional Giving Program.
The Las Vegas-area grant recipients include: Big Brothers Big Sisters of Southern Nevada, $5,000; Street Teens, $5,000; and Girl Scouts of Southern Nevada, $2,500 for Troop 83's Light Up the Night program, which is aimed at battling cancer.
More than $2.9 million has been donated to local nonprofit organizations across the United States through this program since it was started in 2007.
For more information, visit carmaxcares.com.
PRUNING SERIES PLANNED AT ORCHARDS
Gardeners looking to sharpen their pruning skills are welcome to a series of weekly classes offered at the University of Nevada's Cooperative Extension orchard.
Classes will be given every hour from 9 a.m. to noon on these days:
n Saturday, Pruning Apples, Pears and Quince
n Jan. 14, Fertilizing Fruit Trees and Pest Control
n Jan. 21, Pruning Figs, Pomegranates and Persimmons
n Jan. 28, Pruning Almonds and Pistachios
A $5 donation to the orchard for each class is being solicited to help support educational research, outreach and demonstrations. The orchard lost its monetary support from the university this year.
No reservation is needed.
The UNCE orchard is 100 yards east of the intersection of Decatur Boulevard and Horse Drive.
For more information, contact Bob Morris at extremehort@aol.com or call the orchard at 257-5532 and leave a message for a volunteer.