North Las Vegas Planning Commission approves charter schools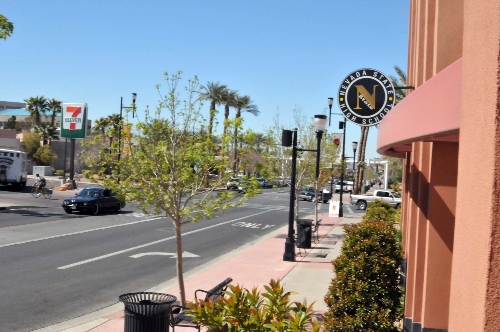 Somerset Academy is well on its way to becoming the first charter school in North Las Vegas located inside of a vacant commercial property.
At its April 13 meeting, the North Las Vegas Planning Commission voted 6-0 to allow Florida-based Academica Schools a special-use permit for the empty 20-acre commercial property at 405 W. Centennial Parkway.
Commissioner Jay Aston was not present at the meeting.
The K-8 school is expected to open this fall. Enrollment is scheduled to begin in May.
A handful of parents at the meeting voiced support for the school, citing the desire to keep their children close to home, the ability to fill an empty building with something sustainable and to have options when making the decision on where to send their children for schooling.
As they have from the beginning, officials with the Clark County School District Police Department expressed concerns regarding children's safety in the parking lot.
They voiced support in occupying a building that "had become an eyesore" and plans to attract business to the financially strapped city.
However, police officials also pointed out neighboring fast-food restaurants and a gas station that could pose a slight threat to public safety in addition to an increase in foot and vehicular traffic around the area as students will be dropped off by their guardians .
But parents at the meeting said they felt safer dropping off and picking up their own children rather than trusting a public school bus.
"I don't think we get a lot of new schools," said Dilip Trivedi, who chairs the planning commission. "In our valley, education is not on the top of the list for everybody.
"I think, more than anything, the support was for repurposing existing buildings that are empty and making good use of them."
Trivedi suggested that the school hire crossing guards as safety and traffic issues arise.
In the event of budget cuts, the school should not put those positions on the chopping block so that safety does not become an issue, he added.
The applicant is expected to provide a traffic study to the city's department of public works.
Commissioner Jo Cato said she supported the school because the city "needs to kick it up a notch in terms of education in North Las Vegas.
"With the school district the way it is, who knows where that's going?" she said at the meeting. "There are 50 students to a class — that's crazy. … There are not enough teachers."
The North Las Vegas City Council granted its final approval of the zoning amendment at its March 16 meeting.
By approving the ordinance, North Las Vegas joins Clark County and the cities of Las Vegas and Henderson in allowing charter schools in commercial areas.
For more information about the school, visit online at somersetacademyoflas
vegas.com/index.php.
Contact Downtown and North Las Vegas View reporter Kristi Jourdan at kjourdan@viewnews.com or 383-0492.