North Las Vegas resident receives $1,000 grant for volunteer baking efforts
September 18, 2014 - 1:00 am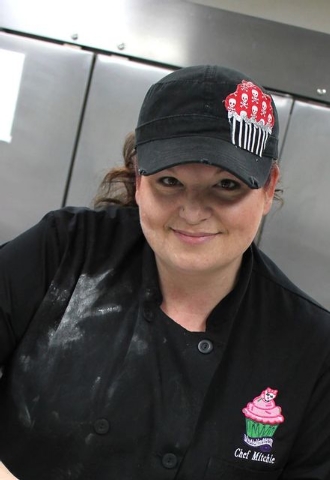 North Las Vegas resident Michelle Curran, also known as Chef Mitchie, has created custom cakes for disc jockeys, police officers and even high-profile celebrities. She also has been featured on the Food Network's "Sugar Dome." Despite her success, the chef uses her talents to give back to her community.
For her efforts, Curran stood out from 6,620 nominations and was one of 100 people awarded a $1,000 grant from Jolly Time Pop Corn for her volunteer work with Icing Smiles, a nonprofit that provides cakes for children who are critically or terminally ill or their siblings.
"What I liked so much about Mitchie is that what she does is so simple of an idea, but it's just heartwarming," said Garrett Smith, president of American Pop Corn Co. "Baking a cake is probably second nature to her, but she's made a difference in so many lives."
Curran joined Icing Smiles in 2011. Since then, she has volunteered her time and donated money toward creating one-of-a-kind cakes in an effort to provide a temporary escape during a difficult time.
"This is my way of giving back," Curran said. "The whole point of being a sugar angel, as we're called by the nonprofit, is to deliver a smile. We want to give families a break from their day, even if it's just for a few moments. I'm not saying this will cure anything, but cake makes everyone happy."
Following the nonprofit, Curran opened Mitchies Munchies in 2012, a private bakeshop that sells custom cakes and other sweet treats. For more information, visit mitchiesmunchies.com.
The self-taught baker learned about cake decorating by working with various bakers, reading books and magazines and researching the Internet.
"I started telling people that I was classically Google-trained," Curran said.
After more than 20 years of experience, Curran can design anything from food-themed cakes to glow-in-the-dark or gory cakes oozing with red fondant.
In 2012, Curran designed a Lego Batman and Robin cake for Joey McRann, the older brother of Christian, who has a rare form of dwarfism. For Joey's birthday, Curran connected with the Nevada Highway Patrol to present a cake to Joey, whom she called an "unsung hero."
"She's one in a million," said Sareta McRann, Joey's mother. "She went above and beyond when she delivered the cake to my son. Joey is such a great older brother. He's always checking on Christian and taking care of him. It was nice to have something special done for him."
Although her business has attracted professional athletes and celebrities, Loretta Curran, Michelle's mother, who nominated her for the award, said she remains humble.
"She's a wonderful person to know," Loretta said. "She's always kind to everyone, and she can keep a smile on someone's face. Even though she's busy 24/7, she's always there if someone needs something."
Curran's good deeds don't stop there, as she also donates free cake decorating classes to nonprofit organizations, such as homeless shelters or learning disability centers, and offers discounted classes for youth groups.
She plans to use the grant to replenish her cake supplies for her classes.
Next year, she aims to join the Depressed Cake Shop movement that spreads awareness for people fighting mental illness. She hopes to collaborate with local bakeries to create a pop-up concept that sells gray-colored cakes and other baked goods.
She said she will send contributions to the Jason Foundation, which provides educational materials to prevent children and teen suicide.
"I admire the parents of sick children because they have a lot of strength," Curran said. "Sometimes it's hard to keep my emotions inside. I enjoy making people smile. That's why I do what I do."
For more information on the nonprofit, visit icingsmiles.org.
Contact North View reporter Sandy Lopez at slopez@viewnews.com or 702-383-4686. Find her on Twitter: @JournalismSandy.