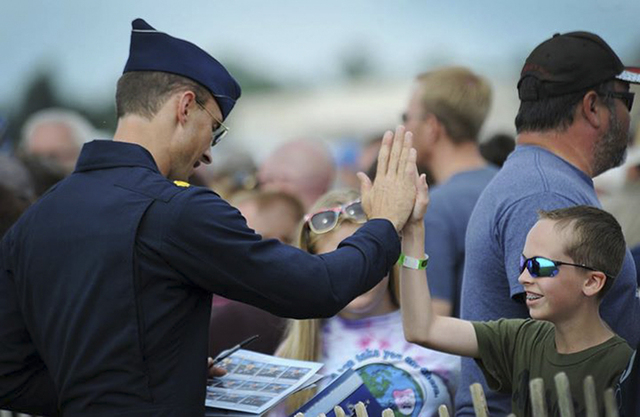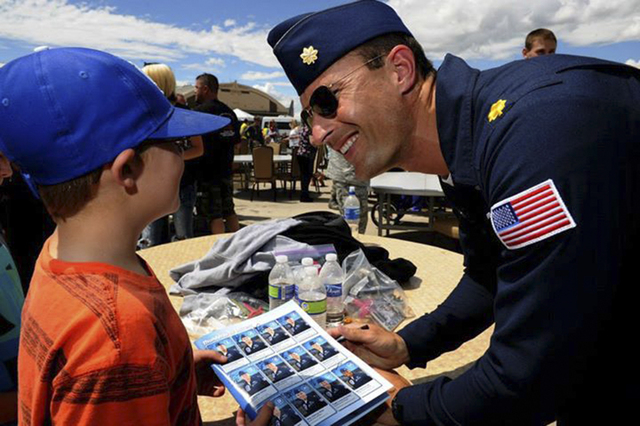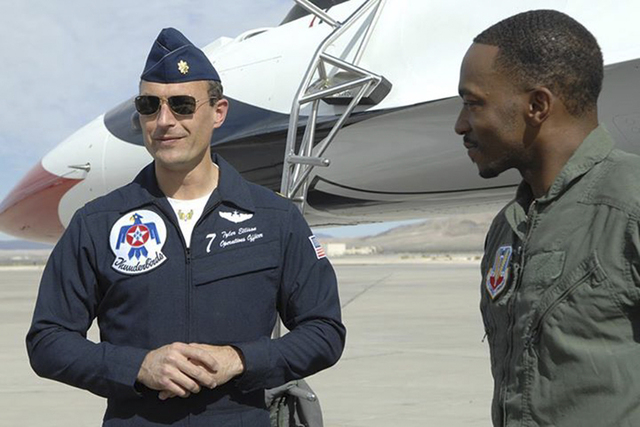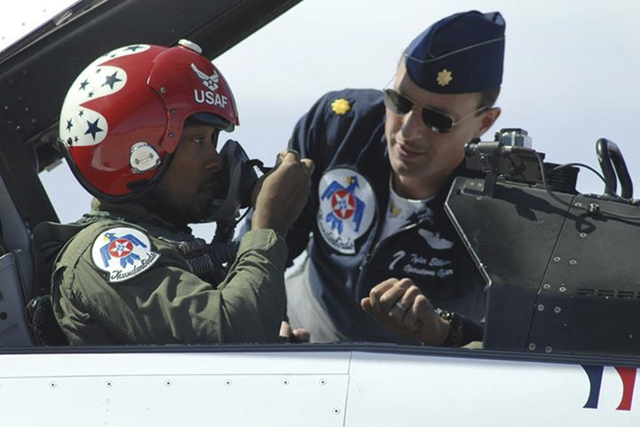 Every two years, 12 individuals have the opportunity to be officers of an elite air demonstration squadron known for performing aerobatic formations. This honor comes as part of the U.S. Air Force Air Demonstration Squadron, most commonly known as the Thunderbirds.
North Las Vegas resident Maj. Tyler Ellison is one of those individuals.
"I never envisioned myself being a Thunderbird," Ellison said. "Not until I was in a non-flying staff assignment, and the opportunity presented itself, did I consider applying for the team."
As operations officer and pilot of Thunderbird No. 7, Ellison manages a $25 million flying hour program, builds a training syllabus and schedule to train all new pilots and ensures that all eight pilots on the team are ready to execute demonstrations.
He also oversees the coordination of the travel season, which runs from the second week of March to the second week of November and results in more than 200 days on the road each year.
Ellison recalls the day he graduated from the Air Force Academy and witnessed the Thunderbirds execute a fly-by followed by an airshow.
"I remember being extremely impressed with the precision of the team," Ellison said. "I don't think I fully grasped or appreciated the complexity of the mission and the training required to execute at this level of precision."
After 9/11, Ellison had a strong desire to support his country, which fueled his dream to fly in a combat roll in defense of the nation.
Instead, his journey led him elsewhere.
He was commissioned a 2nd Lieutenant in the USAF from the Air Force Academy in 2002.
Following graduation, he went to pilot training and was selected to fly F-15C Eagles. He was later selected to fly the F-22 Raptor.
After 10 years of experience, he was designated the operations officer of the Thunderbirds.
"Handling the operations for the Thunderbirds is a huge responsibility," said Maj. Darrick Lee with the U.S. Air Force Air Demonstration Squadron public affairs office. "I think part of the reason why Maj. Ellison was chosen to be Thunderbird 7 is because he's even-keeled and can adapt quickly when the environment changes."
Flying runs in Ellison's blood. His grandfather was in the Army Air Corps during World War II, and his father was a flight instructor in college.
His father taught Ellison and his siblings how to fly when they were young, and as a result, Ellison received his pilot's license at 16, before he had his driver's license.
His training led him to perform a high alpha loop in an F-22, his most impressive maneuver to date.
In addition to ensuring that the Thunderbirds execute their mission, Ellison stays busy with his team by visiting schools, hospitals or other venues to engage with the community.
Yet, his wife said he still manages to balance work and his family.
"He gets to travel and inspire others to serve in our military," said Mindy Ellison. "But he still has time to spend with me and the kids. We try to make sure that we have contact throughout each and every day, either through emails, texts or calls."
So what does it take to be a Thunderbird?
Ellison said it takes "the right attitude, aptitude, timing and luck," but the hard work that comes with it is well worth the rewards.
"Every time I get the opportunity of flying, I feel an indescribable excitement and joy of being able to 'slip the surly bonds of earth,' " Ellison said. "There is an adrenaline rush that occurs each time you strap into a fighter that is unlike anything else I've ever done."
Contact North View reporter Sandy Lopez at slopez@viewnews.com or 702-383-4686. Find her on Twitter: @JournalismSandy.