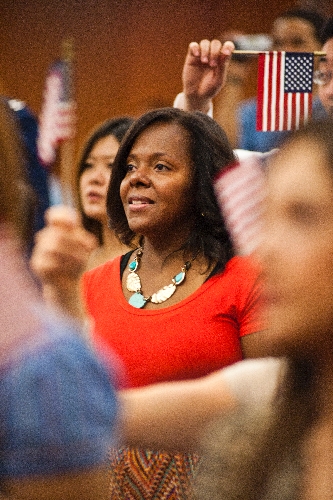 On the morning of Brazil native Renata Snell's naturalization ceremony, her husband Adam Snell jokingly played Lee Greenwood's "God Bless the U.S.A."
Hours later, laughs were traded for tears and a swell of pride as Renata Snell, 34, waved a small American flag and sang along to the patriotic tune during the ceremony.
"I remember waiting in line in Brazil to get my visa and seeing people crying because they didn't get it," she said. "(The naturalization ceremony) represented so many people who want to come here to have a good life."
The North Las Vegan became a U.S. citizen on Flag Day, June 14, at North Las Vegas City Hall, 2250 Las Vegas Blvd. North. The event was hosted by United States Citizenship and Immigration Services, a component of the Department of Homeland Security.
Exactly 102 men and women representing 38 countries took the Oath of Allegiance during the ceremony.
It was an emotional event for many, especially the Snells.
"It was very emotional for me and my husband," Snell said. "I don't think there is another person as patriotic as him. He really helped me understand what it means to be an American."
Snell's next order of business, she says, is to register to vote and anticipate her first presidential election.
Her newfound citizenship earns Snell a U.S. passport and the ability to vote, serve on a jury and run for most elections, said Marie Sebrechts, spokesperson for United States Citizenship and Immigration Services.
About 700,000 people were naturalized last year, and 9,720 of them did so in Nevada, Sebrechts said.
United States Citizenship and Immigration Services' Las Vegas field office assisted 7,327 of the Nevada sect, and it hosts regular naturalization ceremonies, she added.
The public is invited to the events.
"I wish everyone would go to at least one naturalization ceremony," Sebrechts said. "It gives the other picture of immigration we often forget about – the legal part. We don't realize how many immigrants are welcomed into this country each year."
Rates fluctuate year to year, she said, and about 1.1 million people hold green cards in the United States.
Residency via green card must be renewed regularly, but citizenship is a one-time process with a lifelong result, Sebrechts said.
Snell maintained a green card for several years. She came to the United States in 2005 to study business in Provo, Utah, after teaching Portuguese to Mormon missionaries for several years in Brazil.
Snell planned to return home after her studies and open a business. The plans never came to fruition.
She said she "re-met" her now husband, a former student. The couple started dating and married six years ago. They have three children.
"I was very surprised when he got on a knee and proposed," she said. "A lot of things were going through my mind: 'Will I ever go home again? Where will we live?' "
Adam Snell's U.S. Air Force military duty has moved the young family around the United States.
"We stayed, and I'm glad we did," Renata Snell said. "The kids have a better life."
Snell hasn't visited Brazil with her children yet. The families correspond via email and phone calls.
Snell's immediate family and in-laws celebrated after her naturalization ceremony, she said.
Her 2-year-old daughter, Monique, let strangers know of the milestone.
"She said, 'Mommy is an American now,' " Snell said. "And she said, 'It's my turn.' "
Monique is a legal citizen from birth.
Seated near Snell at the June 14 naturalization service was another North Las Vegas resident, Dan David. The 40-year-old left his native Grenada as a preteen, a year after the U.S.-led invasion.
"I know it was supposed to be a very dangerous time, and a lot of people were getting killed, but me and my friends were hanging out with no cares," he said. "The American military were friendly to us. Looking back, I didn't know it was dangerous."
David's father preceded his wife and five children in a move to Brooklyn, N.Y., in 1979.
"His whole drive or focus was to be able to get us here and get us a better life," he said. "I look at myself being 40 now, his age at the time, and think, 'Wow, what an amazing thing he did.' I tell him he's my hero all the time."
The family relocated together in 1984.
"Being in the islands, or any Third World country, and hearing about America, we had this mentality that the streets were paved with gold," he said. "We landed in New York, and it was like, 'Oh.' It was a rude awakening. But I really liked the lifestyle in New York."
The family moved to Las Vegas after David graduated from high school.
His father's sacrifice and love of America led David to seek citizenship, he said.
"I knew, for one, it meant a lot to my dad," he said. "He went through a lot to get us here."
The day of his initial naturalization interview was one day before the 28th anniversary of his family immigrating to the United States, he said. His parents and a sister are citizens, and his other siblings are filing to do so, too, he said.
"There was always an unspoken thing here that you have to get it done, but you don't speak about it," he said.
David was a small-business owner before the economic crisis. He is now a car salesman and part-time financial adviser. He has a wife, Janet, and is the father of three boys.
The family attended his naturalization ceremony.
"We had a toast later that evening," he said. "I felt that freedom. A burden was lifted."
David views his new status with appreciation.
"I just thank God for the opportunity," he said. " 'Make it happen' is my most-used phrase, and I believe anything you want to do, you can make it happen in America."
Contact Centennial and North Las Vegas View reporter Maggie Lillis at mlillis@viewnews.com or 477-3839.