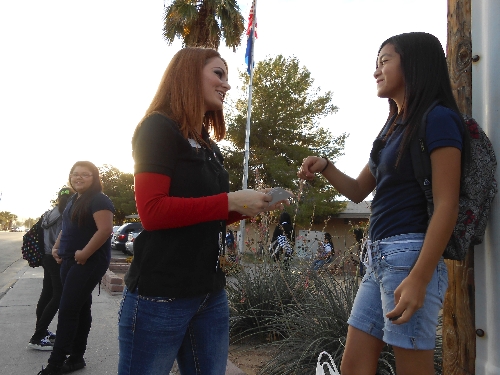 J.D. Smith Middle Schoolers helped the city of North Las Vegas take a step toward a sustainable future and good health Oct. 3. Many of them walked to school.
The event was J.D. Smith Walk to School Day, in honor of National Walk to School Day. The first 100 students to walk to school that day received stickers and bracelets. Students also learned about safely crossing streets, while parents received fliers.
But how kids get to school in North Las Vegas is just one piece of a bigger puzzle – making every corner of the city more "walkable." City planners have been striving to reach that goal for at least 15 years.
Take a stroll around the block from J.D. Smith on a weeknight, and the sidewalks are teeming with parents, kids and random walkers such as Troy Thomas, a truck driver who exercises to help his heart.
"It's not an area for a senior citizen to walk," he said. "Too many teenagers."
No one in the neighborhood seems to know about the expanding regional trail system that's become a collaborative effort. The list of partners includes local cities, Clark County, the Regional Transportation Commission of Southern Nevada, the Clark County School District, the Southern Nevada Health District, developers and the Outside Las Vegas Foundation.
Funding made possible by the Southern Nevada Public Land Management Act and the Communities Putting Prevention to Work initiative have helped fuel the project.
Ten miles of trail are now complete, according to city of North Las Vegas principal planner Johanna Murphy, who takes advantage of the walkability in her own neighborhood of Aliante. The plan is to connect North Las Vegas trails to the city of Las Vegas and Clark County, all the way to Henderson.
One walker's conundrum involves getting to the other side of Interstate 15. The answer is a nearly half-mile-long pedestrian bridge that Murphy said should be completed by the end of 2013.
And trail usage is snowballing, she added. The city's infrared counters detected nearly 1,000 users on the Lower Las Vegas Wash Regional Trail one week in April – up from 703 last October.
While walkers from Aliante to Sandstone Ridge Park are using the trails, they're also giving mixed reviews.
At Sandstone Ridge Park in September, Brad and Nicole Cody walked their dogs, Jaden and Bella, at dusk. Over three years, they've seen undesirable changes in the park, and they're putting their nearby house up for sale.
"It was a relatively nice area when we moved here," Brad Cody said. "And then with the foreclosures, it started getting a lot worse."
That same evening at the park, Erica Williams walked the trail to get her exercise with new baby Layla in tow. Kimbo the pit bull stayed by her side. Williams, who moved to the area with her husband in July, has used the trail to walk off several post-pregnancy pounds. She wishes the lighting were better. But, she added, "Everybody's been really nice. I've never felt threatened at all."
On the trail at Aliante Nature Discovery Park, Elliot and Sally Burrell walked before a medical appointment in their former neighborhood. They moved to Summerlin in May.
"When we first bought up here, they had just opened the park," Elliot Burrell said. "The aesthetics – it was beautiful. I know with the economy, it's not kept up like before. It's not even nice to sit here anymore. There's poop all over the sidewalk."
Yumi Gomez, out with four of her five dogs, agreed that the park was once better. Her dog family includes Nico, who's blind, and Chura, a two-legged puppy mill rescue in a baby carriage. Gomez has lived within walking distance for 3½ years – walking her dogs in shifts, two hours every morning, by herself.
"Funding for operation and maintenance is limited," admitted Mauricia Baca, executive director of the Outside Las Vegas Foundation. "But the more people using it, the more eyes and ears you have making sure that these things are in good shape."
One problem, she added, is that city operations and maintenance staff members just aren't aware of what's happening everywhere, all the time – unless concerned people make a call.
To report crime or other non-emergencies, call 311. To find a other places to walk, visit neontonature.org.