North Las Vegas shrimp farm offers locavores fresh seafood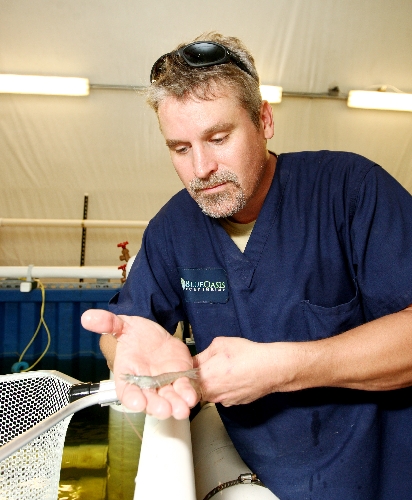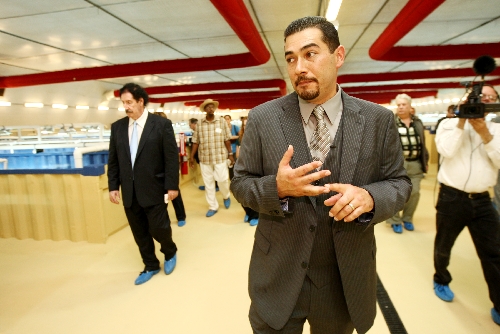 In the northern most point of North Las Vegas, immersed in the dry desert climate 300 miles from the nearest ocean, salt water shrimp are thriving.
The 30,000-square-foot Blue Oasis Pure Shrimp Farm opened at the beginning of the month in the Kapex area of the city, 30 miles north of the Strip. The $5 million farm aims to produce fresh, sustainable, white shrimp from pond to plate to a majority of the West Coast.
Shrimp are grown and harvested in 44 ponds built from recycled shipping containers. No water is discharged from the tanks, making the facility completely self-sufficient and environmentally friendly. The shrimp's waste is used to fertilize the algae that keeps the salt water system going. An estimated 462,177 pounds of shrimp are expected to be harvested annually when the facility reaches full production capacity.
The first shrimp are scheduled to be ready for purchase Sept. 1. Many chefs from the Strip's high-end restaurants are first in line to buy the product because they will no longer have to rely on frozen shrimp imported from Asia.
About 85 to 90 percent of the shrimp served in the valley come from overseas. Las Vegas is one of the top shrimp-eating cities nationwide, according to Scott McManus, CEO of Ganix Bio-Technologies, which opened the plant.
The company is expected to sell the shrimp at local grocery stores late next year, he added.
North Las Vegas Mayor Shari Buck and Councilwomen Anita Wood and Pamela Goynes-Brown toured the facility when it opened. All comically struggled to put on blue protective booties over their shoes as they entered the fishy-smelling, tent-like structure.
The sounds of running water and pumps echo throughout the facility. One peek into the recycling water reveals tiny shrimp about one week old. Another container shows larger shrimp about 24 days old scurrying across the bottom. A typical growth cycle is about 120 days.
Over the next five years, the plant is expected to bring about $16.3 million into the financially strapped city, including about $900,000 in property taxes and $180,000 in state sales tax, Buck said.
The project also created 30 jobs.
Buck, who confessed that she is not a shrimp eater, added that she was skeptical when she heard the facility wasn't going to use a lot of water.
"The technology is just amazing," she said. " Think about the other types of foods we could grow — other things we could do organically — that don't use a lot of water that can maybe be grown in parts of the world where there's water deficiency. This technology could come in and fill a need. This will be fresh, organic and grown in North Las Vegas. It makes me proud."
Wood said it was "tough to visualize" this concept.
"They kept talking about tanks in the middle of the desert and not having to continually add water," she said. " Just being able to bring in the chefs and bring in consumers who love shrimp, like I do, is tremendous. It will bring stability to this market like we've never had before."
Goynes-Brown, a self-professed seafood eater, said the farm "sets us apart from other cities and sets a precedent that this can be done."
"It puts us on the map, and I'm excited about it," she said. "I think the process they use, fresh out of the pond, will bring the taste back. The stuff you get now, it's like just chewing stuff in your mouth just to chew. Now we'll be able to enjoy it again.
"This is fabulous. It will bring in new business and jobs, it will help stabilize our economy, and it's all positive."
Contact Downtown and North Las Vegas View reporter Kristi Jourdan at kjourdan@viewnews.com or 383-0492.
For more
For more information about Blue Oasis Pure Shrimp, visit online at blueoasispureshrimp.com.