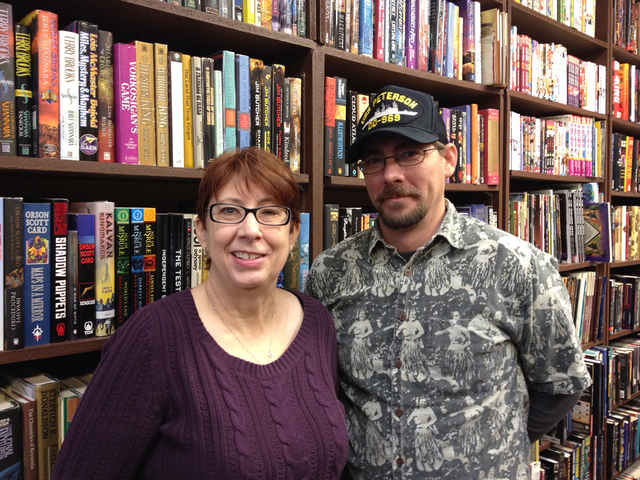 Most bookworms are hopeless addicts.
Nothing can replace the smell, touch and visual appeal of reading a book. Hence, despite the recent rise of e-books, Carla Spillman pursued her lifelong dream of opening a used bookstore and created Dragon Castle Books, 3142 N. Rainbow Blvd., on Sept. 1.
"This is something that I've always wanted to do," Spillman said. "It was a lot more overwhelming than I thought, but we prepared for it. I spent three years learning about the market."
As a young girl, Spillman said she would often get in trouble for sneaking a book to read inside of her textbooks.
"I've always been a bookworm," Spillman said. "It's just something I grew up loving."
After being laid off from her previous job in the nonprofit industry, Spillman and her son, Danny Brown, took classes on how to own and operate a bookstore.
Meanwhile, the mother-son duo worked at another used bookstore, Amber Unicorn Books at 2101 S. Decatur Blvd., to learn the ins and outs of the trade.
She collected approximately 45,000 books to feature in the store, including topics such as philosophy, self-help, metaphysics, history, poetry, cookbooks, graphic novels, true crime, children's books and more.
When the former store occupying the space, Book Lovers, closed, Spillman decided to buy it and set up shop as the only used bookstore in the northwest.
The pair repainted and added new bookshelves, fans and lighting before diving headfirst into what many are calling a dying business.
Inspired by Brown, the store specializes in science fiction and role-playing books.
"At Amber Unicorn, science fiction was a big seller, and it's what I read," Brown said. "We have a nice balance of graphic novels, role-playing and science fiction books here. That's what makes us stand out from other stores."
On a good week, Spillman said she can sell 150 books, with mystery and romance being the most popular.
The store also focuses on purchasing books that are out of print or hard to get.
If a customer asks for a specific book, Spillman said she can order it for pickup, or she can mail it to customers.
"Used bookstores are always closing, but business has actually been pretty good," Spillman said. "There are people who come in that have Kindles or e-readers, but they still love books. Books will always be wanted and needed."
In addition, the store buys and trades used books in good condition.
"Trading is actually more beneficial to the customer because they get more credit," Spillman said. "When buying, we are more specific and look for books on metaphysics, the occult, history and science."
Spillman and Brown spend their time cleaning every book that comes in and comparing prices online before displaying books on the floor.
"We try to stay in the middle of what we think the book is worth," Spillman said.
This month, Spillman plans to host the store's first event with local author Mary Crocco, who is scheduled to sign "In Kala's Hands, A Lakota Sioux Proclamation" from noon to 2 p.m. Jan. 24.
Spillman said she is open to event suggestions and inquiries.
In January, customers who bring in a Smith's receipt will receive 10 percent off their purchase.
"It's exciting to come across a book you haven't seen and can't wait to read," Spillman said. "Nothing can replace that."
Store hours are from 9 a.m. to 6 p.m. daily, excluding major holidays. For more information, call 702-658-8583 or visit facebook.com/dragoncastlebooks.
Contact North View reporter Sandy Lopez at slopez@viewnews.com or 702-383-4686. Find her on Twitter: @JournalismSandy.