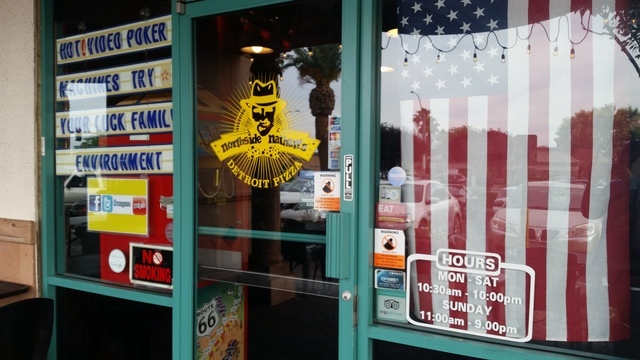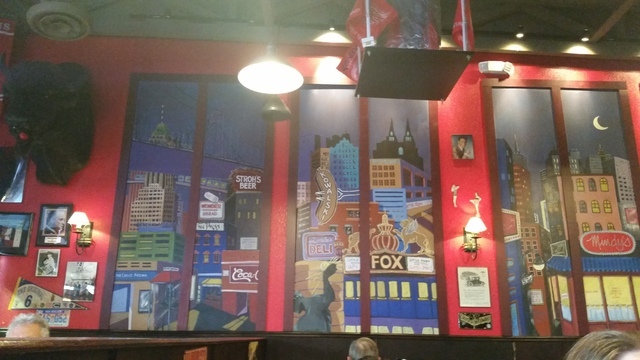 Cars obviously come to mind when you mention Detroit — but pizza? Generally, not so much.
However, there's a pizzeria in Las Vegas that's paying homage to the Motor City pie, so much so that even the names on its menu reflect a Detroit heritage.
Northside Nathan's — so named for characters from the musical "Guys and Dolls" — serves deep-dish and traditional round pizzas, along with appetizers, salads and subs. The restaurant, 7531 W. Lake Mead Blvd., No. 120, is located between Tenaya Way and North Buffalo Drive on the outskirts of the Summerlin area (a previous second Spring Valley location is no longer open). Inside, the atmosphere is ultra-casual, with counter ordering and food brought to your table or booth.
Along with Detroit-themed murals, the dining room is lined with plenty of TVs (mostly showcasing sporting events), as well as a variety of games and amusements for the kids.
Service is fast and no-frills, with customers left to their own devices when it comes to soda refills and gathering flatware and napkins. But the pizza more than makes up for it, with the house-favorite deep dish just thick enough but not too doughy, with a nice, crisp edge. Create-your-own one-topping pizzas are $7.50 for a 6-inch (four pieces), $15.25 for 11 inches (nine pieces) and $19.75 for 15 inches (16 pieces). Additional toppings, such as roasted chicken, meatballs, capicola, jalapenos, roma tomatoes, salami and chopped garlic, along with all of the traditional choices, are 69 cents to $1.99 each.
Other specialty choices are the Nathan Detroit with sausage tomatoes and garlic; Sky Masterson with pepperoni, sausage, ham and meatballs; Nicely Nicely's with roast chicken, garlic and mushroom; and Gangster's Choice with capicola, garlic and jalapeno.
A Pizzas From Around the World section includes Ma's Hungarian Gypsy with chicken, green pepper, onion and homemade green sauce with a sprinkle of paprika, and Greek-Town with olive oil, feta, tomato, onion, black or green olives and pepperoncinis.
Sub selections ($7.75 to $9.25) include Hudson's Beefy Detroiter with roast beef, Provolone, giardiniera peppers and au ju dipping sauce; Mexican torta style; and Thunderbird (Big City Club) with baked chicken breast, ham, pepperoni and cheese with lettuce and tomato on the side. There are also salads and appetizers, including the tasty deep-fried pickles (which are long spears, not chips), served with house-made ranch for $6.25 for a small order and $8.25 for large.
There's also a few pasta selections, a kids' menu, beer and wine and desserts, including churros, cheesecake and hot fudge sundae.
Delivery is available. Northside Nathan's is open from 10:30 a.m. t0 10 p.m. Monday through Saturday and 11 a.m. to 9 p.m. Sunday.
Call 702-255-8822 or visit northsidenathanslv.com.
Northside Nathan's
Address: 7531 W. Lake Mead Blvd., No. 120
Hours: 10:30 a.m. t0 10 p.m. Monday through Saturday; 11 a.m. to 9 p.m. Sunday.
Call 702-255-8822 or visit northsidenathanslv.com.