Northwest and North Las Vegas seeing eight new schools under construction
August 25, 2016 - 5:09 am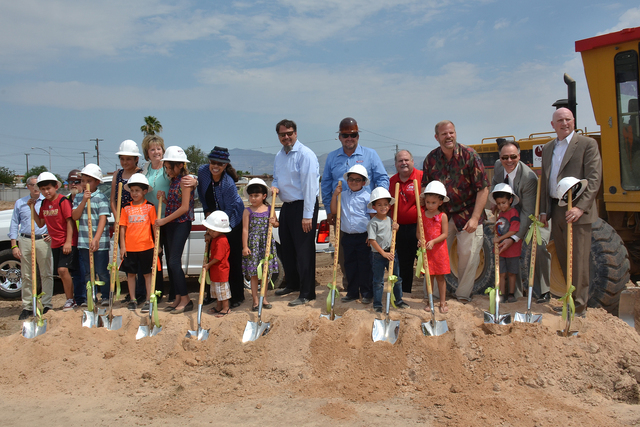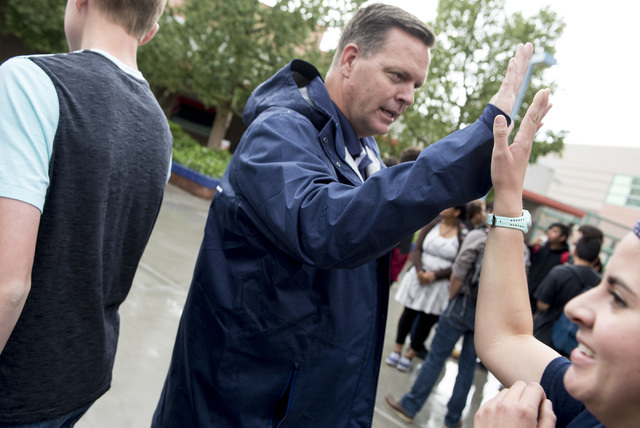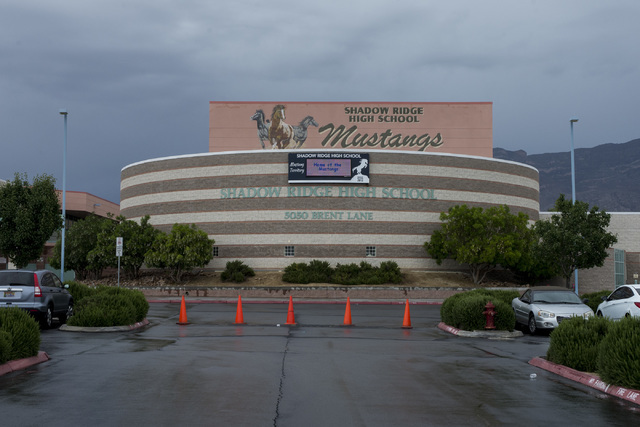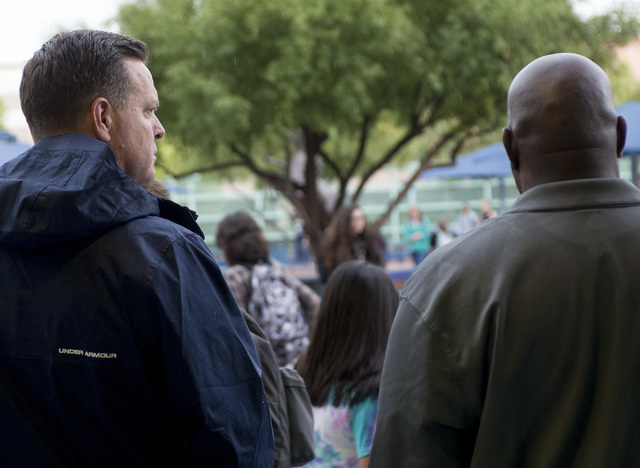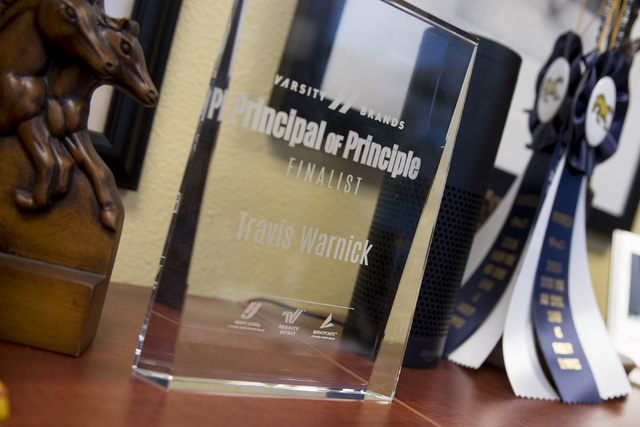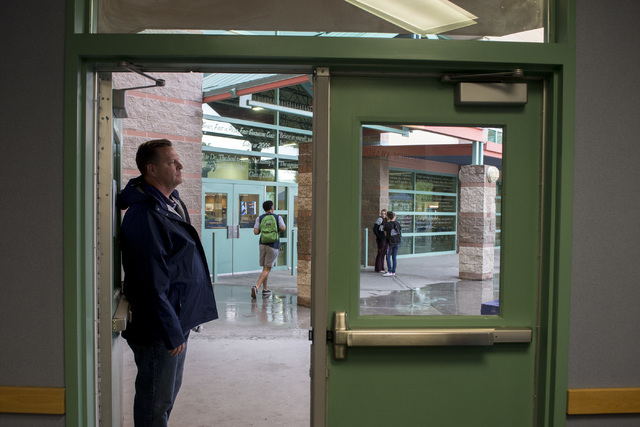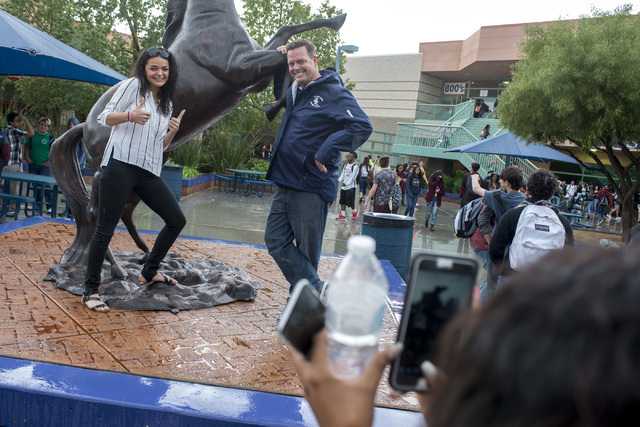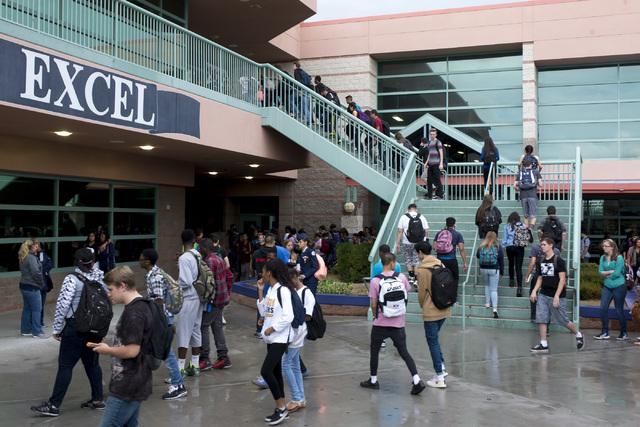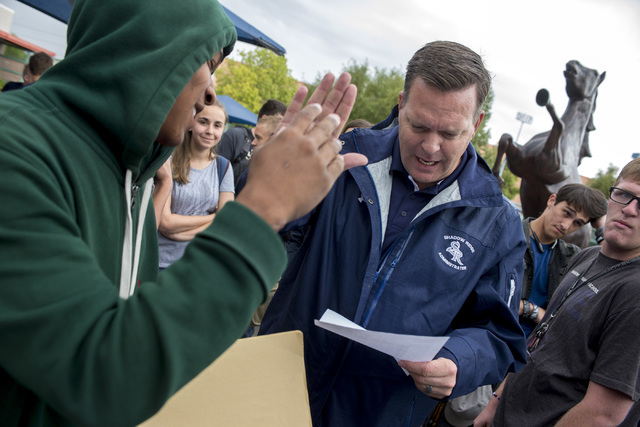 A new school year means new classes, teachers and a fresh start for thousands of Clark County School District students. As students gear up for the new year, the district has also been getting ready with plenty of changes set to help students in their studies.
One of the challenges is how to solve the problem of overcrowded classrooms. To address this, the district is set to open a replacement school at Lincoln Elementary School, 3010 Berg St., in North Las Vegas next summer.
Lincoln is one of eight new facilities under construction. The groundbreaking for a complete replacement of the school was June 21.
"This is one of the oldest buildings in the valley. It was built in 1955," said principal Jennifer Newton. "We were definitely in need of an upgrade. I think just the idea of being in a brand new facility with everything clean and fresh and with bright colors is exciting, although it's somewhat of a bittersweet excitement for community because generations of families have attended this school."
The school will have to operate without a playground or field for the rest of the school year because it is currently under construction, but Newton said she is looking forward to the new campus, which set to have a two-story classroom building for grades one through five.
Another elementary school near Farm Road and Jensen Street in the northwest is expected to open in 2018.
More than 35 elementary schools are planned over the next 10 years. The new schools are designed to hold 850 students instead of 725.
Additionally, these schools are set to have a science classroom, and full-day kindergarten will also be mandated.
All the projects are being funded through the 2015 Capital Improvement Program, which is made possible with funds from the 1998 Capital Improvement Program.
The total projected bond fund for new schools and renovations is $4.1 billion, according to the district.
This year, some students will get to say goodbye to year-round schedules.
Craig Elementary School, along with six other schools, will convert back to a nine-month calendar for the upcoming school year.
"We are glad to be able to move seven of our schools back to a nine-month schedule, as it better aligns for families who have children attending multiple schools," CCSD Chief Student Achievement Officer Dr. Mike Barton said in a recent press release.
Removing the seven schools from the year-round schedule will also save the district $1.8 million, according to the release.
Ronzone Elementary School will remain on a five-track year-round calendar.
CCSD has 22 schools on year-round schedules. That number is expected to change to 15 for the upcoming school year.
For students who are limited in English proficiency, "zoom schools" provide additional support to their students.
The Nevada legislature voted to continue and expand the program for the 2016-17 school year.
With the addition of nine new schools this year, including McWilliams Elementary School and Brinley Middle School, the district operates 38 schools that have been designated as zoom schools.
The original legislation allocated additional funding to provide all elementary zoom schools with the following:
• Universal half-day preschool
• Full-day kindergarten and smaller kindergarten class sizes (21:1)
• Free summer school programs that extend the school year by 17 days beyond the state-mandated 180 days of instruction
• Zoom School Reading Centers to support early literacy skills
"We chose these new schools based on the number of English Language Learners there are at the school," said Lorna James-Cervantes, assistant chief student achievement officer for the district. "We have a lot of great opportunities for students in our schools. Some schools are already showing great growth in language acquisition scores."
To duplicate positive results of the turnaround model, CCSD Superintendent Pat Skorkowsky announced new additions to the turnaround zone for the 2016-17 school year and named schools that will exit the turnaround zone due to their success and growth.
Cheyenne High School was labeled a turnaround school for the upcoming school year, while Canyon Springs High School and Mojave High School remained turnaround schools.
Cheyenne is set to receive an additional $750,000 to assist in hiring about 25 staff members, reducing class sizes, providing workshops and purchasing more computers and iPads for its students, among other things.
"We're very excited to be a part of the CCSD turnaround zone," said principal Dr. Zachary Robbins. "With this additional support, we will be able to demonstrate just how fantastic our students and teachers are. This will have a positive impact on teaching and learning, which will greatly improve our graduation rates."
High school seniors will also see changes in terms of testing this school year.
In 2013, the Nevada legislature passed Assembly Bill 288 to eliminate the high school final exam, known as the Nevada High School Proficiency Examinations.
The class of 2017 will instead take four End of Course Examinations, which will be administered in the following subjects:
• Math I Emphasis on Algebra I
• Math II Emphasis on Geometry
• Integrated Mathematics 1
• Integrated Mathematics 2
• English language arts I with a focus on reading comprehension
• English language arts II with a focus on writing
The classes of 2017 and 2018 will need to take the End of Course Examinations, and no passing scores will be required. The Class of 2019 will be the first class required to receive a passing score on the End of Course Examinations to graduate, according to the State of Nevada Department of Education's website, doe.nv.gov.
Shadow Ridge High School also has a new idea rolling into play this school year.
The program dubbed the Shadow Ridge Xperience is set to revolutionize the idea of public high school education, according to principal Travis Warnick.
Assistant principal Ron Kamman said 160 sophomore students are set to participate in the program, which focuses on "trying to change the student-teacher relationship."
Each teacher — including the English, math, science and social studies teachers — is set to mentor 40 students to work toward academic goals and nurture their interests in a particular career.
"The whole idea is to have teachers monitor their students' academic progress and goals at a rigorous but flexible and individualized pace," Kamman said.
The students were chosen based on a survey that was given in the spring, which looked for common career goals. Most of the students in this first group said they were interested in medicine and business marketing.
"The hope is that they are able to understand what their interests are and find their passion for future academic choices," Kamman said. "We want students to find those connections (to a particular interest) in chemistry or any other subject. We want them to make real world connections with their curriculum."
To reach North View reporter Sandy Lopez, email slopez@viewnews.com or call 702-383-4686. Find her on Twitter: @JournalismSandy.
More information
Applications for free or reduced lunch programs can be found at each school or at applyforlunch.com.
For students who buy their lunches at school, parents can set up an account online at myschoolbucks.com and add money to pay for meals.
Parents with children with a special need who require transportation can call the school district to have that set up. The request can take about three to five days to process.
If there have been changes to bus routes, parents should have been notified earlier in August.
All transportation needs can answered through the call center at 702-799-8100 or transportation.ccsd.net.
More resources and tips from the school district are available at ccsd.net/schools/back-to-school.