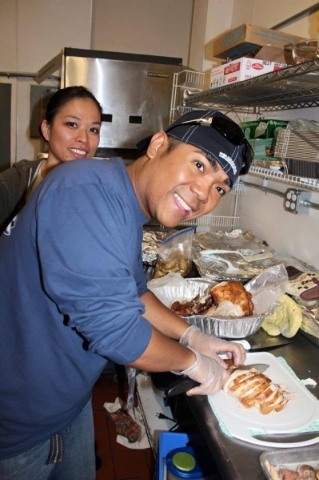 Thanksgiving is a time when family and friends gather to watch football, catch up and enjoy an old-fashioned, sit-down dinner, but the holiday can be a bit lonely if one is new to the city or doesn't know anyone in the area.
That's why nonprofits and churches have teamed up to host Thanksgiving meals for people in the Las Vegas Valley.
"The holidays can be challenging for some people, but Thanksgiving can also be such a wonderful time to let people feel loved," said Phillip Hollon, director of social services at The Salvation Army Southern Nevada. "It gives people an opportunity to volunteer, serve meals and build friendships."
Truth Christian Ministries International
To celebrate the spirit of the season, Truth Christian Ministries International plans to host its annual Thanksgiving brunch starting at 8 a.m. Nov. 21 at 5101 N. Rainbow Blvd.
The brunch is set to feature turkeys, mashed potatoes, gravy, cranberry sauce and pumpkin pies.
"It is not happy people who are thankful; it is thankful people who are happy," said church member Gayla Boyd.
Last year, the church was able to give away $20 turkey vouchers to those who didn't get free turkeys, and it is hoping to do the same this year.
The event is free and open to the public. Call 702-476-5660 or visit tcmii.com.
First Thai-Laotian Presbyterian Church
Everyone is invited to the annual Thanksgiving celebration hosted by the First Thai-Laotian Presbyterian Church, set for 11 a.m. Nov. 26 at 4601 W. Lake Mead Blvd.
The event will start with a Mass followed by a traditional Thanksgiving meal at noon featuring turkeys, pies, vegetables and more.
"Last year, we had a good crowd of 80 or 90 people," said The Rev. Prachuab Dechawan. "We don't only invite our homeless people in the community to attend; the event is for our church members, seniors and anyone else who has no where to go. It gives me an opportunity to show off my cooking skills."
The church also plans to host its annual Thanksgiving Sunday Auction at 5 p.m. Nov. 22.
"People will bring oranges and other baked goods for a potluck," Dechawan said. "Afterwards, we will auction off stuff from our church members, like fruits, vegetables, small plants and exotic trees, to raise money for our church. We hope to have our own church building in the future."
The church currently shares space with Westminster Presbyterian.
Call 702-243-0913 or visit firstthailaopresbyterian.com.
The Salvation Army Southern Nevada
For more than 70 years, The Salvation Army Southern Nevada has been serving the community with food assistance, shelter and clothing donations.
In honor of Thanksgiving, The Salvation Army at 35 W. Owens St. in North Las Vegas is expected to host a Thanksgiving lunch at 1:30 p.m. Nov. 26.
"Everyone who walks through our doors is invited, and we won't stop serving meals until everyone is fed and full," Hollon said. "It's not just an opportunity to serve a meal but an opportunity to engage in conversation and share smiles. We want everyone to know that they are loved and that this isn't a handout but a handup."
Hollon expects The Salvation Army to feed 300 people a traditional Thanksgiving meal, including spiral cut ham, green beans and a special dessert.
The nonprofit is also looking for volunteers to serve meals and donate much-needed items, such as winter clothing, socks, toothbrushes, toothpaste, canned goods and financial contributions.
"We're looking for individuals or groups to not only pass out meals but to provide love, laughter and smiles because it changes the whole day for individuals who are having a rough time," Hollon said.
Call 702-870-4430 or visit salvationarmysouthernnevada.org.
Mealsharing.com to connect strangers
Willing to open up your home to strangers? Meal Sharing is a Chicago-based company that helps connect nearby residents for home-cooked meals.
For the third year, the website is hosting "ThanksSharing" for the holidays. To host a ThanksSharing event, hosts create a meal on MealSharing.com and add how many people can be accommodated and an optional donation per person to help balance the cost of ingredients.
By selecting ThanksSharing as the type of meal, guests can search and join a ThanksSharing dinner.
Although it hasn't quite taken off in Las Vegas, the option is there for those willing to have a seat with strangers.
— To reach North View reporter Sandy Lopez, email slopez@viewnews.com or call 702-383-4686. Find her on Twitter: @JournalismSandy.