Nothing like the sun for Las Vegas' famous sign
November 15, 2013 - 8:23 am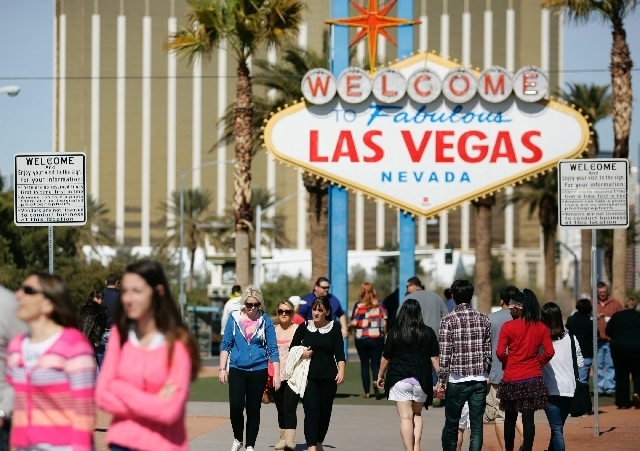 Critics will call it a gimmick. Advocates will say it's a sign of a brighter future to come.
And the rest of us will smile at the irony and the symbolism on Monday when our famous "Welcome to Fabulous Las Vegas" sign on the Strip officially makes the transition from the electrical grid to solar power.
A solar-powered neon sign in the center of the world capital of conspicuous consumption: Welcome to the new Las Vegas.
The project was driven by the Green Chips and Clean Energy Project and underwritten by the Consumer Electronics Association, NV Energy, the Las Vegas Centennial Commission and Bombard Renewable Energy.
Monday morning's event is scheduled to be attended by members of the Clark County Commission, Las Vegas Convention and Visitors Authority, the energy utility and Bombard.
Personally, I am a big fan of renewable energy whether it's solar, wind or geothermal — especially when other people are paying for the infrastructure. My personal politics on the subject shift with every dollar such projects cost Nevada ratepayers.
If that sounds like I want it both ways, I won't argue the point.
It's not meant as a joke, but Monday's ceremony does raise a potentially humorous question:
Just how many elected officials and noted experts does it take to screw in a solar-powered light bulb?
I think we're about to find out.
FALLEN FRIEND: For longtime Las Vegan and former Oakland Raiders quarterback David Humm, Todd Christensen was more than a talented teammate. As an All-Pro tight end, Christensen seemed almost indestructible.
Christensen died Wednesday in Utah during liver transplant surgery. He was 57.
Humm and Christensen were teammates during the 1979 and '83 and '84 seasons. During the latter seasons, Christensen emerged as a leading pass catcher.
"He was a great player," Humm recalled Thursday. "He was a great tight end with a tremendous ability to get open."
Humm last saw Christensen in 2012 during a Raiders reunion party celebrating the team's late owner, Al Davis, at the Palazzo on the Strip. Christensen, Humm recalled, looked as healthy as ever.
MAYORAL MESS: Southern Nevadans who believed Oscar Goodman was a too- wild-and-crazy guy while in office now have someone to compare him to.
When it comes to playing the party animal, the Las Vegas Martini Mayor can't touch Toronto Mayor Rob Ford, who is struggling to keep his job after revelations that he smoked crack cocaine while in a drunken stupor and has purchased drugs while in elected office. Holy cow.
A video of the Toronto ribbon-cutter with a crack pipe surfaced on YouTube. Holy herd of cows.
Makes former Mayor Goodman seem kind of quaint, don't you think?
HE'S HISTORY: College of Southern Nevada professor Michael Green has won the American Historical Association's 2013 Eugene Asher Distinguished Teaching Award. The national prize goes to the college professor who displays "outstanding teaching and advocacy for history teaching," according to the association's news release. He is scheduled to receive the national award in January at a ceremony in Washington, DC.
In addition to teaching, Green is a prolific author and longtime newspaper columnist.
ON THE BOULEVARD: The popular Commonwealth celebrated its one-year anniversary on Fremont Street this week, and Frankie's Tiki Room at 1712 West Charleston Blvd. is about to turn 5. … Save Dec. 8 to experience Circus Couture inside The Joint at the Hard Rock Hotel. Proceeds benefit the Children's Specialty Center of Nevada, which specializes in treating young people with cancer and other life-threatening illness. Expect acrobats, fashion and art of many kinds. For ticket and sponsorship information, visit circuscouture.com.
Have an item for Bard of the Boulevard? Email comments and contributions to jsmith@reviewjournal.com or call 702-383-0295.