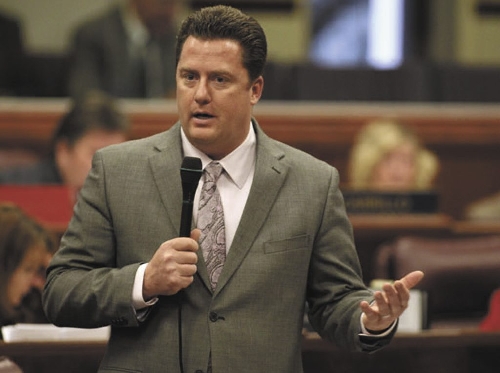 Assembly Speaker John Oceguera, a Democrat running for U.S. Rep. Joe Heck's congressional seat, held a news conference Tuesday outside several small businesses in Las Vegas to criticize his Republican opponent for voting against a payroll tax cut extension.
"Joe Heck and Washington Republicans are hiking taxes on people who can least afford it," Oceguera said. "Joe Heck should be solving problems, not helping tea party Republicans manufacture another crisis that threatens the futures of small businesses like these."
The Nevada Democratic Party had arranged the Oceguera news conference at a local restaurant, which backed out at the last minute. Party spokesman Zach Hudson cited logistics problems.
The Senate-passed deal wouldn't immediately help small businesses because it extends a payroll tax cut of 2 percent to employees — but not employers.
"I'm not absolutely 100 percent on that," Oceguera said when asked whether he was aware of the details of the deal.
Republicans jumped on Oceguera for not knowing that Senate Democrats had scraped a plan to cut in half the payroll tax paid by employers for the moment. National Republican Congressional Committee spokesman Daniel Scarpinato also suggested Oceguera would fall in line behind President Barack Obama and House Minority Leader Nancy Pelosi, D-Calif., if elected.
"If John Oceguera wants to represent Nevada in Congress, he ought to start by getting his facts right," Scarpinato said in a statement. "The real hit on small businesses would be from the destructive Obama-Pelosi policies Oceguera would rubber stamp in Congress, since he obviously is too lazy to do his own research."
During the past Nevada legislative session in 2011, Ocequera led a Democrat push for up to $1.5 billion in fresh revenue, including a new margin tax on businesses and services. In the end, Republicans blocked the Democratic plan, but Oceguera and other lawmakers approved extending $600 million in taxes that had been set to expire, including an unpopular payroll tax.
Oceguera said he wasn't being inconsistent by extending a state payroll tax, but now arguing people can't afford to have paychecks taxed more.
"We came up with a deal which worked," Oceguera said of the legislative tax package. "Did we like it? No. But we made the deal and we stuck to it."