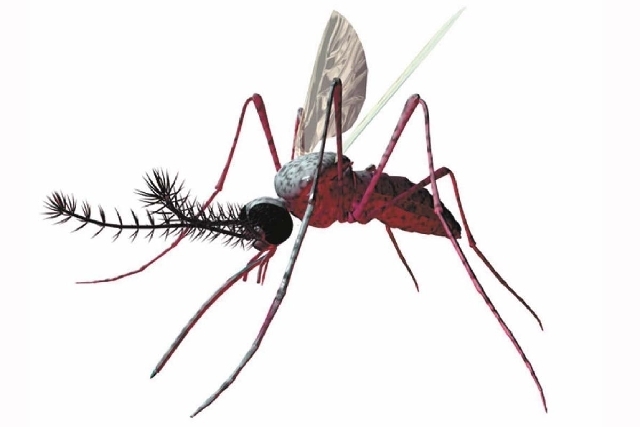 Six cases of the West Nile virus have been reported this year in Clark County, and the water reclamation district and county public works department have introduced a cheaper technique to prevent it: breeding mosquito-eating fish.
Officials dumped about 300-400 Gambusia affinis, a small freshwater fish commonly known as the mosquitofish, into areas of the Desert Rose Golf Course on Friday to reduce the mosquito population.
The mosquitofish will eat almost anything including mosquito larvae, according to Christopher Bramley, a vector control supervisor with Clark County Department of Public Works.
Mosquitoes have been a recurring nuisance in the Las Vegas Valley. A fatal case of West Nile has been reported in Clark County in each of the past three years. There have been six cases in 2013 so far, eight in 2012 and 11 the year before.
The mosquitofish can help, Bramley said.
The Water Reclamation District began by catching the minuscule fish in small, mesh "minnow traps" set in water overflow basins at the plants. For the last three months, officials have been raising the light-colored fish in tall barrels inside what was a water quality lab.
It's much quicker to breed them instead of catching them all with the minnow traps, said Rusty Carlson, who has done vector control work since 1972. About 2,000 fish reside in each of the four barrels.
Chemical and bacterial treatments are commonly used to eliminate mosquitoes, but the Water Reclamation District hopes to halt that practice. If able to use the fish exclusively and cut out treatments, which cost about $30,000 per year, the program can reduce costs to about $4,000 per year.
By next year, when mosquito season rolls around again, the district hopes to have met more needs of the fish, such as adding air filters and automatic feeders.
Flood channels and washes are ideal spots to place the fish, especially in outlying areas of town like Blue Diamond and Indian Springs. They'll dump a large amount at one time and the fish will disperse on their way downstream, providing a wide coverage.
Once they designate an area for the fish, the process is fairly simple.
"We just dump them in," Bramley said.
They gather fish out of the barrels, put them in buckets, and dump them in the stagnant water. The fish swim together for awhile, then split off to discover and eat in their new larvae-rich environment.
"This is where the fish do their best," said Bramley of a flood channel section on Desert Rose Golf Course in east side of town. He and Carlson each dumped a bucket in shallow stagnant pools. That was about 300 little mosquitofish and "it didn't cost us anything but time to dump them," said Bramley.
And the best part?
"We recycle the fish," said Carlson. They mostly place the mosquitofish on county property, which means when they swim or are washed downstream, they go right back into the water district's system.
Virginia Figueroa-Mayer is part of the golf course's security team and was grateful for the fish.
"The mosquitoes here are bad, really bad," she said of the flood channel that runs through the golf course.
"I hope those little fish will help. Now, we have raccoon problems too, but I bet they don't have any special fish for that."
Contact reporter Annalise Porter at aporter@reviewjournal.com or 702-383-0264.