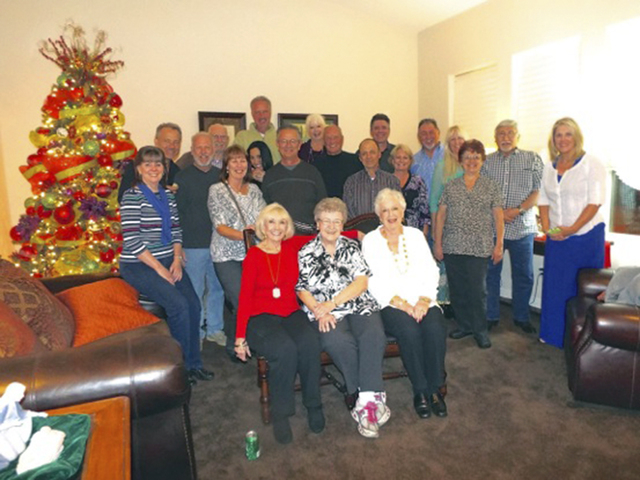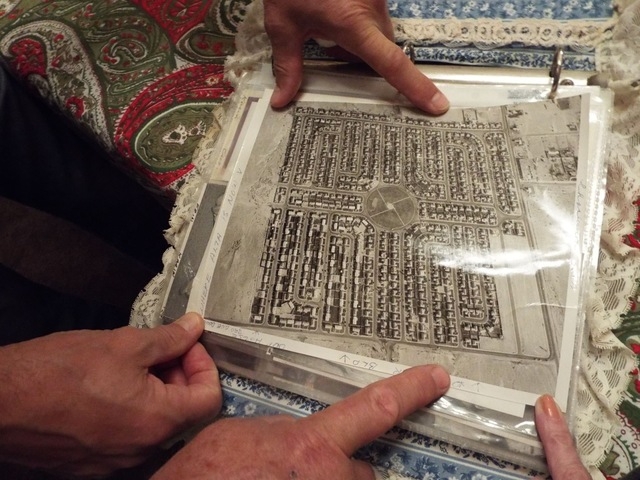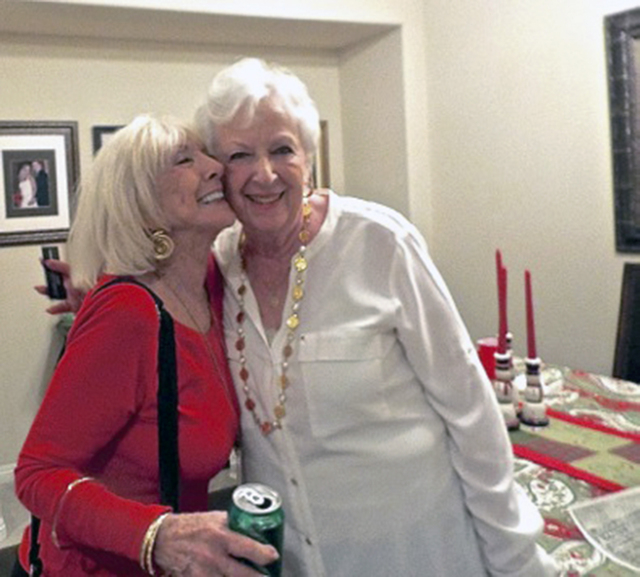 Fifty or so years ago, the people invited to Ellen Foutz Sinquefield's Aliante home were living on Lorna Place in the Hyde Park area of Las Vegas.
The children and adults of Lorna Place loved their neighborhood, according to the group. The doors were always open. The fun spilled from yard to yard. Everybody knew everybody else's business.
Though some of the two generations of guests at Sinquefield's home had not seen each other for 20 years — their last reunion — conversation and stories came easily.
The guests brought a dish to the Nov. 22 gathering, and many brought a spouse. Laughter filled the holiday-decorated home, except for the screams when Rufus, the family dog, came close to reaching a tray of quiche.
Erin Boisjolie Smith, co-host of the event, remembered Lorna Place talent shows and puppet shows and even neighborhood baton twirling lessons. Janet Ramos Saldana recalled baby-sitting some of the people she now meets as adults.
She laughed when she recalled singing "Lipstick On Your Collar" for a talent show. Her brother Michael, "the shy one," also attended the reunion. Michael joined the MGM Grand landscaping staff when the hotel opened 21 years ago.
Retiree George Kaster owned a number of glass companies in Las Vegas. He installed the mirrors in comedian Phyllis Diller's house.
Kaster has lots of stories. He and Brad Boisjolie, who was at the reunion, were members of a quick-draw club in Las Vegas called The Outlaws. It gave a number of demonstrations around town.
Kaster also remembered when Lee Marvin and Burt Lancaster were in town making a Western movie, "The Professionals." Kaster had heard that Marvin would be at a particular bar, and he wanted to meet him. Sitting at the bar, Kaster felt a tap on his shoulder. It was Lancaster, asking to borrow a pencil because someone in the bar wanted an autograph.
Kaster's son Duff and daughter Anne Hein attended the reunion, too. Duff, a dentist, loved talking about his dad's adventures, then added, "New patients are always welcome."
"Times are different now," said Dennis Connor as he looked at an old neighborhood map.
As a teen, he was an employee at the Copper Cart Restaurant in Las Vegas. It was attached to the former La Concha Motel, whose lobby is now the visitors' center at the Neon Museum.
"And today," Connor said, "my company (Federal Heath Sign Company) often works with the museum to save some of the iconic signs."
"Your dad was the principal at my school," Doug Campbell said.
Connor's father was an educator and legislator in Nevada. Campbell's father played trumpet with a Desert Inn casino show band. For the last 40 years, Campbell has owned Las Vegas Balloon Rides, 4790 S. Fort Apache Road.
As the two men talked about being kids living four doors apart, they laughed about overnight camping in the front yard, football at Circle Park and July 4 bicycle rides up and down the street. Connor added, "And sometimes, we just looked for lizards all day."
Boisjolie Smith said all the moms on the street were "our moms, looking out for us or scolding us when we did something wrong."
Smith's mother, Marsha Boisjolie, attended the reunion, recalling that her family had moved to Las Vegas from Salt Lake City in 1951 because her brother had rheumatic fever and a doctor recommended a warmer climate.
Boisjolie had her own story regarding Las Vegas signs.
"Dad worked for Young Electric Sign Company and was one of its top designers," she said. "One evening, he came home and said he needed a high-heeled shoe because he'd been asked to design a sign in the shape of a shoe. I had just bought my first pair of high-heeled shoes — they were white — and he took one of the shoes to use as a model. The sign was the lighted shoe identifying the Silver Slipper Casino."
One of the musician dads in the community was the late Mo Mahoney, whose wife, Isabella, attended the reunion.
"Mo was a drummer, and he traveled with the Dukes of Dixieland," Mahoney recalled. "He said when he was on the road, he had trouble finding drum parts if something broke, so when he came home, he said he wanted to open a drum shop. We had no money at the time, so we borrowed $2,500 from his mother and opened our shop. We had a telephone and a cash register and just a few instruments. Mo called all his musician friends and told them he'd give them a 20 percent discount if they bought something at the shop. They came, and our business began. People still see me and ask, 'Aren't you Isabella from the Drum Shop?' The shop had a family atmosphere, and we always had great fun. I'd love to write a book about our experiences."
The store, Pro Music & Drum Shop, closed in 1995. A story that many of the neighborhood women remember from years ago was told by Sinquefield. Her father had a drive-away business, and years ago, a white Cadillac with gold trim was delivered to his yard, awaiting the arrival of Frank Sinatra.
Ellen's father was so afraid something would happen to the car in the lot that he drove it home. Young Ellen had a birthday party at about the same time, so Ellen's mother drove all the children home in Sinatra's Cadillac, and of course, they never told the crooner.