Ondori combines Japanese, Chinese cuisine at The Orleans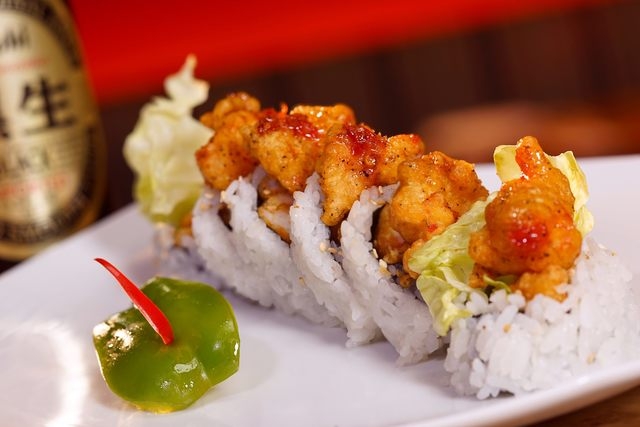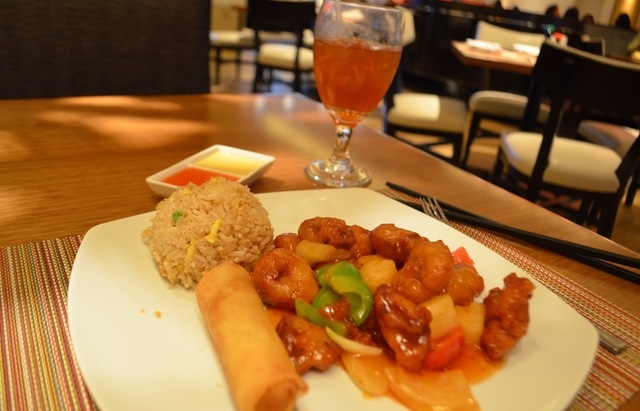 Can't decide between Chinese and Japanese cuisine? There's no need to at Ondori Asian Kitchen, a new restaurant inside The Orleans.
Ondori pays homage to tomodomo, the art of togetherness, in both its food and drink menus and its layout. Long, communal tables divide the front half of the restaurant into a sushi bar on one side and a cocktail bar on the other. The back features tables and semi-private booths to fit small and large groups.
The decor has nods to Japan and China, with giant canvas prints of pandas alongside koi fish. Small, painted porcelain and stoneware bowls from both countries are mounted along the walls.
Half the menu is dedicated to each cuisine, so you can order Japanese sushi and sashimi alongside traditional Chinese noodle and rice dishes.
On the Japanese side, choose from traditional and specialty rolls with fun names such as the Love Me Tender Roll, with bay scallops, shrimp, avocado, thinly sliced and seared beef tenderloin, eel sauce, spicy mayo, Sriracha sauce and green onion; or the Who's Your Daddy Roll, with shrimp tempura, krab and avocado inside and super white tuna, avocado, spicy mayo and eel sauce on top. If the faux krab isn't your thing, real crab is available.
Bento boxes, ranging in price from $11 to $16, allow patrons to combine teriyaki, sushi and sashimi dishes with a choice of sides such as Peking dumplings, rice, salad, vegetable tempura, spring rolls and soup.
The Chinese side features plenty of standards along with more unique dishes such as the fish head and tofu in a hot pot, the oxtail pot with tender oxtail bathed in sweet red wine with bean curd sticks, frog legs with salt and pepper, or the congee with salty pork and a 1,000-year-old egg.
Lunch specials on the Chinese side are offered from 11 a.m. to 3 p.m. weekdays. For $10, enjoy a spring roll, a side of fried rice, your choice of hot and sour, egg drop or miso soup and an entree. For entrees, choose from General Tso's chicken, Mongolian beef, kung pao chicken, chicken or beef with broccoli, sweet and sour chicken or pork, lo mein, garlic chicken, teriyaki chicken or beef, or sliced barbecue pork.
Those who want to sample a bit from both sides of the menu may want to consider the tomodomo small plates. Smaller portions of dishes, such as garlic lo mein, Peking dumplings and Alaska roll, go for $5, or chicken or pork fried rice, beef lo mein, chicken with broccoli or sweet and sour pork for $7. Small plates of albacore, mackerel or salmon sashimi are $10.
For dessert, try a snow ice in chocolate, green tea, mango, strawberry or sesame. Topping choices include passion fruit jelly, mango, peach or lychee popping pearls, mochi and boba. As a final touch, add a sauce: condensed milk, lychee, mango, pineapple or strawberry.
The drink menu includes wines, more than a dozen varieties of sake, draft and bottled beers, specialty cocktails and vodka, whiskey, sherry and gin from China, Japan, Korea and Thailand.
Ondori's head sushi chef Shige Yoon was born in Seoul, South Korea, and has been a chef for more than 26 years, with experience in multiple kitchens in Las Vegas.
The restaurant's specialty chef, Shao Xiong Mai, was born in Canton, China, and has been cooking Chinese Cantonese dishes for more than 33 years. His career includes stints in China, San Francisco and Las Vegas.
The restaurant at 4500 W. Tropicana Ave. is open for lunch, dinner and late-night dining from 11 a.m. to 1 a.m. daily.
Visit orleanscasino.com/dine/ondori or call 702-365-7111.
Ondori Asian Kitchen
Address: Inside The Orleans, 4500 W. Tropicana Ave.
Hours: Open for lunch, dinner and late-night dining from 11 a.m. to 1 a.m. daily.
Visit orleanscasino.com/dine/ondori or call 702-365-7111.