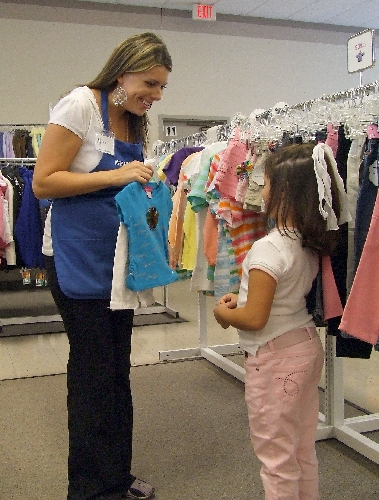 Emilee Rogers doesn't remember the name of the sixth-grade center she attended when she was 12.
But 20 years later, there's one institution from that time she says she'll never forget.
As a homeless student with nothing but the tattered clothes on her back, Operation School Bell let her shop for brand new clothes — a gift she says gave her confidence and a reason to stay in school.
This year, Operation School Bell plans to dress more than 7,500 students in the Clark County School District, in hope of giving that same inspiration to another generation. It started serving this year's first batch of students last week.
At-risk students, grades kindergarten to 8, are referred to the program by their school counselors. Each child is allowed to shop from the Assistance League's warehouse, selecting brand new clothes that not only fit but are fashionable.
"It pushes their self-esteem up immensely," said La Donna Jimenez, the league's president. "They're proud to go back to school."
The Assistance League of Las Vegas, headquartered in Spring Valley, is an all-volunteer organization that started in the city in 1976. The group is geared to help children in need through its various service programs.
Volunteers said their efforts are worth every child's smile.
"It's wonderful," Jimenez said. "You see the kids' faces light up and say, 'I've never had my own shoes.' "
Other children have shoes with holey soles. Some little girls wear their father's shirt to their knees, paired with khaki pants so big they're rolled four times at the waist and held up with a rope.
It's a scene Rogers knows all too well.
Now a North Las Vegas resident, Rogers remembers wearing pants four inches too short or sporting mismatched outfits, such as orange pants and a purple shirt.
"I didn't believe them when they said you can pick whatever you want," Rogers said of her time at Operation School Bell. "You can pick what you want, what you actually like. For a child that had nothing, that was life-changing."
Students are able to choose two outfits, a jacket, underwear, socks and shoes. The clothes are often name brands and always in the latest fashions.
Rogers said that made all the difference in her desire to attend school.
With tattered clothes from thrift stores, she was the victim of teasing and bullying.
"You don't want to go to school; you don't want to learn when it's like that," the 32-year-old said. "I had those new clothes on, I went to school and concentrated on what the teacher was telling me instead of my negative environment. It made a difference in my grades, and I liked going to school after that."
Rogers since graduated high school and now works for the U.S. Postal Service. She hadn't told her two children about her childhood because she said she didn't want them to worry that would happen to them. But one day, she happened to see a booth for Operation School Bell in the mall — and became emotional that she found the group that helped her 20 years ago. She was with her children and finally told them her story and began teaching them the importance of donating to others.
"I didn't even know they were still in operation," she said, noting that she was younger than her son when she received help.
Operation School Bell also provides students with hygiene kits, which spurs some children to confess to volunteers that they have never had their own toothbrush and instead share it with their whole family.
"It breaks your heart," said Edye Risener, who has volunteered at the Assistance League for five years .
Rogers said those kits were also helpful when she spent a year living at homeless shelters with her mom and two siblings. Because the shelters were open only at night, they spent the rest of their time in parks. They eventually moved to an apartment in the projects when her mom found a job.
"We had nothing," she said. "But then there was Operation School Bell. It made the difference in my self-confidence and the person I was becoming. This program made a difference in my life."
To Help
To volunteer or donate to the Assistance League of Las Vegas, call 870-2002 or visit allv.org.