Opioid abuse epidemic emerges from shadows
January 23, 2016 - 11:33 pm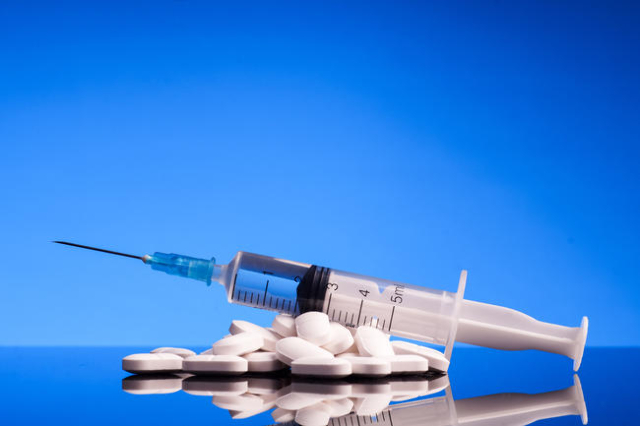 The craven characters ensnared in an oxycodone trafficking investigation continue to fall down at U.S. District Court, but for a real sense of the damage being wrought you'll need to go elsewhere.
Start at a local hospital emergency room, where the doctors and nurses on duty regularly receive patients in various stages of opioid-related distress. Stand around a Southern Nevada pharmacy for long, and you're bound to hear a testy exchange involving a customer whose pain pill prescription has been exceeded. Check in with the professionals at Southern Nevada's drug-addiction recovery centers, and note that business is brisk. Down at the Clark County coroner's office, there's the most grim reality: Las Vegans die from drug overdose at an alarming clip.
The CDC's 2016 status report begins simply: "The United States is experiencing an epidemic of drug overdose (poisoning) deaths."
But this isn't just another Just-Say-No story. Drug overdose now exceeds car crashes as the leading cause of death — more than 47,000 last year. More than half the deaths were opioid-related (prescription and illicit.) That number has increased 137 percent from 2000, according to the Centers for Disease Control and Prevention.
One reason for the carnage is clear: Opioid prescriptions quadrupled in a decade, and increasing scrutiny over physician abuses has sent the addicted into the street for illicit oxycodone and, increasingly, heroin. The most high-profile abusers, law enforcement authorities contend, are often linked to under-regulated pain clinics that have lived down to their reputations as pill mills.
But most addicts don't fit the popular image of the back-alley drug fiend. America increasingly is populated with accidental addicts who began taking oxycodone and its opioid relatives on a doctor's orders. Now physicians across the nation are being called upon to rethink their treatment for chronic pain, dial down the opiates and seek alternatives for patients.
At the Las Vegas Recovery Center, addiction treatment specialist Dr. Mel Pohl has been on the front lines of the epidemic for years and treats patients from all walks of life.
"It makes me sick that so many people are dying of opioid overdose," Pohl says. "What really frustrates, concerns and frightens me is that we have a cultural need to get medicated out of pain. We're barking up the wrong tree."
In Nevada, state government has found itself scrambling to address the complex cultural issue. Kevin Quint, bureau chief with the Nevada Substance Abuse & Prevention Treatment Agency, acknowledges the troubling truth, but he also noted that the state Legislature in 2015 passed Senate Bill 459, Gov. Brian Sandoval's plan to establish an opioid overdose prevention policy for Nevada.
"Nevada actually in this case is in the forefront," Quint says.
Despite that laudable increased attention to the issue, Nevada still has no so-called "pain clinic law," which the CDC says helps states track ownership and operation of pill mill practices. For years political leaders left it up to the DEA, FBI, U.S. Attorney's Office and Metro police to do the tracking for us with predictable results that occasionally play out in federal court with dirty doctors exposed as drug pushers in lab coats.
Corrupt pain management specialist Dr. Victor Bruce, now serving a 46-month sentence for his crimes, is at the center of the current investigation. Although U.S. Attorney Daniel Bogden has made prosecuting the pill mill doctors a priority, in reality relatively few physicians have been dragged before the court.
It's too early to call it a trend, but Nevada's drug-related mortality rate actually saw an improvement last year. The frightening fact remains our 22.4 deaths per 100,000 population is nearly twice the national average (13.5) and ranks us third-worst in the country. Heroin overdose deaths in Nevada have risen from 19 in 2010 to 52 a year ago.
In Nevada, once again ranked near the top of a tragic list, the opioid abuse epidemic is out of the back alley and hitting very close to home.
— John L. Smith's column appears Sunday, Tuesday, Wednesday, Friday, and Saturday. Contact him at 702 383-0295, or jsmith@reviewjournal.com. On Twitter: @jlnevadasmith.