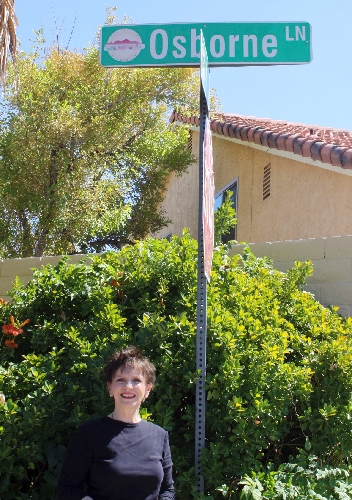 The United States labeled Floyd Osborn a hero through service medals and honors.
The city of Henderson honored him with a street , Osborne Lane, despite misspelling his name .
But to his family, Osborn was just a good person who loved and inspired people as a father and husband.
"He was the type of person who would give you the shirt off his back," said Alexandra Spotti, Osborn's daughter.
Before settling in Henderson in 1955, Osborn was a paratrooper in the 82nd Airborne Division. He often told his family stories about his World War II experience, which included four major battles and 20-plus jumps, Spotti said.
Osborn parachuted into Normandy, France, during the D-Day invasion on June 6, 1944.
"The paratroopers were being shot at as they parachuted in," Spotti said. "There was a sniper on the roof of a church taking them out."
Osborn made it to the ground and was able to take cover in the bushes.
His will to survive and his determination to take back the captured city kept him alive, Spotti said.
During his military career, Spotti said, her father earned several awards and honors, including the Purple Heart, the Bronze Star and a p residential c itation.
After World War II, he met Spotti's mother, Pearl, at a Greek restaurant in Illinois that was owned by Pearl's family .
They married, moved to Chicago and had four children.
"I think our moving to Henderson had something to do with the Chicago weather," Spotti said.
Osborn joined the auxiliary police in Henderson until he was officially appointed as a patrol man in 1957.
"He was the first motorcycle patrolman in Henderson," Spotti said.
He joined the city of Henderson at a time when it had only 52 employees including the fire department, police department, maintenance, administration, engineering and water and sewer staff.
Spotti said her father was instrumental in helping train and shape the Henderson Police Department.
Osborn climbed the ranks and was named the third chief of police after his predecessor, Bill Allen, died in 1972.
"He was described as a no-nonsense chief who expected a day's work for a day's pay," Spotti said.
Spotti also remembers her dad as an avid carpenter.
"He constructed his own office at the new city hall," Spotti said. "I used to watch him do a lot of brick laying. I always enjoyed watching him work."
After he retired in 1978, Spotti said, Osborn was informed that a street near Valle Verde Drive and Sunset Road would be named for him.
"He was honored," Spotti said.
In 1985, Spotti said Osborn, along with her mother, traveled to Normandy for a reunion of wounded World War II veterans.
"It was something he always wanted to do," Spotti said.
During his career, and more so after he retired, Osborn volunteered in the community as president of the Henderson Boys Club, the Rotary Association, the March of Dimes, Easter Seals and St. Jude's Ranch for Children.
He also was a member of the local Democratic Party, the Nevada Crime Commission and the Henderson Chamber of Commerce board.
"He was very involved with the JFK campaign," Spotti said. "He wanted to be very involved with the community."
In 1993, Osborn, 70, died from heart failure at St. Rose Dominican Hospital after suffering from a degenerative lung and heart disease, according to the Henderson Home News.
"(Smoking) really took a toll on his lungs and heart," Spotti said. "He had been a chain smoker for 50 years."
Spotti and her family still live in Henderson and, on occasion, drive by Obsorne Lane to see their family legacy.
"It is still amazing to drive down and see his name on a street," Spotti said.
Contact Henderson/Anthem View reporter Michael Lyle at mlyle@viewnews.com or 387-5201.