Outside spending groups pump millions into political races in Nevada
October 3, 2016 - 6:47 am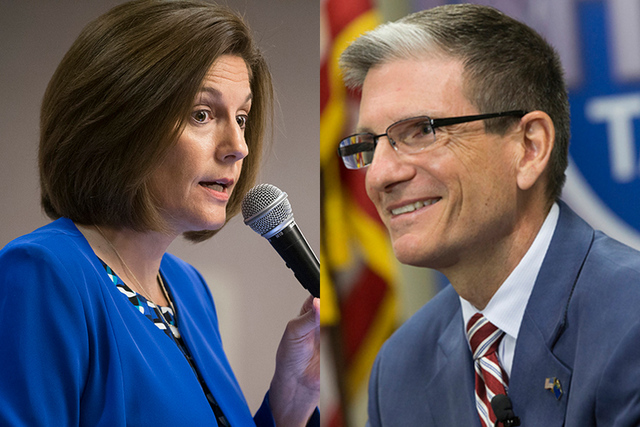 Fifteen outside spending groups have pumped more than $1 million apiece into the Senate, congressional and presidential races in Nevada during this election cycle.
Their overall spending combined represents 87 percent, or $46.7 million, of more than $53 million that has flowed from outside groups, including political action committees, super PACS and dark money groups, into Nevada elections. The high level of spending is stoked by a high-stakes U.S. Senate race that could determine which party controls the Senate, an open presidential race and two competitive congressional districts.
The cash infusion means that Nevada voters are facing a blitz of ads and door knocks from representatives from outside groups not directly working on campaigns. Those 15 biggest spenders are part of 64 outside groups that have put money into Nevada, Federal Election Commission data show. Those figures don't include spending on former presidential candidates and congressional candidates who lost primaries.
"It's pretty safe to say the amount of outside money will be a record, particularly in the U.S. Senate race," said Eric Herzik, a professor and chairman of the University of Nevada, Reno's political science department. "There's no shortage of groups on either side with money."
The bulk of the money, $45.2 million, has gone toward the Senate race for the open seat of outgoing Senate Minority Leader Harry Reid, D-Nev. U.S. Rep. Joe Heck, R-Nev., and Democratic candidate Catherine Cortez Masto, a former Nevada attorney general, are battling for the seat.
So far, $19.6 million has been spent by outside groups hoping to defeat Cortez Masto, almost $2 million ahead of the $17.9 million of the outside money spent in a bid to defeat Heck.
Millions of dollars more will be spent in Nevada before Election Day.
Here's a look at some of the outside spending groups that have put more than $1 million into Nevada races.
REPUBLICAN-LEANING SPENDING
Six of the 15 groups that have put $1 million or more into the races are backing Republican candidates. They also are among the biggest spenders.
Freedom Partners Action Fund has put $7.6 million into Nevada races, the biggest any other group, all of it opposing Cortez Masto with digital and television attack ads and direct mail. Freedom Partners Action Fund is part of the network of political groups associated with conservative billionaire brothers David and Charles Koch , is putting money and resources into Nevada's Senate race .
The second-biggest spender is the National Republican Senatorial Committee, which has put $5.4 million into the Senate race. The U.S. Chamber of Commerce has put $4.1 million into the races, both on attack ads against Cortez Masto and television spots supporting Heck.
The Senate Leadership Fund has put $3.3 million into efforts to get Joe Heck elected. That's just a start. The super PAC has committed $8.3 million for television ads to Nevada for September and October, a spokesman said. The group began unrolling weekly ads in mid-September.
The National Republican Congressional Committee has poured $2.8 million into the 3rd and 4th congressional races in Nevada. In the 3rd District, Republican Danny Tarkanian faces Democrat ic candidate Jacky Rosen for the open seat. In the 4th District, U.S. Rep. Cresent Hardy, R-Nev., faces Democratic candidate Ruben Kihuen, a state senator.
Herzik said voters eventually start tuning out ads, which makes personal connections with voters even more important for candidates.
"If you can get Latinos to come out to vote and women to come out and vote and organized labor to come out and vote, it doesn't really matter what the Koch brothers' ads say," he said. "But we'll see."
DEMOCRATIC-LEANING GROUPS
The Senate Majority PAC is backing Catherine Cortez Masto in the Senate race. The super PAC aims to give the Senate a Democratic majority and has put $5 million into the Nevada Senate race.
It's the third-highest-spending group in Nevada's political races.
Labor-backed groups, including
AFSCME People, a political group tied to the American Federation of State, County and Municipal Employees , also are investing in the races. AFSCME People has put $3.5 million into the race, most of it on ads targeting Heck and $15,773 on "AFSCME for Hillary" T-shirts.
AFCSME, the American Federation of State, County and Municipal Employees, is a union for public employees.
The Democratic Senatorial Campaign Committee has put $3.4 million into Nevada's Senate race, while the Democratic Congressional Campaign Committee has put $2.6 million into efforts to help Jacky Rosen and Ruben Kihuen get elected to the 3rd and 4th Congressional District seats.
A variety of issue-oriented groups are backing Cortez Masto, including groups focused on the environment, campaign finance reform and abortion rights.
The LCV Victory Fund, which is tied to the League of Conservation Voters, has put $1.6 million into ads opposing Heck.
End Citizens United, a traditional political action committee, has spent $1.75 million on ads opposing Heck. The group wants to see campaign finance reforms passed and supports overturning the Citizens United ruling, a 2010 U.S. Supreme Court decision which paved the way for corporations to spend money supporting and opposing candidates by striking Citizens United, a 2010 U.S. Supreme Court decision, struck down campaign spending limits on corporations , ruling they breached free speech.
Pro-abortion rights groups are backing Cortez Masto in the Senate race. Women Vote!, a super PAC for Emily's List, has put $1.15 million into the race, while Planned Parenthood Votes, a super PAC, has spent more than $1 million , most of it to support Cortez Masto and oppose Heck .
In a statement, Planned Parenthood Votes said it plans to do volunteer and paid canvassing and knock on more than 14,000 doors in Clark County and Washoe County and place more than 62,000 phone calls.
Contact Ben Botkin at bbotkin@reviewjournal.com or 702-387-2904. Follow @BenBotkin1 on Twitter.