Ovarian cancer must be caught early for best results
October 2, 2015 - 4:30 am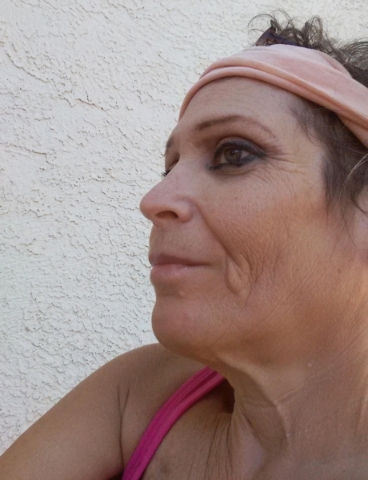 It's often called "The Silent Killer," and it does its job very well.
"It" is ovarian cancer.
September is Ovarian Cancer Month. "The Silent Killer" is something Iris Ayers of Summerlin knows well. It's been stalking her since 2013. Always healthy before, the mother of three grown children began experiencing confusing intestinal symptoms that year, including constipation. Arrangements were made for her to have a colonoscopy. The procedure involved drinking a large amount of barium to flush out the intestinal tract. Ayers drank the fluid — every drop — but nothing happened.
"I knew something was definitely wrong," she said.
In mid-December of 2013, Ayers doubled over in severe pain. Her family wanted to take her to the hospital, but she refused when the pain subsided.
On Dec. 23, 2013, the pain got so bad, she relented and went to Summerlin Hospital, 657 N. Town Center Drive.
Tests were run, and various doctors were called in to examine her.
"They told me, 'You need surgery as soon as possible,' " Ayers said. "I didn't know what to think."
According to the Mayo Clinic, early-stage ovarian cancer rarely causes any symptoms. Advanced-stage ovarian cancer may cause few and nonspecific symptoms that are often mistaken for more common, benign conditions, such as constipation or irritable bowel syndrome.
Signs and symptoms of ovarian cancer may include:
Abdominal bloating or swelling.
Quickly feeling full when eating.
Weight loss.
Discomfort in the pelvic area.
Changes in bowel habits, such as constipation.
A frequent need to urinate.
The Ovarian Cancer Symptom Awareness Organization, based in Chicago, states that: Some cases of Stage 1 ovarian cancer do not require chemotherapy and have a long-term cure rate of more than 95 percent with treatment limited to surgery. The average survival for women with advanced-stage ovarian cancer in the last 15 years has gone from one year to more than three years.
It is true that among women followed from five and 10 years after treatment, the number that are actually cured of the disease is very small. However, it appears that some 8 to 15 percent of patients — even those with very advanced ovarian cancer — eventually will be cured of the disease.
Dr. Nick Spirtos, medical director of the Women's Cancer Center of Nevada, said the facility sees up to 750 new cancer patients a year. Of those, roughly 25 to 30 percent have ovarian cancer. He said it is important to catch it early.
"If we — and we don't yet — had adequate screening, it would be incredible, the best thing ever," he said. "But we don't. There have been a number of screening protocols undertaken in the U.S., and we haven't been able to identify the patients with the early stages of this disease successfully. And that might just be a matter of it may not grow and propagate like other cancers. It may arise spontaneously and in multiple spots.
"So, in one sense … we don't know if we're able to catch it early. We may not have that ability because it may not grow like that. Look at cervical cancer. It's almost eliminated. Less than 4,000 women a year die in the U.S. from cervical cancer. And it's becuase of PAP smears. We don't have (early screening tests) for ovarian cancer, not yet. But I think we're getting there."
On Dec. 27, 2013, Ayers underwent surgery. It took eight hours and included a full hysterectomy and losing a foot of her colon. An ileoscopy bag came with the surgery. The diagnosis was Stage 3 ovarian cancer.
Ayers was in the intensive care unit for 10 days.
"I was in so much pain, my head was spinning," she said. "I didn't know what was up or down or left or right. I was like, 'Oh, my God, I've got cancer.' "
Back home, she went online to learn everything she could.
"Stage 3 … you're not supposed to survive," she said. "Of course, they don't come out and tell you that. I got it in bits and pieces, doing research."
The worse was yet to come: chemotherapy. It was so debilitating, it put her in a wheelchair.
"It's horrible," Ayers said. "The side effects — there are no words for it. All I can say is I felt like I'd been run over by a Mack truck 100 times over."
She endured six rounds of chemo, knowing it was the only way to make her cancer-free.
Another surgery removed the ileostomy bag and reattached her colon.
But in spring 2014, doctors discovered the cancer had returned. Surgeons removed three new tumors in another surgery. Ayers underwent more chemotherapy. She's due for her last round to finish in October.
"It's been an ordeal. I'm still fighting it to this day," said the 4-foot-11-inch 56-year-old, who always kept her humorous side. "I'm a frequent flier between Summerlin Hospital and Valley Hospital. The ER is my second home."
Ayers is not just an ovarian cancer warrior; she is the founder of End Violence Now! The Chris Privett Foundation.
What would she tell a newly diagnosed woman?
"It is a silent killer … reach out to others, to your doctors," she advised. "There are so many resources to go to. You've got to fight it. If I can do it, you can do it."
To help raise funds for local use, Ayers is planning an Ultimate Teal Cocktail Dinner Party. The event, originally planned for Sept. 25 at The Copa Room in The Bootlegger Bistro, 7700 Las Vegas Blvd. South, has been postponed until she completes her latest round of treatment. She said funds raised will go to The Women's Cancer Center Foundation for Research, 3131 La Canada, Suite 241, to fund the Cash For Chemotherapy drive, Critical Research, and Raise Awareness programs.
The Women's Cancer Center of Nevada is a recognized leader in the fight against gynecological cancers, including ovarian and uterine. As a full member in the Gynecologic Oncology Group, it offers both standard approaches and clinical trials for those who qualify. Visit wccenter.com or call 702-693-6870.
For more information on the Ovarian Cancer Symptom Awareness Organization, visit ovariancancersymptomawareness.org/get-the-facts.
— To reach Summerlin Area View reporter Jan Hogan, email jhogan@viewnews.com or call 702-387-2949.
More resources
The Women's Cancer Center of Nevada
3131 La Canada, Suite 241
Visit wccenter.com or call 702-693-6870.
Ovarian Cancer Symptom Awareness Organization