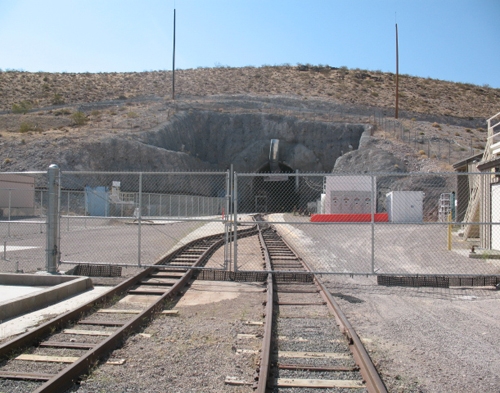 Representatives of a U.S. House subcommittee are scheduled to tour Yucca Mountain on Tuesday, part of what chairman Rep. John Shimkus, R-Ill., says is an investigation into President Barack Obama's decision to close down the Nevada nuclear waste project.
Three lawmakers from the 24-member Environment and the Economy Subcommittee will be on the tour. Rep. Gene Green, D-Texas, the ranking Democrat on the panel, will accompany Shimkus. Rep. Michael Burgess, R-Texas, also will be on the trip.
Shimkus, who represents a state that draws significant energy from nuclear power, has made it clear he believes the Yucca program should not have been terminated and that the Obama administration overstepped its authority in doing so. Tuesday's visit would be at least the second tour the congressman has taken of the site 100 miles northwest of Las Vegas.
Following the tour, the lawmakers and subcommittee staff will bus over to Pahrump, where a contingent of pro-Yucca leaders from rural Nevada will be awaiting them at the Pahrump Valley Museum and Yucca Mountain Information Center.
Nye County commissioners, as well as representatives from Lincoln and Mineral counties, and a representative of Nevadans For Carbon Free Energy, which advocates locating an "energy park" at the Yucca site, will be among those in the welcoming party.
While the lawmakers may hear the views of pro-Yucca factions in Nevada, the opponents of Yucca Mountain may be shut out.
In advance of the trip, Joe Strolin, the acting director of the Nevada Agency for Nuclear Projects, sent Shimkus a letter last week asking for two representatives of the state to go along on the tour, longtime technical consultant Steve Frishman and Judy Treichel, executive director of the Nevada Nuclear Waste Task Force.
"Having knowledgeable Nevada representatives present … will greatly enhance your fact-finding mission," Strolin said in the letter.
Strolin said Monday he got no response.
"We tried," he said. "I sent the letter last week and no one ever responded as far as I know."
On Monday night, a committee aide said he did not believe the letter had been received, "other than once it was made public today. Only members, committee staff and (Department of Energy) staff are on the tour."
Letter to Rep. John Shimkus about Yucca tour