Paige 'Elvis' Poole lights up Centennial Mazda's showroom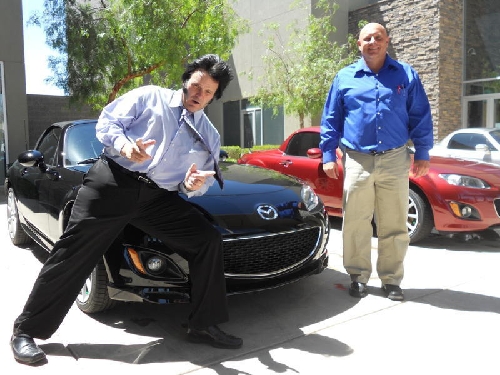 Centennial Mazda not only has a popular product setting record sales, but it also has a staff that includes an Elvis-tribute artist who has been in the car business for six years.
Paige "Elvis" Poole, 49, even sings an Elvis-like song titled "I'll Have a Blue Mazda for Christmas," taking the words from Elvis' song "Blue Christmas."
"I have been impersonating Elvis since 1973," said the personable Poole, who is among the top sales consultants for the dealership at 6525 Centennial Center Blvd. in the northwest valley. "I was actually imitating Elvis while in high school. I had the sideburns, too, and someone dared me to sing in a talent show to raise money for a class trip.
"The show was a sellout, and my best friend's mom even threw an undergarment at me."
Poole also sings "Suspicious Minds," "The Wonder of You" and "American Trilogy," all Elvis hits. In addition, he sang at the Las Vegas 51s baseball game about three years ago.
"I could sell cars anywhere," Poole said. "I believe in Mazda because it's a very good product. It's safe and affordable. It's a much better product than anything else I have ever seen. The people I work with here are the best I have ever worked with. This is perfect harmony."
Henry Andino, business development manager and Internet director, lauded Poole.
"Besides his dynamic personality, he brings a refreshing sales procedure to the car business," Andino said. "He really puts energy into the showroom no matter what time of day."
Andino said Poole is such a strong member of the staff that the dealership is studying ways to promote him in public.
"People love him," Andino said. "The car business is all about notoriety, and "Elvis" can certainly bring that to the table."
Additionally, the dealership is going to sponsor Poole in the second annual Elvis Rocks Mesquite June 23-26 at the CasaBlanca Resort.
"We don't make customers; we make friends," Andino added. "And I'll tell you one thing, if Paige enters Elvis Rocks Mesquite, he'll give them a run for their money, even though the event includes some of the best competitors in the country."
Centennial Mazda has risen quickly to become the No. 1 Mazda dealership in District II of the West Coast.
The district includes numerous dealerships in Nevada, California and Arizona.
Top-producing models at the dealership include the 2011 Mazda CX-7 and the 2011 Mazda3. Mazda has a total of nine models.
Centennial Mazda is headed by General Manager Jan Sheinfeld.
Super Store Auto Group includes a total of five dealerships in Southern Nevada and more than 26 dealerships nationwide.
For more information information, call 951-8200 or visit www.centennialmazda.com.