Panorama Tower offers views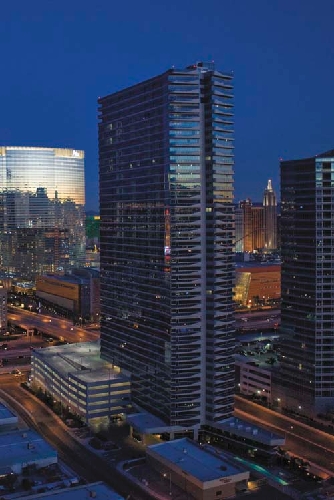 Panorama Tower North, high-rise condominiums overlooking the Las Vegas Strip, has announced a financing program for its buyers.
Marc Ehrlich, president of Panorama North Marketing LLC, said the company's biggest challenge since completion of the high-rise tower has been finding suitable financing for buyers. According to Ehrlich, Panorama Tower North buyers can choose from three different loan products: a 30-year fixed rate, a 15-year fixed rate, and a five-year adjustable rate mortgage.
Financing is provided by CalCon Mutual Mortgage Corp., which offers loan programs for primary residences, second homes, foreign buyers and real estate investors. Ehrlich said CalCon is offering rates for primary and secondary homeowners and is competitive with market rates for traditional single-family homes in Las Vegas.
Ehrlich, a certified public accountant with years of experience developing and managing high-end real estate projects, said CalCon created its financing program to help more buyers take advantage of "a historic buying opportunity."
"For the first time ever in Las Vegas, the equation has shifted where it makes financial sense to own versus rent a high-rise condominium," Ehrlich said.
"Our buyers will be the beneficiary of two rare occurrences: buying at very low prices and financing at historically low interest rates. It really is the perfect time to buy."
He said the financing program and current market conditions are "especially attractive for foreign buyers and people who want to buy second homes here."
"This is one of the top residential buildings in Las Vegas and elsewhere, with views and location second to none," CalCon President Joshua Erskine said. "I think buyers will find that our program and fee structure are very favorable."
Panorama North Marketing LLC is the exclusive sales and marketing agent for Panorama Tower North, a 372-unit luxury high-rise condominium community overlooking the Las Vegas Strip.
Located at 4471 Dean Martin Drive, it is within walking distance of the Las Vegas Strip. Prices range from $266,000 to $8 million for a full-floor penthouse.
For more information, visit panoramatowersnorth.com.
For more information on CalCon Mutual Mortgage Corp., visit CalConMutual.com.