Paradise area offers options for cooling down, having fun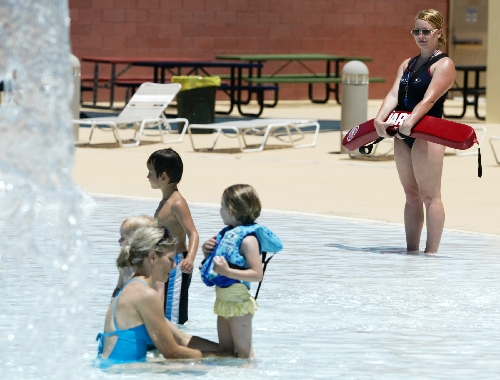 It's hot here, there and everywhere with a 702 area code these days.
The 100-degree temperatures come with the territory, but that doesn't mean desert dwellers can't have a good time.
In the H2O know
Water is a precious commodity in Las Vegas, and the Southern Nevada Water Authority has some tips for being water smart and staying cool at the same time.
Nicole Lise, spokeswoman for the Southern Nevada Water Authority, encouraged residents to seek out outdoor water features but within reason.
"We understand people need to cool off and relax," she said. "When it's being wasted and not going toward a specific use, we try to draw people's attention to water-smart measures."
Lise encouraged people to find one of the more than 70,000 pools in Las Vegas. For pool owners, Lise suggested investing in a pool cover, which can save between 10,000 and 15,000 gallons of water a year from evaporation.
Lise also suggested that residents be mindful of water conservation during play in sprinklers, Slip 'N Slides or fill-up kiddie pools. Southern Nevada Water Authority has OK'd a daily watering schedule for summer months, except between 11 a.m. and 7 p.m., also due to evaporation.
Home carwashes also are all right, Lise said, but on a strictly once-per-week-per-car basis.
For more information on water-related rules, visit snwa.com or call 862-3400.
Wet, wild and out
For fun out and about, Paradise has options for those looking to keep it cool.
The Children's Park at Town Square Las Vegas, 6605 Las Vegas Blvd. South, has a splash pad with 35 pop jets for kids to enjoy.
It is programmed with four two-minute-long water shows for kids to dart through, shopping center spokeswoman Stacy D'Alessandro said.
The park is open from 10 a.m. to 8:30 p.m. Monday through Friday, 10 a.m. to 9:30 p.m. Saturday and 11 a.m. to 7:30 p.m. Sunday.
The Cambridge Water Park, 3930 Cambridge St ., has a zero-depth pool and winding slide begging for swimmers.
Open swim is from noon to 4 p.m. Tuesday through Friday and noon to 6 p.m. Saturday and Sunday. Daily admission is $2 for kids 3 to 17, $3 for adults 18 to 49 and $1 for those 50 or older. Youngsters 2 or younger are admitted free with a paid adult. Swim lessons also are offered.
An outdoor water park seasonal pass is $40 for kids up to age 17, $60 for adults and $20 for seniors. A family pass, which covers four family members residing in the same household, is $100 and $20 for each additional family member.
For more information about the Cambridge Recreation Center pool, call 735-1664 or visit accessclarkcounty.com/depts/parks.
Movie time
Rave Motion Pictures at Town Square Las Vegas, 6605 Las Vegas Blvd. South, has about three weeks left in its free family movie series. The theater shows the family-friendly films at 10 a.m. every Tuesday and Wednesday at its Town Square location.
Left on the docket are: "The Lightning Thief," set for today and Wednesday; "The Chronicles of Narnia: The Voyage of the Dawn Treader," planned for July 19 and 20; and "Gulliver's Travels," scheduled for July 26 and 27.
Seating in the air-conditioned theater is on a first-come, first-served basis. Discounts of food items are offered.
Pin, paint or read the fun
A roll of quarters can mean an afternoon out of the heat at the Las Vegas Pinball Hall of Fame Pinball Museum, 1610 E. Tropicana Ave.
Entry is free, and game play is unlimited.
Hours of operation are 11 a.m. to 11 p.m. Monday through Thursday and 11 a.m. to midnight Friday and Saturday.
For more information, call 597-2627 or email pinballhalloffame@msn.com.
A few blocks away, it's war at Bonehead Indoor Paintball Las Vegas, 1325 E. Flamingo Road.
Hours are 3 to 9 p.m. Wednesday through Friday, 10 a.m. to 8 p.m. Saturday and 10 a.m. to 6 p.m. Sunday.
Rates include a $20 entry free and a $20 rental fee. The entry fee is waived Wednesdays and costs $5 Thursdays. Also, the business offers a buy-one-get-one-free deal Fridays.
Nearby is the Clark County Library, 1401 E. Flamingo Road, where free programming is ample and open to the public.
At 2 p.m. July 23, the family-friendly film "Gnomeo & Juliet" will be screened at the Jewel Box Theater.
At 11 a.m. July 23, a craft buffet for kids of all ages is planned. Supplies to make crafts from around the world will be provided.
For a complete schedule, call 507-3458.
Contact Centennial and Paradise View reporter Maggie Lillis at mlillis@viewnews.com or 477-3839.