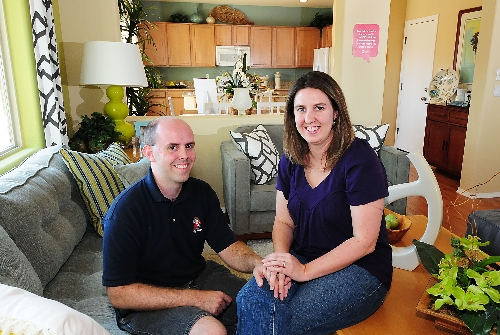 According to Ryan and Christy Watson, their budget was pretty tight when they began their search for a new home.
Ryan Watson, a high school orchestra teacher, and Christy Watson, who works at an elementary school, started their new home search in the southwestern portion of the valley and looked at Pardee's Rosetta neighborhood in Mountain's Edge.
"The homes fit our price point and the extras including stainless steel appliances and granite countertops really helped make a difference for us," Christy Watson said.
The couple chose the Residence Three at Rosetta, which measures 1,829 square feet with three bedrooms, 2½ baths, family room, den and two-car garage with an optional fourth bedroom with guest bath available in lieu of the downstairs den and powder room.
"We've been taking long walks and enjoying the quiet nature of the community," Christy Watson said. "You can even see more stars at night out here."
All of Pardee's newly designed homes are part of the builder's LivingSmart brand, which provides standard and optional measures that boost energy efficiency, save water, improve indoor air quality and encourage material conservation and use of recycled or sustainable resources. Rosetta is part of Pardee's New Standard program that includes granite kitchen countertops, beech cabinets and stainless steel kitchen appliances as standard.
"For many buyers, it's more than just price when it comes to purchasing a new home," said Rob Tuvell, regional sales director for Pardee Homes. "They want to know that the home includes features that are important to their way of life and they want to know they can afford it, too."
Homes at Rosetta range in price from $158,950 to $188,450. The two-story designs feature three to four bedrooms, 2½ to three baths and two-car garages; they measure 1,444 to 1,881 square feet. Floor plans include great room and personal options such as covered patio and loft, depending on the plan selected.
Rosetta Residence One measures 1,444 square feet with three bedrooms, 2½ baths, great room and two-car garage while Residence Two measures 1,599 square feet with three bedrooms, 2½ baths, family room and two-car garage. Residence Two offers an optional loft in lieu of a third bedroom.
Residence Four at Rosetta measures 1,881 square feet with four bedrooms, 2½ baths, family room, two-car garage and is offered with an optional loft in lieu of a fourth bedroom.
Also at Mountain's Edge is Serrano by Pardee Homes, a collection of one- and two-story homes that range from 1,850 to 2,682 square feet that are priced from $203,950.
To reach Rosetta at Mountain's Edge, take Blue Diamond Road west to Buffalo Drive and turn left into the Mountain's Edge community. Proceed south on Buffalo to Cactus Avenue, turn left and follow the signs to the neighborhood. Sales office hours are 10 a.m. to 6 p.m. Tuesday to Sunday and 11 a.m. to 6 p.m. Monday. For additional information, visit pardeehomes.com. You can also follow the company on Facebook at www.facebook.com/PardeeHomesLasVegas.