Pardee offers LivingSmart Homes in Providence
October 6, 2012 - 1:05 am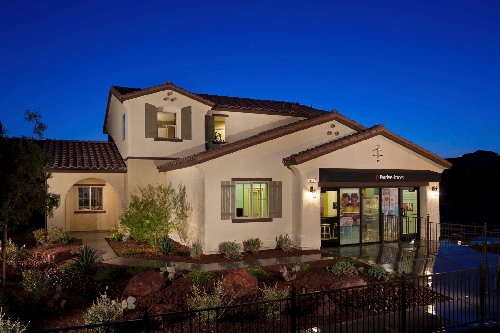 Located in Providence, a master-planned community in northwestern Las Vegas, Pardee Homes' LivingSmart Homes Providence offers a limited-number of move-in ready homes.
"Pardee Homes has been building homes and communities in Southern Nevada for 60 years, including the master-planned communities of Spring Valley, Nevada Trails, Rancho Las Palmas and Eldorado," said Rob Tuvell, Pardee regional sales director. "And, we're proud to be a part of Providence with our exclusive LivingSmart brand."
Pardee Homes' LivingSmart Homes Providence is a collection of one- and two-story floor plans that range from 1,849 to 3,001 square feet with features such as great and bonus rooms, as many as seven bedrooms and an outdoor room option. Prices start from $206,990.
The neighborhood is off the Las Vegas Beltway at Ann Road. Exit the Beltway at Ann Road and travel west. Turn right onto Shaumber Road and follow to Centennial Parkway, then turn left. The entrance to LivingSmart Homes Providence is on the right.
Among the move-in ready homes featured available is a Plan 1-B, which is priced from $216,715. The single-story home measures 1,849 square feet and has three bedrooms, two baths, den/office and two-car garage.
Another move-in-ready home is a Plan 2-B, which measures 2,183 square feet with four bedrooms, three baths, two-car garage, workshop and buyer's choice of flooring. It is priced at $239,146.
A move-in ready Plan 4-C measures 3,001 square feet with five bedrooms, three baths, den/office, bonus room and three-car garage. The home also features a covered patio with sliding glass doors and is priced at $265,240.
Pardee's exclusive LivingSmart brand is a program with standard and optional measures that boost energy efficiency, save water, improve indoor air quality and encourage material conservation and the use of recycled or sustainable resources in new homes, according to Tuvell.
Through two new programs, Pardee is helping many families overcome obstacles to buying a new home.
Offered exclusively for Pardee home buyers in this market, Smart Move Advantage, an independent company, will rent a qualified buyer's existing home for as long as three years, allowing him or her to take advantage of the "best buyer's market in decades," Tuvell said.
"The Smart Move Advantage program represents one of several steps Pardee Homes has taken to boost buyer confidence and smooth the path to new-home ownership," he said.
Through Pardee's own Homeward Bound program, prospective buyers receive expert assistance on credit issues that can affect home loan availability.
One of the West's largest and longest-established homebuilders, Pardee has built homes for more than 40,000 families in Southern Nevada since 1952.
Follow the builder on Facebook at www.fb.com/PardeeHomesLasVegas.
Sales office hours are 10 a.m. to 6 p.m. Tuesday through Sunday and 11 a.m. to 6 p.m. Monday.
For more information, visit www.pardeehomes.com or contact a sales agent at 702-604-3332.