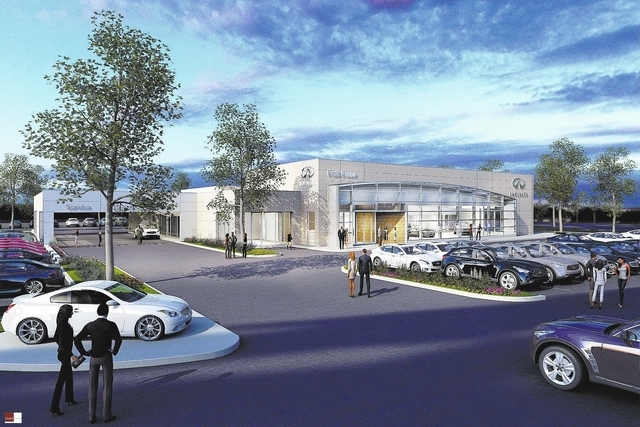 Since acquiring the only Infiniti dealership in Las Vegas last year, Park Place Dealerships of Dallas has begun work on a multimillion-dollar renovation project that will soon revamp the buildings and grounds of the 6-acre property on West Sahara Avenue.
Park Place plans to transform one of the two existing buildings. This includes a complete redesign of the building's exterior façade, the addition of a service drive canopy, an interior new car delivery area and a complete remodel of the showroom gallery and service facility.
The exterior elevation of the building will be updated with a clear, low-iron, insulated glass-feature wall across the entire front of the store.
The renovations are being done by Boyd Construction of Las Vegas, with the project creating an estimated 50 construction jobs. Upon completion of the project the dealership is projected to add 10 to 15 permanent positions in sales and service.
Construction on the building is expected to be completed by August. Once finished, the dealership's General Manager Joseph Tortomasi said the building will become the primary facility on the lot and the headquarters for new Infiniti vehicle sales and service. The second building, which has undergone its own improvements over the past year, will become the sales center for preowned vehicles.
Founded in 1987 by Ken Schnitzer, Park Place Dealerships is based in Texas and represents luxury brands including Lexus, Mercedes-Benz, Porsche, Volvo, Jaguar, Rolls-Royce, Bentley, McLaren, Maserati, Lotus and smart.
In June 2012, Park Place purchased the Infiniti dealership at 5605 W. Sahara Ave. For more information, visit www.parkplaceinfiniti.com