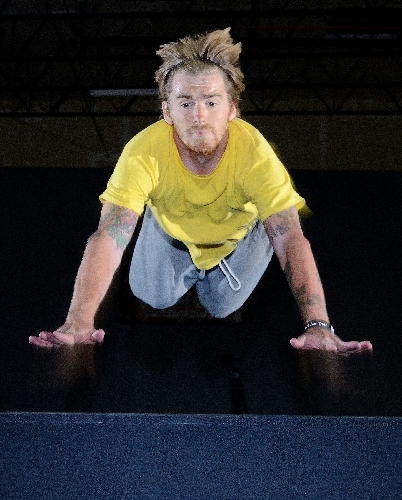 Gravity isn't law at Hardkore Parkour in North Las Vegas.
The newly opened training center, 3680 N. 5th St., Suite 130, is working to introduce Nevada to a safe, organized way to master free running, parkour and tricking.
The physical disciplines define martial arts and movement on a noncompetitive plane, gym officials say.
n Parkour focuses on speed and efficiency of movement around obstacles.
n Tricking blends high-octane, high-flying martial arts with acrobatics, flips and self-expression.
n Free running is a variation of parkour with more emphasis on creativity and self-expression.
The noncompetitive sports were developed in France by David Belle, son of a firefighter, said Hardkore Parkour coach Jeremy Carpenter. Belle's quest to escape a situation efficiently led to an underground form of movement with strides, cat leaps, vaults, flips, jumps, climbs and rolls.
"It's an efficient way to get from point A to point B," said Hardkore Parkour owner Jeff Jay. "When I was a kid, we had parkour, but it was called jumping out of the barn."
Parkour's urban reputation has slowly been eroded by visionaries such as Jay, a former stuntman and current inventor and carpenter, who joined a bubbling effort to bring the sport indoors.
Of the handful of indoor parkour gyms in the nation, Hardkore Parkour is the largest and only devoted space in Nevada, Jay said.
The training center is a more than 18,000-square-foot warehouse-turned-parkour playground. Zones are established for students to safely learn the basics of the sport. Jay offers a springboard mat and cushioned wood for flat surface movement and courses with tiered walls and obstacles for more advanced work.
The training gym also has a tumble track, precision bars and ramps.
Two of Jay's original creations – stilt aerobics and wall trampoline – are explored in classes the center offers. The disciplines were used in "The Lion King," Disney Worldwide and in several Cirque du Soleil shows. Jay is the patent holder for the stilt and wall trampoline technology and is CEO of Stiltwerks Inc.
Additionally, Jay is CEO of: Werks Aerospace, which has a military contract for Black Hawk helicopters C-130 and F-16; Globalwerks Group, a casino, racing and special-event branding organization; and The Werks Group, a production company and mechanical rigging outlet.
His professional pedigree coupled with his staff's coaching chops breathed life into an uncharted sport in Las Vegas, he said.
Carpenter was introduced to parkour six years ago by YouTube. He started emulating moves and was soon – foolishly, he'll admit – leaping from two-story buildings, he said.
"I would hit the ground and plop," he said. "I developed patellar tendinitis from it, and it took me like a year to get out of it. I wouldn't want to send anyone else down that path."
Carpenter says he sees his former self in new parkour students.
"People tend to think they aren't going to get hurt because they're indoors and there is a padded floor," he said. "You've got to let people know you can still get hurt. Parkour is naturally done outside. It's like gymnastics; you wouldn't want to do a round off double tuck on grass without ever having done it on a spring floor."
Carpenter dubbed parkour "this generation's sport" and theorized whether it would be recognized to Olympic scale. Parkour "purists" balk at the notion, while others have turned pro. Jay believes the sport will follow gymnastics' lead and have federations and training organizations groom athletes.
Until then, parkour jams, or gatherings, have made way for formal competitions. Hardkore Parkour hosted the tricking world championships in May, Jay said.
The training center is available for corporate sessions and group classes. Jay has invited members of local law enforcement to learn a new skill set to outwit criminals, he said.
A home-school group recently visited for an hourlong class, and strides were made, Jay said.
"In 30 or so minutes in here, you could see confidence on their faces just in the small accomplishments they were making," he said.
Jay hopes to build discipline, agility and self-expression in students. Also, manners matter, he said.
He also hopes to form his own team of sponsored athletes and make Hardkore Parkour a professional training center.
Three certified coaches conduct classes for students 8 or older. All participants sign waivers. Open gym is 10 a.m. to 10 p.m. Friday and Saturday. A class schedule is available online.
Fundamentals include knowing one's biometric limits and mastering precision and jumping, Carpenter said.
"You can make it as advanced as you want," he said. "If you can teach someone to train safely, you are teaching them to teach (themselves) almost."
For more information, visit hkpk.co/ or call 518-4515.
Contact Centennial and North Las Vegas View reporter Maggie Lillis at mlillis@viewnews.com or 477-3839.