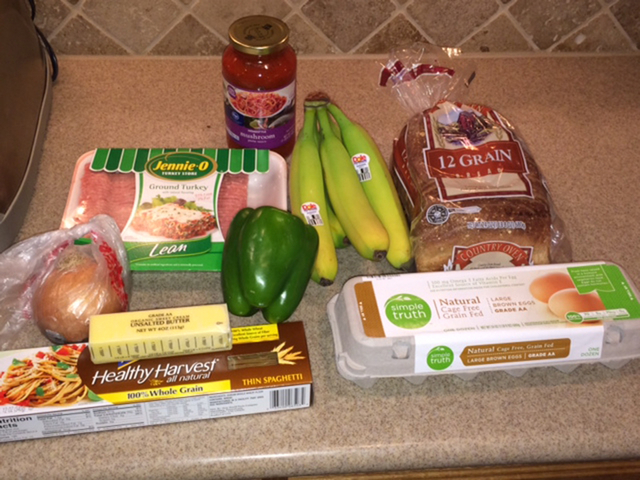 Three Square food bank recently challenged the Southern Nevada community to participate in a food budget program to raise awareness about the struggles and challenges of Supplemental Food Assistance Program recipients.
The SNAP Experience, which took place Jan. 27-31, encouraged more than 100 participants to eat a healthy and balanced diet on a budget of $3.71 per day or $18.55 for five days.
"We wanted people to see what it was like to be a SNAP recipient," said Brian Burton, president and CEO of Three Square. "Most people don't understand that one in seven Americans rely on SNAP in order to feed their families. This experience really opens people's eyes to that reality."
SNAP is a federal nutrition program that assists approximately 47 million people in the United States with financial resources to purchase food at grocery stores.
The program first took place at Three Square in 2012 as part of a nationwide event to draw attention to the circumstances of people who must depend on SNAP, Burton said.
As part of the guidelines, participants were able to incorporate foods they had at home, as long as they kept track of the serving cost, but they could not eat out or buy hot, prepared foods.
"We really wanted each person to walk in the shoes of a SNAP recipient," Burton said.
As part of the experience, 15 bloggers were able to share their journey online.
One of those bloggers was JC Deacon, the assistant coach of the UNLV men's golf team, who participated in the event for the first time.
"It was a most humbling experience," Deacon said. "The fact that you're on a limited budget means that you can't have whatever you want. Sometimes, the cheapest items aren't the healthiest."
Equipped with a little less than $20, Deacon went to his local grocery store to buy eggs, peanut butter, jelly, brown rice, multigrain bread and pasta. He had to take out a few items when he saw that the total exceeded his budget.
"My meals were good and healthy, but it got a little boring," Deacon said. "I actually lost 4 pounds, and I got hungry during the middle of every day."
Despite losing weight, he said he was able to function fine but craved the variety of foods and beverages he usually had throughout the day.
The mayors of Las Vegas, Henderson, North Las Vegas, Boulder City and Mesquite also participated in the SNAP Experience.
Henderson Mayor Andy Hafen was asked to participate in the program by Las Vegas Mayor Carolyn Goodman, who has joined in the program since it started.
Hafen ventured to his local Walmart, 99¢ Only and Vons. He bought oatmeal and a loaf of bread for breakfast, salads for lunch and chili con carne, mashed potatoes and soup for dinner.
"I lost weight, and I didn't get the proper nutrition that my body needed," Hafen said. "I felt bloated throughout the week and tired in the mornings."
He also had to turn down luncheons and resist free food co-workers brought to the office.
"It was hard to eat healthy," Hafen said. "I had Top Ramen three nights out of five. The experience really does raise your awareness of individuals who are on SNAP."
Burton also participated in the event for the first time this year and said it was a humbling yet unpleasant experience.
He became aware of how difficult it was to buy nutritious food on a small budget.
"It's easier to buy cheap calories that make you feel full than to eat the foods that your body really needs," Burton said.
Burton's two dogs even noticed the change in his diet. He said he usually gives them leftover food after dinner, but that week, he ate everything on his plate.
"I lost a couple of pounds during the first three days," Burton said. "My trainer at the gym even said I looked pale."
Burton said he had to decrease the amount of food he normally consumes, which caused him to feel tired in the middle of the week.
All three participants agreed that the hardest part of the experience was resisting everyday treats, such as Starbucks, Diet Coke and ice cream.
Participation in SNAP has increased over the last few years in Nevada and across the country. At its highest point in 2013, more than 370,000 Nevadans were enrolled in SNAP, according to Three Square statistics.
"By the end of the week, I was aware that my experience was only temporary," Burton said. "The reality is that food insecurity and hunger doesn't end or take a day off."
For more information, visit snapexperiencelv.org.
Contact Centennial and North Las Vegas View reporter Sandy Lopez at slopez@viewnews.com or 702-383-4686.