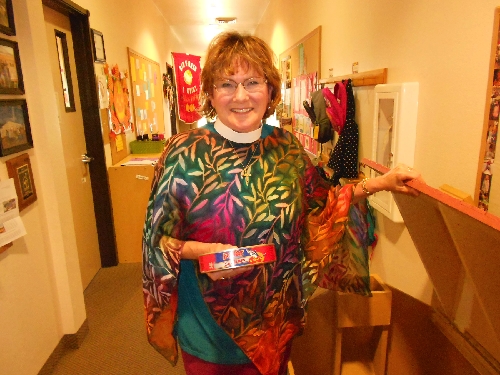 "I was completely shocked when I got the phone call," said pastor Marta Poling-Goldenne of the New Song Lutheran Church, 1291 Cornet Drive, Henderson.
Poling-Goldenne is the recipient of the 2012 Philanthropy Award for outstanding volunteer fundraiser presented by the Las Vegas Chapter of the Association of Fundraising Professionals (AFP), a group that recognizes locals for their service and commitment to fellow Southern Nevadans.
Poling-Goldenne and her husband and co-pastor, David, moved to Henderson in 2002 to establish the New Song church. Since 2007, Poling-Goldenne has served as vice president and president of the board of directors of the Lutheran Social Services of Nevada (LSSN). It is for her fundraising efforts on behalf of the LSSN that Poling-Goldenne will receive the Philanthropy Award.
The AFP Awards Luncheon is scheduled from 11:30 a.m. to 1:30 p.m. Nov. 13 at the Golden Nugget, 129 Fremont St. Tickets are $60 and can be purchased at www.afplasvegas.org or by calling 702-688-4351. Proceeds from the luncheon promote philanthropy in Las Vegas.
"Lutheran Social Services is the major provider of social services in the U.S.," said Poling-Goldenne. "It's kind of an unsung hero for providing social services to people across the country."
Winner of the Las Vegas Review-Journal's 2012 Best of Las Vegas, Best Community Organization and R-J Pick, the local LSSN chapter provided housing, support services and more than 141,362 pounds of food last year to 17,613 homeless, low- and moderate-income individuals and families.
Poling-Goldenne credits her congregation at New Song Lutheran church for "stepping up and forming a very significant partnership with the LSSN," she said. Sun City Anthem residents have embraced the young church and its mission of helping others. Their "lifelong leadership skills" are the reason New Song has been so successful, the pastor said.
She insisted it is the congregation, not herself, that should receive the award from the AFP. Church members hold concerts, wine-tastings, food drives, Christmas adopt-a-family and adopt-a-senior drives to raise money for the LSSN. The congregation recently won first place in the 2012 Peanut Butter and Jelly donations drive, a friendly competition among Lutheran churches that raised $8,755 for LSSN programs.
Every Saturday, the New Song "bread brigade" heads out to collect baked goods from the neighborhood Vons grocery store at 2511 Anthem Village Drive. The store donates bread, cakes, doughnuts and cookies that have reached their sell-by date. The food is then picked up by workers from LSSN and distributed at the supermarket-style emergency food pantry at 73 Spectrum Blvd., Las Vegas. Patrons use shopping carts to choose their selections.
Recently at the food pantry, an 83-year-old woman was given one of the donated Vons decorated cakes to celebrate her birthday. She told pantry workers that the last one she received was when she turned 50. "She was so incredibly grateful to have such a beautiful birthday cake for her birthday," said Poling-Goldenne.
"This is a great example of the collective partnership of a church, a local business and a social service agency," she said. "It's a beautiful story of how we have developed a seamless relationship with them (Vons). I shop at Vons regularly and purposely because of what they are doing to support us.
"Philanthropy is alive and well in Henderson and Las Vegas."
For more information about the Lutheran Social Services of Nevada, email info@lssnv.org, call 702-639-1730 or visit lssnv.org.
For more information on New Song Lutheran Church, visit newsonganthem.org or call 702-492-1771.