Performers juggle parenthood and Las Vegas Strip careers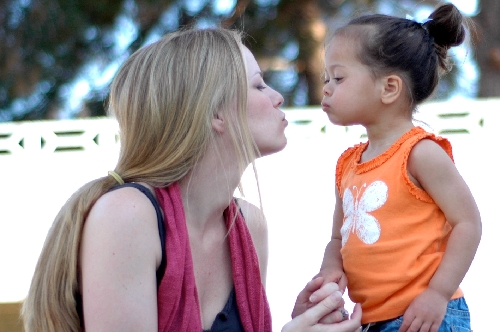 It s been said that motherhood is a full-time job and one of the toughest gigs a woman could add to her proverbial resume.
But about 70 percent of American mothers punch the clock at other jobs 40 hours a week, too.
In Las Vegas, there are women whose dual roles include mom and performer in professional stage shows that dazzle audiences on the Strip.
Philanthropy a family affair
On Mother s Day, Kristen Hertzenberg s 2-year-old daughter Shea will see her idol on stage.
It may be some time before she witnesses her mom play character Christine Daae in Phantom The Las Vegas Spectacular.
No, this year, Shea will watch a little red guy who lives on Sesame Street live on stage.
She s becoming a ham, Hertzenberg said. I would never intentionally push her into this industry, but it may happen without me trying.
Hertzenberg has been without Phantom The Las Vegas Spectacular for five years, and she kept her two-show-a-week schedule when her daughter was born.
On days when Hertzenberg pulls double duty, Shea goes to day care and takes her mom s energy with her, Hertzenberg said.
I definitely have nights that I m tired, and I have to snap out of it, she said. On the other hand, I have been happy to be a working mom and set a good example for her.
Hertzenberg said the juggle has made her appreciate her own mother. Hertzenberg follows her mother s example of making philanthropy a family affair.
Hertzenberg donates time to Family Promise of Las Vegas, 320 S. Ninth St ., and Opportunity Village, 6300 W. Oakey Blvd. She plans to bring Shea into the mix when she can appreciate the experience, Hertzenberg said.
Until then, Hertzenberg said she s just a regular busy mom who tries to take time out to reflect on her roles as mom and performer.
It was always absolutely my dream to do both, so I m just eternally grateful it s working out right now, she said.
Moms lead way to stage
Cheaza she goes by just one name and her 15-year-old daughter Marriana are a budding dynamic duo in the entertainment industry.
Cheaza plays single mom to the high school sophomore and the Peep Diva in the burlesque Strip production Peepshow.
It motivates me and gives me more drive, she said. My purpose is obviously living out my dreams but also to help my daughter live out her dreams.
Marriana plays best friend and daughter to Cheaza, her mom said, but she s already done some acting out.
She started performing at age 7 in the PBS show Hip Hop Harry and has dabbled in modeling, gymnastics and singing. She has plans for a fashion line and a children s book, Cheaza said.
I m proud of her, she said. My daughter is very expressive. We are very, very expressive in this family.
Marriana is the third generation of daughters following in their mothers footsteps.
Cheaza s normal routine as a child was following her mom, a backup singer for Ike and Tina Turner. Her mom also sang with Rick James, Charlie Wilson, Chaka Khan and Smokey Robinson.
Cheaza was 4 years old when she started singing and 12 when she joined voices with her mom.
I had the opportunity to really see some of the greats as a young child, not really knowing they were helping mold me into the performer I am today, she said.
Her lifelong career in entertainment led her and Marriana to Las Vegas in 2003.
Watching Mommy on the side of the stage piqued her curiosity, Cheaza said.
They share a flair for spontaneity and foster a close relationship, Cheaza said.
The two will most likely put on their Betsey Johnson-designed dresses and some high heels and spend Mother s Day shopping, Cheaza said.
Being a mother has given me a tremendous amount of strength to push myself to help her, she said. It s humbled me to be a better person.
Contact Centennial and Paradise View reporter Maggie Lillis at mlillis@viewnews.com or 477-3839.