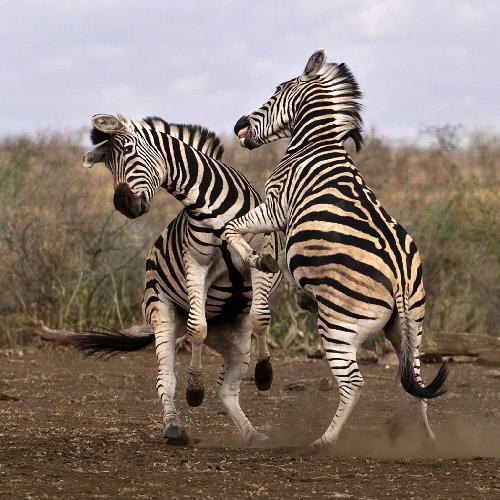 Harriet Smith knows a thing or two about being in tight with the big cats. Just check out her photographic exhibit, "The Eye of Africa," at the Sahara West Library, 9600 W. Sahara Ave.
On the walls are shot after shot of lions and cheetahs, giraffes and zebras. Many are close-ups.
"There was one youngster who almost jumped in the back seat with me," she said of a cheetah family, when some lions approached with bad intentions.
Library patron Johnnie Guyon paused before each shot, taking them in. What did she think of them?
"I think they're excellent," she said. "They are so distinct. And natural, just beautiful. Usually there's all the different stuff (being displayed) that I don't like."
What Guyon didn't know was that many of the shots did not require a telephoto lens to get the pictures. Smith indicated a photo showing a family of cheetahs. How close was she?
She backed up about 8 feet.
"About here," she said.
The exhibit includes photos from Kenya, Rwanda's Volcanoes National Park, Mahale Mountains National Park in Tanzania, Okavango Delta in Botswana, South Africa's Kruger National Park and the Sabi Sand Reserve. Smith's photos command anywhere from $50 for an 8-by-10-inch unframed photo to $6,000.
The Lion Park in South Africa, where she stayed this last trip, keeps the animals safe from trophy hunters and poachers. The nursery held lion cubs that had just been weaned and two black leopard cubs that were 4 weeks old. Smith helped the staff feed them.
Still, not all the pictures bring up gratifying memories. She walked over to a close-up of a lion cub and gestured.
"This one was killed two years ago," she said. "It was a pride that was run by two male animals for 13 years, which is highly unusual. And the pride was actually killing their babies. Her brother survived and one other … now, the males (who were doing the killing) are gone. There's a new pride in. We followed this one all morning long. Later that afternoon, we saw her get killed. She was 4 months old. And she was lovely. And I cried. It was the first time I cried, because it was an intentional kill, and we had followed her all morning."
Smith, a Spring Valley resident, said she can read animals well after watching and learning from the guides. The animals want their own space when eating, the same with mating. Understanding more subtle signals takes experience.
"The guides are so in tune, they can look at a flick of the ear and know what the animal's going to do," she said. "So I've had lions lie right next to me. Jim has taken pictures of me … just to show people that this is real. I'm not scared. Cats and I, I don't know what it is."
After she recovered from jet lag, she planned to add a post to her Facebook page showing 11 lion cubs "falling all over" her. It was a highlight of her trip, she said.
Smith came to photography late in life. After retirement, she got the notion to travel in 1995. Her destination of choice: Africa. She headed off by herself to Kenya and Tanzania, armed with only a small Canon 35mm camera and a couple of lenses.
With each trip, her equipment improved, as did the resulting pictures.
Smith has made seven subsequent trips to Africa and spends as long as three months in the bush. This time, she was gone for six weeks and returned from her latest foray there on March 7. Her husband, Jim, often travels with her and has witnessed her interaction with lion cubs that seem to know to pull their punches.
"I think they sense something about her; they read it in her," he said.
That doesn't mean she gets away unmarked. Smith sported recent claw marks on her arm, something she dismissed as playfulness on the cubs' part.
When Smith goes to shoot the animals, she lives on the premises of the parks. Animals are behind fences, but that doesn't mean they respect man's artificial boundaries.
"This trip, three hyenas got out, and they found them in the men's bathroom the following morning," she said and chuckled. "There aren't that many escapes … I opened the door one morning, and there was the female giraffe, Purdy, right there with her two legs (in the way). You have to wait because giraffes can kick in all directions. They can actually kill a lion with one kick. So you have to stay out of kicking distance. She will give me kisses, but I'm still very careful with her … She escapes all the time and goes into the restaurant area in the morning or at night and terrorizes everything, pulling down the umbrellas and knocking everything down."
Smith said the shot she still wants to get is of a giraffe giving birth. Why? Because it's done with the mother standing. The drop to earth, Smith said, causes the newborn to take its first breath. That's the magic moment she hopes to capture.
Before moving to Las Vegas, Smith ran her own floral business in Los Angeles for 35 years. Her arrangements graced the Academy Awards and brightened movie sets for Paramount Pictures.
Smith traveled to Canada to photograph grizzly and polar bears. An avid diver, she takes her Nikons underwater, capturing everything from hammerhead sharks and manta rays to lionfish in such exotic locales as Australia's Great Barrier Reef, Palau and Yap in Micronesia, the Cocos Islands and the Caribbean.
"The Eye of Africa" exhibit is up until April 3 and is open from 10 a.m. to 7 p.m. Monday through Thursday and 10 a.m. to 6 p.m. Friday through Sunday.
To see more of Smith's wildlife photographs, visit fortheloveofafrica.com.
Contact Summerlin/Summerlin South View reporter Jan Hogan at jhogan@viewnews.com or 387-2949.
'The Eye of Africa'
Harriet Smith's photographs from national parks in Africa are on display through April 3 in "The Eye of Africa" exhibit at the Sahara West Library, 9600 W. Sahara Ave. Hours are from 10 a.m. to 7 p.m. Monday through Thursday and 10 a.m. to 6 p.m. Friday through Sunday.
To see more of Smith's wildlife photographs, visit fortheloveofafrica.com.