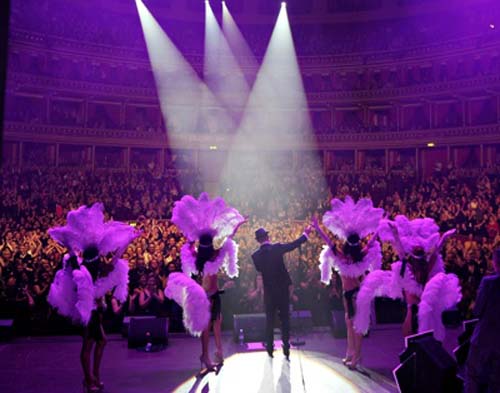 Caesars headliner Matt Goss performed at Royal Albert Hall, where he's most famous in London. Check out this weekend's crowd and the stage. Courtesy photos by Denise Truscello.
The new dayclub GBDC (ghostbar dayclub) opened Saturday at the Palms with these hot, hot, hot models. Don't believe me? Look, I took this photo when they went strolling around the pool.
Also at GBDC: model Shanna Moakler and Miss Nevada USA Sarah Chapman. Adrian Grenier showed up but isn't pictured. Moakler, Chapman and Miss USA 2011 Alyssa Campanella also partied at moon. Courtesy photos by Aaron Garcia for N9NE Group/Palms.
Below is Moakler.
Here's Chapman:
While Goss was back in native England, Princess Beatrice of York was here, saw "O" and went backstage with boyfriend David Clark. Courtesy photo by Cashman Photography.
Carmen Electra made her appearance at Crazy Horse III strip club. Jose Canseco was there. Courtesy photos by Bryan Steffy/WireImage.
Ever wonder what happened to that kid from "Jerry Maguire?" He turned 21 at midnight Saturday, then walked into Surrender and hung with DJ Steve Aoki. Oh, his name is Jonathan Lipnicki. Right, right. The next night, he went to Lavo. Courtesy photo courtesy by Amanda Nowak.
Ne-Yo did his birthday at club Surrender. Courtesy photos by Amanda Nowak.
Drake celebrated his birthday at Tao Saturday night. Courtesy photo by David Becker/WireImage.
Kim Kardashian did her birthday at club Marquee. Also there: husband Kris Humphries, sister Khloe and her man Lamar Odom, plus Kris Jenner and Mark Ballas. Courtesy photo by Denise Truscello/WireImage.
Roger Daltrey rocked the Hard Rock Hotel. Courtesy photos by Erik Kabik/RETNA.
Adrian Grenier checked out Sugar Factory at Paris then Chateau nightclub. Courtesy photo by David Becker/WireImage.
So serious, Samantha Ronson DJ'd Friday at Gallery at Planet Hollywood, where Adrian Grenier partied. Courtesy photo by David Becker/WireImage.
Josh Strickland did his birthday with "Peepshow" pals, while reality actress Dana Wilkey hung at the same place, Gallery. She also ate at Sugar Factory. Courtesy photos by Ethan Miller/WireImage.
And Vinny something from the Jersey shore went to Chateau Saturday night. Enough already with the "Jersey" actors. I don't have anything against this Vinny guy personally. And Situation and Pauly D have always been nice in interviews. But just enough of that show. Courtesy photo by Ethan Miller/Getty Images.