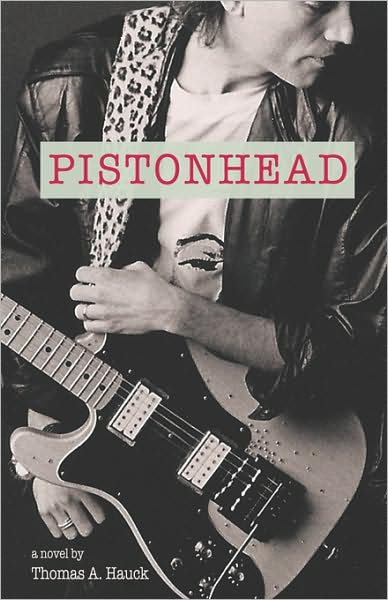 Being in a rock band is hard work. On the outside, it's alluring and exciting, but behind the stage lights is a whole different story. It takes dedication to be a true rock musician — hours of rehearsal, songwriting, traveling to gigs, setting up and tearing down, and hoping to get paid without any hitches.
In Thomas Hauck's book, "Pistonhead," all the glitz and glamour of the rock world is stripped away as Hauck examines a week in the life of Charlie Sinclair, lead guitarist for Pistonhead, one of Boston's up and coming heavy metal bands.
Charlie is at a point in his life that something needs to change. His girlfriend has dumped him for another guitar player, his mouse-filled apartment building has been bought out and he has to move, and his dead-end job at a software company is being outsourced to Puerto Rico. To top it all off, his widowed mother has found a boyfriend who is just a little bit creepy.
But Charlie still has his music. He's been playing and writing songs with his friend Jack "Rip" Taylor since they were kids, and their band, Pistonhead, is poised for a possible breakthrough with a couple of hit singles. But Rip is heavily into drugs, and his erratic behavior threatens the band's success, if not his own life. Charlie does what he can to keep the group focused and together, but he's battling drug dealers, irate audiences, a sleazy manager, and apathy from the rest of the band. He begins to wonder if it is worth pushing on with the music. When a series of life-changing events occur, one right after the other, Charlie soon finds himself faced with difficult decisions that could change his life and attitude toward his music forever.
Hauck brings all the grime and road dust of the life of a rock band to this unique and fascinating novel. A musician himself, he gives credence to his accurate descriptions of the sights, sounds, and even the acrid smells of a dingy bar where the musicians are either heroes or targets. Readers will feel the euphoria of having the audience in the palm of the musician's hand, and also the fear of realizing that another audience is doing their best to bring about bodily harm.
I think any kid thinking about a career in rock music should give "Pistonhead" a read. It's one of the most realistic rock novels I've run across.