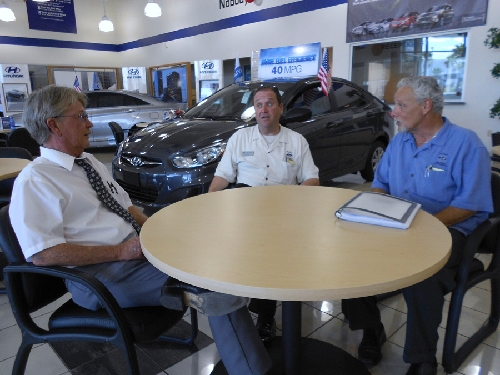 Domestic sales results announced recently by Hyundai Motor Co. showed a 7 percent increase this year over 2010, and a pair of local dealerships are leading the way to their own records.
Planet Hyundai Sahara and Planet Hyundai Centennial registered a total-sales volume approximately 32 percent higher than last year through the first seven months of 2011. July figures are expected to be even higher once totals are tallied, according to a company representative.
Domestic sales totaled 321,000 and overseas were 1.4 million, according to Auto Remarketing.
"The reason for the success is two-fold," explained co-owner and company spokesman Ron Coury. "Undoubtedly, the Hyundai name — complete with its 10-year, 100,000 mile warranty — is a factor. Offering vehicles that are luxurious, affordable and have excellent fuel efficiency also contributes to our excellent sales results.
"That's evident not only nationally but internationally, too. However, also key to at least the local marketplace is that the Classic Auto Group of Round Rock, Texas, purchased the Centennial location when many others doubted the faith in the car business."
Coury said the timing of the second dealership could not have been better.
"The timing proved to be excellent," said Coury. "The Centennial dealership had been closed for two years when it was purchased and reopened. Fifty people were immediately hired and car sales took off from the day we opened the doors."
Coury said taking care of dealership employees has been crucial to the success.
"Taking care of our sales and service customers is critical to maintaining the growth curve we have experienced," he said. "Both of our stores enjoy an A rating with the Southern Nevada (Better) Business Bureau and have been recently listed as official Better Business Bureau accredited businesses, a coveted and valuable distinction which says a lot about how we treat our customers."
Centennial General Manager Skip Shakely said the two stores, combined, headed into the last week of July solidly ahead of figures from June.
"There is no slowing us down now," said Shakely. "West Sahara was doing well anyway, and we have been selling cars nonstop since the Centennial location opened four months ago."
The sales at Centennial have been paced by Craig Price, Mike Landau and Chris Rooney, who combined for about 200 total sales in the past four months. Rooney came to the dealership after working at a Toyota store, while Price is a retired telephone worker and Landau is a retired financial adviser.
"This store does well because of the way it's managed," said Price.
"There is tremendous quality of a product along with the great management," added Landau.
"I'm busy all the time," said Rooney. "People have most certainly discovered what Hyundai is all about. We have everything going for us right now ranging from product to location and personnel."
Hyundai's line of models include three SUVs: the Tucson, Veracruz and the Santa Fe; along with the Equus, Elantra, Azera, Sonata, Genesis and Accent sedans.
Planet Hyundai Sahara is located at 7150 W. Sahara Blvd. and Planet Hyundai Centennial is at 6200 Centennial Center Blvd. in the northwest valley.
For more information, call 938-1400 (Sahara) or 483-2200 (Centennial) or visit www.planetlv.com.